69
.
.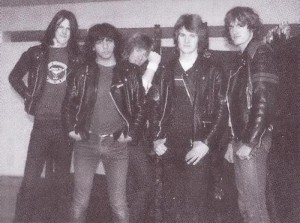 Artist: Tyrant
Release: Demo
Genre: NWOBHM
Country: UK
Bitrate: MP3 128 kbps



---


Info: As requested by

jasonkont



(From a review on Metal Archives) Raising the NWOBHM flag as banner, Tyrant is really an excellent band; very good melodies, thin high-pitch toned guitars, maybe a bit too much of a dramatic atmosphere, powerful solid drums, catchy music and very memorable Def Leppard like vocals (although not that high-pitched and scratchier).

Hailing from Gloucester, Gloucestershire, UK this demo is extremely rare (based on the fact that Metal Archives doesn't have a listing for it), it is a dub of a dub of a dub. That said the quality is still pretty good. The first track has been released on the Days at the Farm - The Tyrant Anthology (Compilation 2006) and The Complete Anthology (Compilation 2009) but, the other two tracks remain to this day as yet unreleased. Enjoy!



If any of my links are down, let me know and I will re-up asap. Thanks.



---




Tracklist



1. Eyes of a Stranger
2. Forever
3. Look In Your Mirror


►Hidden Link