18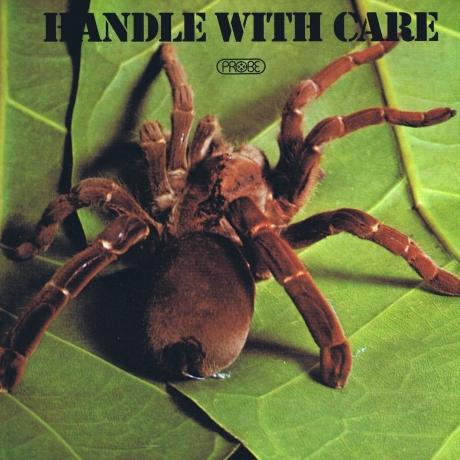 Artist: V/A
Release: Handle With Care
Genres: Hard Rock/Heavy Rock/Blues Rock/Classic Rock
Country: Various (US/UK/Can)
Bitrate: 320 kbps
►
new link in comment section below
---------------------------------------------------------------------
https://www.discogs.com/Various-Handle- ... ter/896436
Various ‎– Handle With Care (1970) Various
Probe Records SPSS 1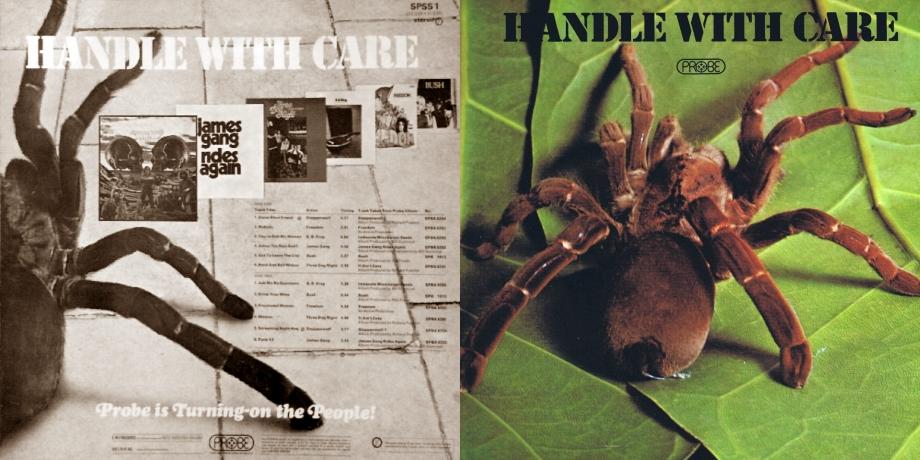 The late 1960's & early 1970's were a golden age for quality budget-price various artist compilation albums.
Some like 'The Rock Machine Turns You On' & 'Fill Your Head With Rock', are rightly held in high esteem by music connoisseurs of the era, but many others of a comparible quality are seemingly forgotten.
File this Probe Records sampler, 'Handle With Care', in that latter category. It's still easy & cheap to get a hold of and it hangs together well, serving as a great snapshot of the label & the time.
Where else could you find THREE DOG NIGHT covering FREE whilst STEPPENWOLF nail a HOYT AXTON song?
Almost forgotten Canadian one album wonders BUSH rubbing shoulders with B.B. KING, architect of nearly 50 albums of his own?
And in a battle of the power trios, British Heavy Rockers FREEDOM sharing the grooves with JOE WALSH's breakthrough band THE JAMES GANG?
Only on 'Handle With Care', brothers & sisters.
For maximum effect, jump in your 70's muscle car of choice, crank up the volume and barrel off down some sun-soaked highway.
Luckily, the album's so good that it works
almost
as well in a rusty 1972 Hillman Imp stuck in traffic on a wet bank holiday Monday in Bridlington.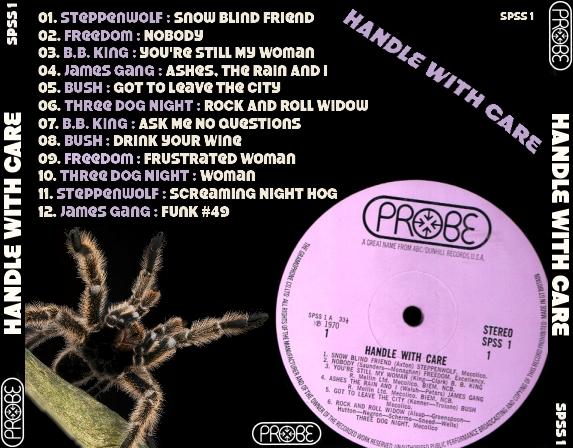 Probe Records was an ABC Records subsidiary which existed between 1968 and 1970, (although the name remained in use as an imprint for international releases of ABC recordings for several more years).
It was established as a boutique label, (like contemporaries such as Vertigo, Harvest, Deram etc.), to record and issue the psychedelic & progressive sounds of the late 1960s, with the Probe roster including the likes of THE SOFT MACHINE, ZEPHYR and RARE BIRD.
STEPPENWOLF, (initially formed in Canada as THE SPARROW in 1964), sold over 25 million records worldwide, released eight gold albums and scoring 12 Billboard Hot 100 singles, of which six were top 40 hits.
Three of those singles were top 10 successes; 'Born To Be Wild', written by Dennis Edmonton, (using the stage name Mars Bonfire), "Magic Carpet Ride", and "Rock Me."
Steppenwolf enjoyed worldwide success from 1968 to 1972, but clashing personalities led to the end of the core lineup. Today, John Kay is the only original member, having served as the lead singer since 1967.
FREEDOM was a Heavy Rock band active in the late 1960s and early 1970s, formed by former PROCUL HARUM members Ray Royer and Bobby Harrison.
Turning their back on their previous band's psychedelia they began playing in a more bluesy Heavy Rock style, scoring tour dates with BLACK SABBATH, JETHRO TULL, and THE JAMES GANG.
They achieved renown for their excellent version of THE BEATLES song, 'Cry Baby Cry', on their second album 'Freedom At Last'. After releasing 5 albums between since forming in 1968, the band finally splintered in 1972, with Harrison going on to form SNAFU.
B.B. KING is considered one of the most influential Blues musicians of all time, earning the nickname 'The King of the Blues'.
Releasing nearly 50 studio albums over his career, King won 15 Grammy Awards between 1971 & 2008.
Inducted into the Rock and Roll Hall of Fame in 1987, King was presented with the Presidential Medal Of Freedom by George W. Bush in December 2006.
B.B. King died at the age of 89 in Las Vegas, Nevada, on May 14, 2015, from congestive heart failure and diabetic complications.
THE JAMES GANG was an American rock band formed in Cleveland, Ohio in 1966, releasing 3 well received studio albums between 1969 & 1971 before guitarist/vocalist JOE WALSH, (who later became a member of THE EAGLES), left to embark on a successful solo career.
Drummer Jim Fox & bassist Tom Kriss then recruited vocalist Roy Kenner and guitarist Domenic Troiano from the Canadian band BUSH, but after two albums together Troiano was replaced by future DEEP PURPLE guitarist TOMMY BOLIN.
With Bolin the group released two great albums, 'Bang!' & 'Miami', but neither sold as well as the bands records with Walsh, and in mid 1974 Bolin opted to move on, as did Kenner.
Two further albums were released, both with different line ups, but they were poorly received and Fox was the only remaining member of the original band left when The James Gang finally disbanded early in 1977.
After several sporadic one-off shows together over the years, in 2006 the classic Walsh/Peters/Fox lineup of the group reunited for a successful tour of the United States.
BUSH was a Canadian Rock band in the early 1970s, which evolved from the respected club act MANDALA who'd had a Canadian hit with the song "Love-Itis".
Bush consisted of ex-Mandala bandmates Domenic Troiano, Roy Kenner, Hugh Sullivan and Pentti Glan, plus Prakash John. The group only released a single self-titled album in 1970.
Post-Bush, Kenner and Troiano joined The James Gang, with Troiano eventually becoming a member of THE GUESS WHO.
John and Glan became session musicians playing on records by the likes of BETTE MIDLER, PARLIAMENT & FUNKADELIC, and also touring together with ALICE COOPER and LOU REED.
THREE DOG NIGHT is an American Rock band formed in Los Angeles in 1967, who earned 12 gold albums and recorded 21 consecutive Billboard Top 40 hits, seven of which went gold, topping the singles chart on 3 occasions.
Although best remembered for Soft-Rock hit singles such as One, Mama Told Me Not To Come & Joy To The World nowadays, the band's 70's back catalogue contains some surprising harder edged rocking material.
They initially split up in 1976, but reformed again in 1981, and a version of the band is still in active despite the deaths of original members Cory Wells, Jimmy Greenspoon & Joe Schermie, and the absence of singer Chuck Negron & drummer Floyd Sneed.
art & txt included
---------------------------------------------------------------------
01. Steppenwolf : Snow Blind Friend
02. Freedom : Nobody
03. B.B. King : You're Still My Woman
04. The James Gang : Ashes, The Rain And I
05. Bush : Got To Leave The City
06. Three Dog Night : Rock And Roll Widow
07. B.B. King : Ask Me No Questions
08. Bush : Drink Your Wine
09. Freedom : Frustrated Woman
10. Three Dog Night : Woman
11. Steppenwolf : Screaming Night Hog
12. The James Gang : Funk #49