23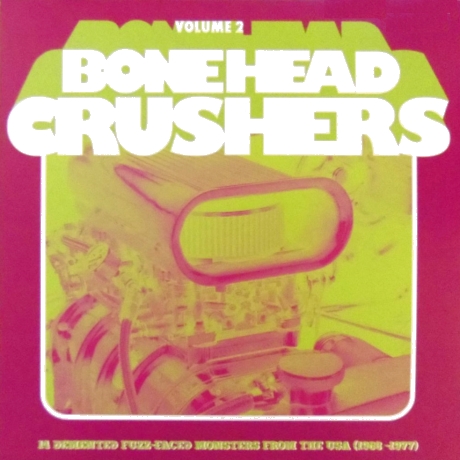 Artist: V/A
Release: Bonehead Crunchers Volume 2 : Crushers
Genres: Proto Metal/Heavy Psych/Fuzz/Heavy Rock
Country: USA
Bitrate: 320 kbps
►Dead Link
---------------------------------------------------------------------
Vol 1 also posted here:
http://heavymetalrarities.com/forum/vie ... =55&t=7919
VARIOUS - BONEHEAD CRUNCHERS Vol. 2 : Crushers (1968-1977) USA
(14 Demented Fuzz-Faced Monsters From The USA)
Belter Records BELTLP02
Ltd Edition of 300 numbered copies
https://www.discogs.com/Various-Bonehea ... se/3660635
320 kbps
Here's a little something for those of you who have been enjoying delving into the pre-history of Metal & Hard Rock via the popular 'Brown Acid' & 'Warfaring Strangers' series of compilation albums.
Whilst those are undoubtedly terrific, (and officially licensed), records, the 'Bonehead' ltd edition vinyl bootleg releases on Belter Records are also well worth delving into.
The 'Bonehead Crunchers' album series ran for 5 volumes, with another 5 LPs following under the 'Ultimate Bonehead' title.
Expect to pay a pretty penny nowadays if you can find copies for sale.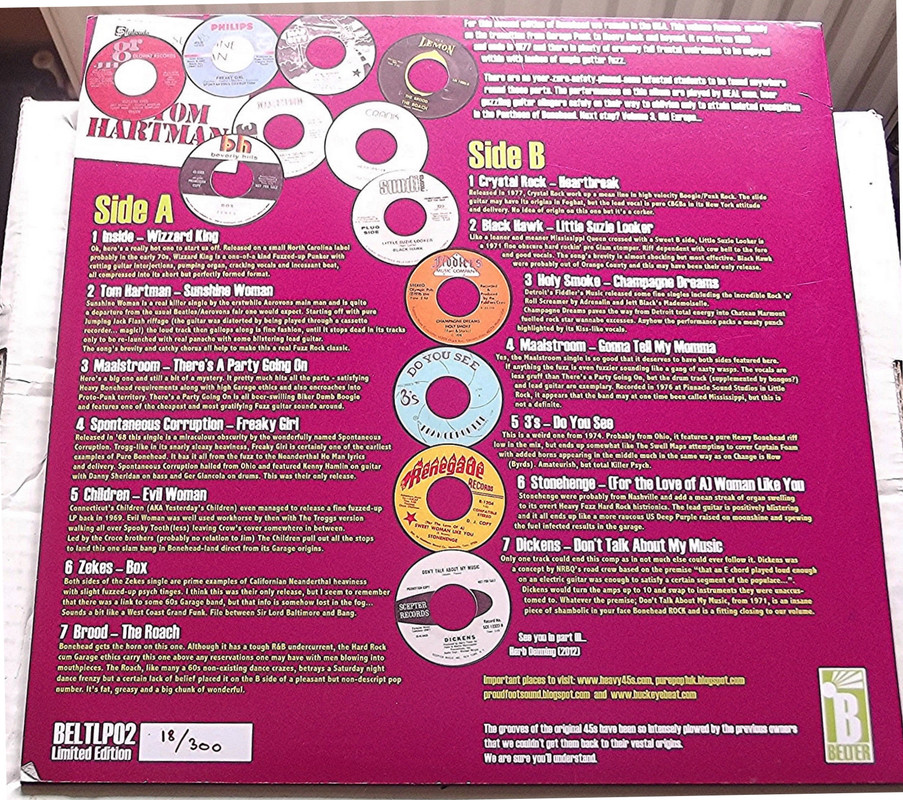 You dug Bonehead Crunchers ? Here's some more with Bonehead Crushers!
For this second edition, we remain in the USA & this volume focuses on mainly on the transition from Garage Punk to Heavy Rock and beyond.
It runs from 1968 and ends in 1977 and there is plenty of crunchy full frontal weirdness to be enjoyed within, with lashings of ample gutter fuzz.
The performances on this album are played by REAL men. Beer guzzling guitar slingers safely on their way to oblivion only to attain belated recognition in the pantheon of Bonehead!
art & txt included
---------------------------------------------------------------------
01. INSIDE - Wizzard King
02. TOM HARTMAN - Sunshine Woman
03. MAALSTROOM - There's A Party Going On
04. SPONTANEOUS CORRUPTION - Freaky Girl
05. CHILDREN - Evil Woman
06. ZEKES - Box
07. BROOD - The Roach
08. CRYSTAL ROCK - Heartbreak
09. BLACK HAWK - Little Suzie Looker
10. HOLY SMOKE - Champagne Dreams
11. MAALSTROOM - Gonna Tell My Momma
12. 3'S - Do You See?
13. STONEHENGE - (For The Love Of A) Woman Like You
14. DICKENS - Don't Talk About My Music