22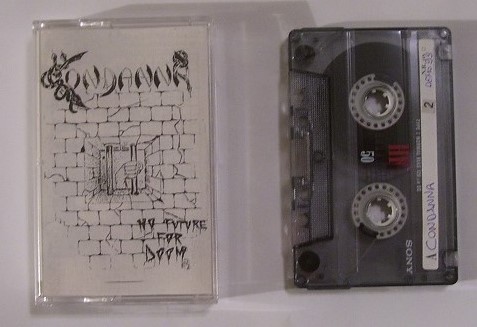 Band: Condanna
Country: Italy (Lanciano/Chieti)
Genre: Death Metal
Release: Demo Tape
Title: No Future for Doom
Year: 1993
Bitrate: mp3 - 320 kbps
Info:
Born from the ashes of Necrowar (a band who released
a demo in 1989 that i have already shared here on HMR)
Condanna released this first demo tape in 1993,three
other demos followed before quitting in 1999.
P.S. the page about this demo in Metal Archives has some
mistakes as actually there are only four songs (and not five)
in the tape,another mistake is the inclusion in the line up
of this demo of the guitarist Vincenzo Pomilio who is not
credited in the jcard with Piero Di Nardo playing guitar,
a pic of the artwork is missing too.
https://www.metal-archives.com/albums/C ... oom/533505
Line up:
Roberto Di Nardo - bass (Necrowar)
Piero Di Nardo - vocals,guitar (Necrowar)
Antonio "Tony" Berardinucci - guitar
Dino Marfisi - drums
Tracklist:
1 - Antichrist
2 - Final Sin
3 - Behind the doom
4 - Evil Conviction
Hidden Link