36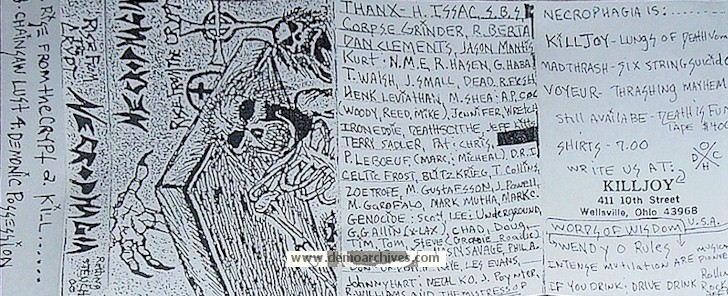 Artist: Necrophagia
Release: Rise from the Crypt [Demo] (1985)
Genre: Death / Black / Thrash Metal
Country: USA, Ohio
Bitrate: 192
►Dead Link
---------------------------------------------------------------------
EDIT: updated cover pic
Thanks to OldNecromancer and Strappado pointing things out, but I will leave the date as 1985, until we find proof from an old fanzine or something.
metal-archives posted the wrong image
new scan taken from the leecher who watermarks the covers, never gives credit, and has taken scans from this forum
http://demoarchives.com/Bands/Necrophag ... phagia.asp
Thanks to the original uploader for the rip , look in the posts below for a new link
Recording information:
Recorded at Peppermint Studios, November 1984. Rehearsal-tape.
http://www.metal-archives.com/bands/Necrophagia/406
poor quality, low volume
10 minutes 38 seconds
---------------------------------------------------------------------
1. Rise From The Crypt (3:27)
2. Kill (3:17)
3. Chainsaw Lust (1:10)
4. Demonic Possesion (2:44)