18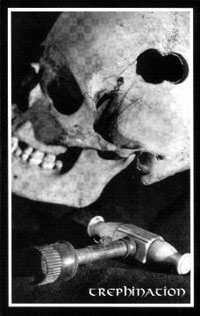 Artist: Trephination
Release: Trephination [Demo] (1998)
Genre: Brutal Death Metal
Country: USA (Philadelphia, Pennsylvania)
Bitrate: 320 kbps
►
Hidden Link
---------------------------------------------------------------------
https://www.metal-archives.com/bands/Trephination/11798
http://trephination.stereokiller.com/
TREPHINATION creates a wall of blasting mayhem, driven by full stacks and dual 7-string guitar assaults, bombarding bass, thundering war drums, and torturous throat emulsions that leave lasting impressions of lunacy upon all who bear witness.
TREPHINATION was formed around 1996 when Craig Truesdale (drums) and Tim D'Angelo (guitar) from the then defunct Death Metal band GODBOX, joined neighboring musicians Steve Smith (bass) and Mike Gerold (lead guitar). After a lengthy search, Mike Machette from Death Metal bands CRUCIFIER and AFTERBIRTH, joined as vocalist.
Old school bands such as SLAYER, SEPULTURA, DEATH, and OBITUARY influence us to create a unique blend of extreme, brutal Death Metal.
In 1998 we produced 300 copies of a self-titled, 6-song, 8-track, home studio recording on cassette format. We submitted 'BUDS' from this tape to RAZORBACK RECORDS for the GORE IS YOUR MASTER COMPILATION ..1 CD, which was released worldwide in 1999.
In June of 2000 we released a 3 song MCD entitled ...WITH WAR COME ATROCITIES.
We than began construction on our own rehearsal and recording studio and prepared for another underground release.
On August 29th 2003 tragedy struck when good friend and vocalist Mike Machette passed away.
We then took extended time off from jamming and focused on completing our studio.
In 2006 longtime friend Harry Fritsch joined Trephination as Vocalist. We played our first live show with Harry as Vocalist on October 7th 2006.
In May of 2007 Steve Smith Bassist left Trephination, and we spent over a year searching for a new bass player.
In August of 2008 Dave Spencer (With Immortality) (Nightfire) contacted us and we started jamming with a full lineup. Dave quickly fit in as bassist and joined the band. We played a bunch of live shows with a full lineup and continued rehearsing.
In late 2009 Dave Spencer departed Trephination as a full time member.
We just finished recording a new 3 song EP at Out of The Cradle Recording Studios on May 22nd, 2011. Thanks to Dave Spencer.
This will be our first release featuring Harry Fritsch on vocals and Tim D'Angelo and Mike Gerold recording the bass tracks. Steve Smith original bassist has also rejoined Trephination which allows us to perform going forward to support the new E.P.
In September of 2011 Mike Gerold departed Trephination. After 2 weeks the band began jamming with Dan Roberts and he joined the band as guitarist . We have played most metal venues in the Philadelphia region and have branched out into parts of New Jersey and New York. We currently have new material for a future full-length release. Consider our undying efforts, and join us to unleash this violent fury known as TREPHINATION upon the unsuspecting masses for years to come!!!
Stephen Smith Bass
Craig Truesdale Drums
Tim DiAngelo Guitars
Mike Gerold Lead Guitars
Mike Machette (R.I.P. 2003) Vocals
---------------------------------------------------------------------
1. Anathema
2. Exsanguination of Jesus
3. Panoramic Distrust
4. Buds
5. Ghetto
6. Victim of Society