10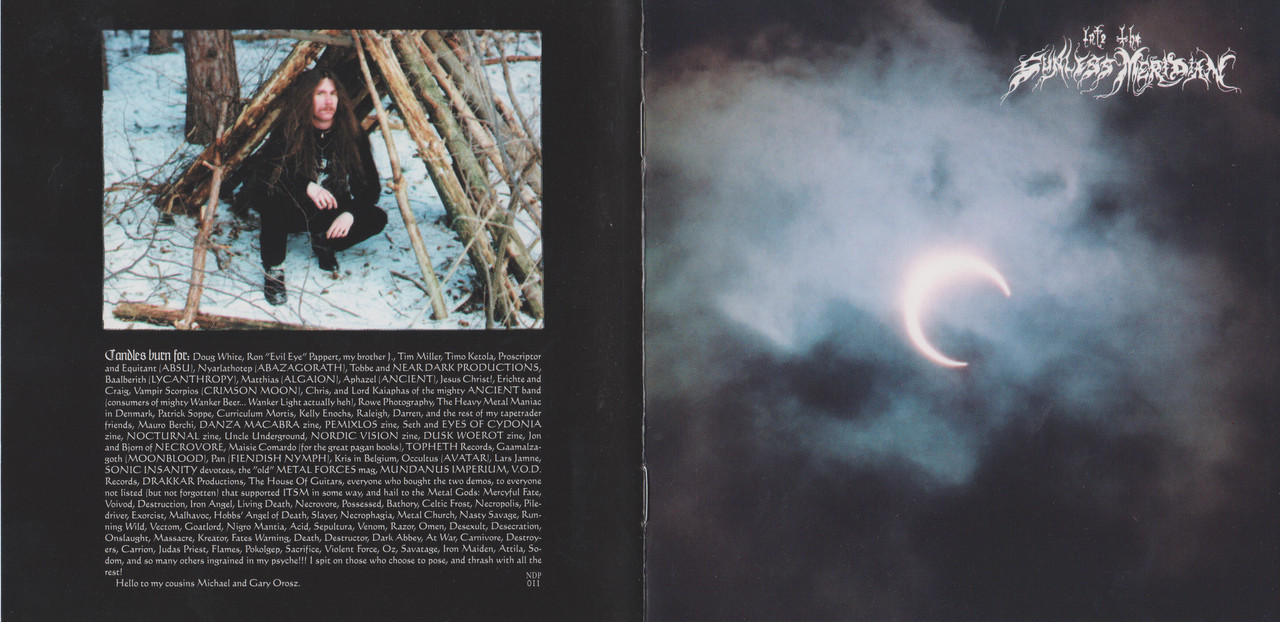 Artist: Into The Sunless Meridian
Release: Into The Sunless Meridian
Genre:Power/Speed/Thrash//Death
Country: USA (Rochester, NY)
Bitrate: 320 kbps
►Dead Link
---------------------------------------------------------------------
Mikael - Burning Axe Onslaught, Nuclear Thunder, Holocaust Cannons, Mesmerizing Atmospheres, and all Tortured Screams of Sorrow and Hatred.
Tracks 1, 5, 8 and 13 were taken from the 2 demo's recorded in 1994 and 1995.
Everything else was recorded 1996-1997. Yes, I play all the instruments. It was a piece-of-shit Tama Drum set that I mic'ed up fully and recorded onto 8 tracks but then mixed them down to 2 so that I had more space to layer the guitars, bass, keyboards, vocals and solo's. All done analog on 8 tracks and then mixed and mastered digitally at Watchmen Studio in Lockport, NY.
This was one of 3 solo-projects I had in the 90's and this one had a lot of experimentation in it that evolved the other solo-projects (like Tearstained). This album mixes power/thrash/speed/death metal plus there's bits of extreme doom. The Album cover and pictures throughout the booklet (included) are of an actual Annular Eclipse that was visible here in 1994 that my friend Evil Eye (R.I.P.) photographed in its different phases. The layout was done by Timo Ketola (of Davthvs Zine) who has also done many other great layouts including a few Marduk ones. There is also a Mercyful Fate cover song, and considering I learned every part as best I could, I think I did a damn good cover. This album is a winding and experimental listen. My only regret is that it sounded better. Why do the shitty bands have the money for nice recording studios?
---------------------------------------------------------------------
1. Meditations in a Cold and Dimly Lit Room - 2:47
2.
The Birth of Psychic Energies
- 5:30
3.
A Depraved Indifference to Human Life
- 11:12
4. Headbanging Maniac - 3:17
5. Tantric Lunar Slumber - 3:04
6. When Emotional Nirvana Deluges You - 4:37
7. Strike Down Mythographer - 6:54
8. Grim Vendetta - 2:40
9. Mesmerising Serenades - 6:13
10. Under Closed Eyelids - 6:06
11. Solar Flare - 1:47
12.
A Corpse Without Soul
(
Mercyful Fate-cover
) - 6:56
13. Floating Weightless Down a Spiral Staircase - 6:42