25
THIS POST HAVE DEAD LINKS
REQUEST A REUPLOAD

HERE



CHECK EXISTING REQUESTS
BEFORE MAKING A NEW ONE!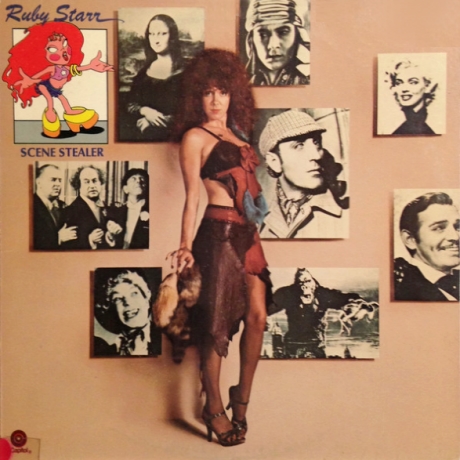 Artist: Ruby Starr
Release: Scene Stealer
Genre: Hard Rock/Classic Rock
Country: USA
Bitrate: 128 kbps
►
dead link
For Canadaspaceman
---------------------------------------------------------------------
Info
RUBY STARR - Scene Stealer (1976) USA
Capitol Records ST-11549
128 kbps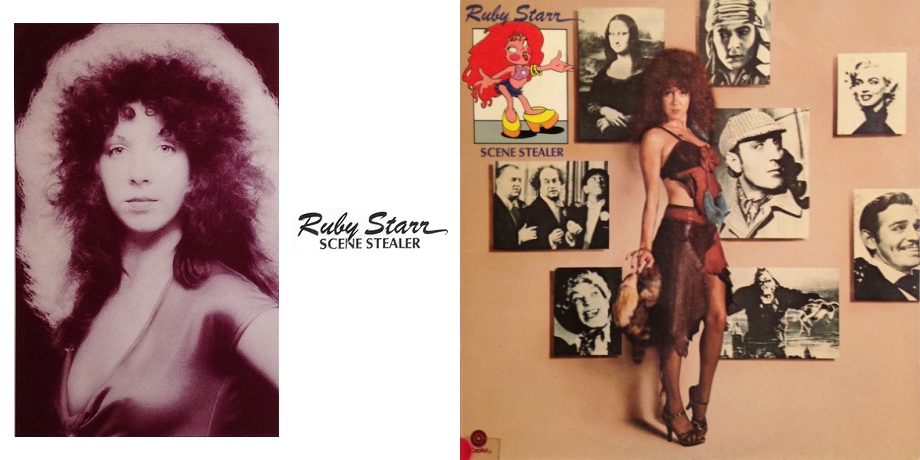 Vocals – Ruby Starr (CONNIE LITTLE, RUBY JONES, BLACK OAK ARKANSAS, GREY GHOST, RUBY STARR & BLACKFOOT, RUBY STAR BAND, HENRIETTA KAHN)
Guitar – Jimmy 'Soybean' Henderson (BLACK OAK ARKANSAS, BLACK OAK)
Bass & Vocals – David 'Angel' Mayo (PARIS PILOT, THE MEMPHIS HORNS, WASHRAG, GREY GHOST)
Keyboards & Vocals – Marius Penczner (GREY GHOST, TARGET, BLUE STEEL)
Drums – Tommy 'Dork' Aldridge (BLACK OAK ARKANSAS, PAT TRAVERS BAND, OZZY OSBOURNE, GARY MOORE, VINNIE MOORE, M.A.R.S., WHITESNAKE, HOUSE OF LORDS, MANIC EDEN, WARREN DeMARTINI, JOHN SKYKES, PATRICK RONDAT, THIN LIZZY, TED NUGENT, ELEMENTS OF FRICTION, CHRIS CATENA, STEVE FISTER)
Guest Vocals - Jim 'Dandy' Mangrum (on 'Fistful Of Love') (THE KNOWBODY ELSE, BLACK OAK ARKANSAS, BLACK OAK)
Guest Saxophone – Andrew Love (on 'Be My Baby') (THE MEMPHIS HORNS, THE NIGHTCLUB BAND)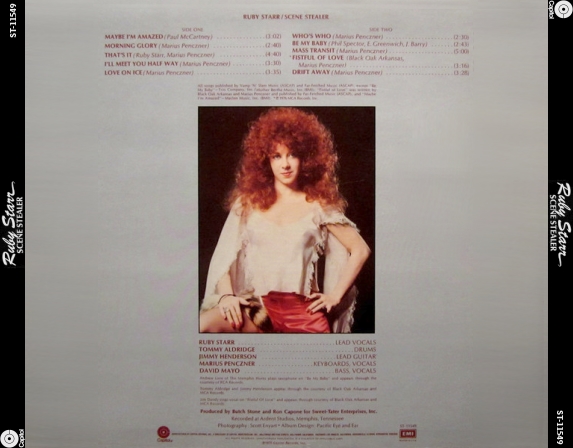 RUBY STARR, born Constance Henrietta Mierzwiak in Toledo, Ohio, was a singer and recording artist who attained national prominence in the 1970s and 1980s, most notably for her work with BLACK OAK ARKANSAS.
Known as "Connie" to her family, Starr began performing at the age of nine, singing country music under the stage name 'CONNIE LITTLE'.
Her early bands included CONNIE & THE BLU-BEATS, CONNIE & THE CYTATIONS, THE DOWNTOWNERS and THE BLUE GRANGE RAMBLERS.
A string of singles were released between 1962 & 1968, which were reasonably successful at a local level.
She joined the band RUBY JONES in 1969, and in 1971 they were signed to CURTIS MAYFIELD's Curtom Records and recorded their lone self-titled album.
Shortly after that album's release, Black Oak Arkansas lead vocalist Jim "Dandy" Mangrum saw Starr singing in an Iowa club and convinced her to join his band.
At this point she assumed the nickname & stage name of "Ruby Starr".
Starr toured with Black Oak Arkansas for several years at the height of their success and was prominently featured on their 1973 Top 30 single "Jim Dandy".
In 1974, she began touring with her own band again as RUBY STARR & GREY GHOST which also featured Gary Levin, Marius Penczner, David Mayo and Joel Williams.
They released an eponymous album in 1975, on Capitol Records.
Her second album, 'Scene Stealer', also on Capitol Records, was then released in 1976.
During this time she continued to open for Black Oak Arkansas and other acts such as BLACK SABBATH and EDGAR WINTER.
Starr also toured with BLACKFOOT acting as her backing band from 1977 to 1978.
Her third and last album for Capitol, 'Smoky Places', was released in 1977.
By the late 1970s, Starr had made Milwaukee her home town and was a popular act in clubs in the region.
By the early 1980s, Starr had formed a new band called GREY STAR by joining with a band that performed around Wisconsin called LUCY GREY.
Grey Star featured co-vocalist Mike Grey, guitarist Freddie Hodnik, bassist Robb Hanshaw, keyboard player Carl Weinberger & Dave "Mud Slide" Gruenewaldt on the drums.
Notable support slots were secured with VAN HALEN & THE WHO before they had even entered a recording studio.
They issued two albums, 1981's 'Grey Star' and 1983's 'Telephone Sex', before line up changes saw a slimmed down version of the band change their name to RUBY STAR.
Under this monicker they released the 1984 'Under Your Spell' 45 & the 1985 'Secrets Of The Heart' single.
They also had a re-recorded version of 'Secrets Of The Heart' featured on the 1988 '93QFM - Hometown Music Project III' compilation LP.
Starr formed her final road band, HENRIETTA KAHN, in the late 1980s.
In the early 1990s, Starr quit the road and moved to Las Vegas, playing at casinos & hotels on The Strip such as The Riviera and The Stardust as well as local clubs.
During this period, The RUBY STAR BAND also performed as the opening act for KANSAS, THE FABULOUS THUNDERBIRDS and APRIL WINE.
Shortly after she was chosen to perform in the "Country Legends" show at The Aladdin Hotel in Las Vegas, she learned she had lung cancer and a brain tumor.
After being diagnosed, Starr returned home to her family in Toledo, where she died aged only 45, on January 14th 1995.
Since her death, several archival releases featuring Starr have been issued, including the live Black Oak Arkansas recording, 'Live On The King Biscuit Flower Hour 1976', and a reissue of Ruby Jones's debut album, now retitled as 'Stone Junkie'.
The song 'Ruby', by RAGING SLAB, was dedicated to the memory of "Miss Ruby".
art & txt included
---------------------------------------------------------------------
01. Maybe I'm Amazed
02. Morning Glory
03. That's It
04. I'll Meet You Half Way
05. Love On Ice
06. Who's Who
07. Be My Baby
08. Mass Transit
09. Fistful Of Love
10. Drift Away