30
THIS POST HAVE DEAD LINKS
REQUEST A REUPLOAD

HERE



CHECK EXISTING REQUESTS
BEFORE MAKING A NEW ONE!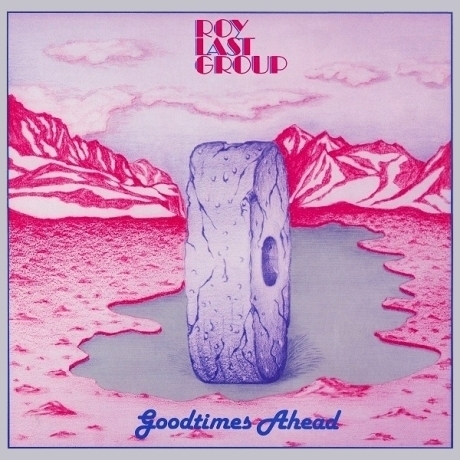 Artist: Roy Last Group
Release: Goodtimes Ahead
Genre: Hard Rock
Country: Germany
Bitrate: 320 kbps
►
dead link
---------------------------------------------------------------------
Info
ROY LAST GROUP - Goodtimes Ahead (1983) Germany
Jax Pax Records JP 102
320 kbps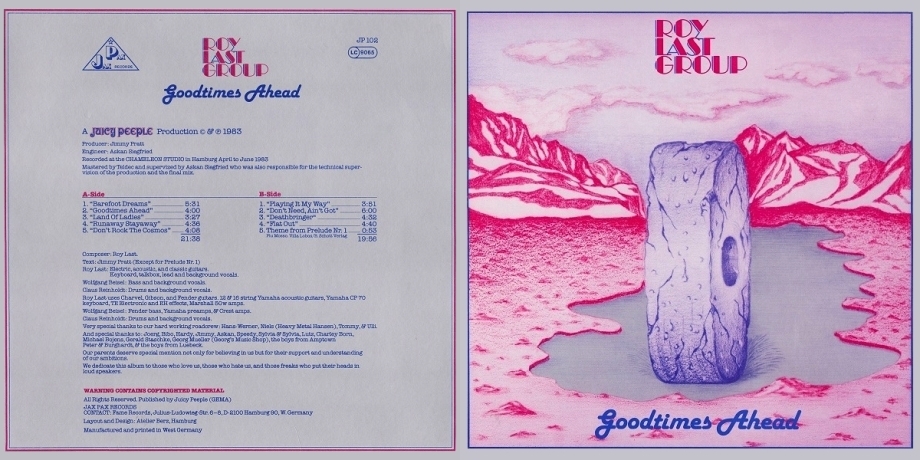 Roy Last - Vocals, Guitars, Keyboards & Backing Vocals (AMAZING GRACE, THE NIGHTBIRDS, L.A.S.T., DIRTY MONEY, EROSION, VENUE, KEY WEST, VELVET VIPER, BUBI THE SCHMIED)
Wolfgang Beisel - Bass & Backing Vocals (J.R. BLACKMORE)
Claus Reinholdt (aka Bubi der Schmied aka Bubi Blacksmith) - Drums & Backing Vocals (JUTTA WEINHOLD, REACTIVE BLACK, VELVET VIPER, ZED YAGO, BUBI THE SCHMIED, WALLENBERG'S WHISKEY HELL)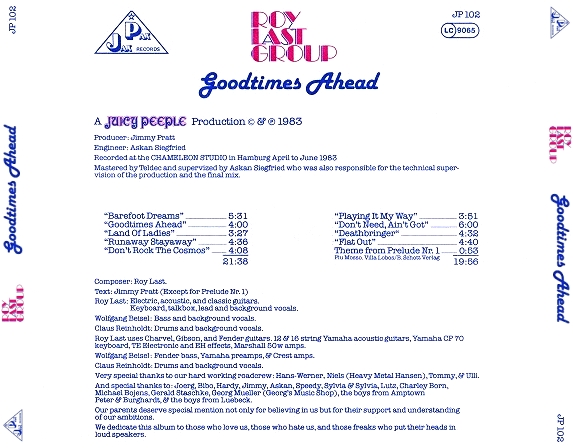 Roy Last was one of Germany's leading Hard Rock guitarists.
His ROY LAST GROUP was originally formed in 1979, gaining instant recognition in the Hamburg region.
Joining Last in the trio were bassist Wolfgang Beisel and drummer Claus Reinholdt (aka Bubi der Schmied).
The three piece Hard Rock act performed and toured intensively with acts such as ACCEPT, ALEXIS KORNER and VIVA, gathering a strong following of fans.
In 1981 the Roy Last Group released their first album 'Rocks' on the German label Jax Pax Records, which included their classic epic "Rainchild".
Roy's mastery of the 'Talk Box' became the talk of the town, and soon thereafter the band landed a tour with U.S. rockers DOKKEN.
A 12" EP entitled 'Let's Go Rock' was then released in 1983, featuring 2 songs from their forthcoming new album on the A-Side, with 'Rainchild' from their debut on the flip.
Their second album, 'Goodtimes Ahead', was released later that year, followed then by a non-LP single entitled 'Hotdog Man'.
It would be another six years before the next release, 'Comin And A Goin'', by which time the band had expanded to become a five piece.
In addition to new singer Ricky Gee and keyboard player Steven Dearman, the old rhythm section of Reinholdt and Beisel had by this time departed, replaced instead by Max Münch & Gerry Rigg respectively.
To reflect the changes, the LP's cover rebranded the group as 'L.A.S.T.'.
Also in 1989, 'Rainchild', a compilation of the best tracks from the first 2 Roy Last albums was released.
Last then joined VELVET VIPER, the band of former ZED YAGO vocalist Jutta Weinhold, where he was reunited with his former Roy Last Band bandmate Claus Reinholdt (aka Bubi der Schmied), who had gone on to play with Zed Yago.
They recorded the 1992 album, 'The 4th Quest For Fantasy', together, with Last also working extensively with Reinholdt on his, 'Bubi The Schmied', solo album released that same year.
After Velvet Viper ran their course, Roy played with several other bands, including EROSION.
Sadly, Roy Last passed away suddenly at just 47 years of age, on the 25th of July 2004, reportedly from a heart attack.
He is survived by his wife and daughter.
art & txt included
---------------------------------------------------------------------
01. Barefoot Dreams
02. Goodtimes Ahead
03. Land Of Ladies
04. Runaway Stayaway
05. Don't Rock The Cosmos
06. Playing It My Way
07. Don't Need, Ain't Got
08. Deathbringer
09. Flat Out
10. Theme from Prelude Nr. 1