19
THIS POST HAVE DEAD LINKS
REQUEST A REUPLOAD

HERE



CHECK SUBMITTED REQUESTS
BEFORE POSTING A NEW ONE!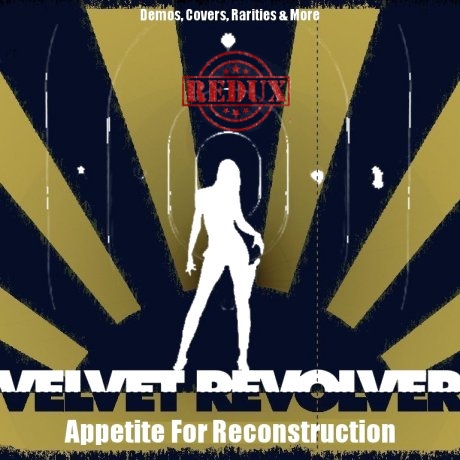 Artist: Velvet Revolver
Release: Appetite For Reconstruction : REDUX
Genre: Hard Rock
Country: USA (Los Angeles, CA)
Bitrate: 192 kbps
►
---------------------------------------------------------------------
Info
VELVET REVOLVER - Appetite For Reconstruction : REDUX (2002-2007) USA
Demos, Covers & Rarities
Velvet Records VELV002B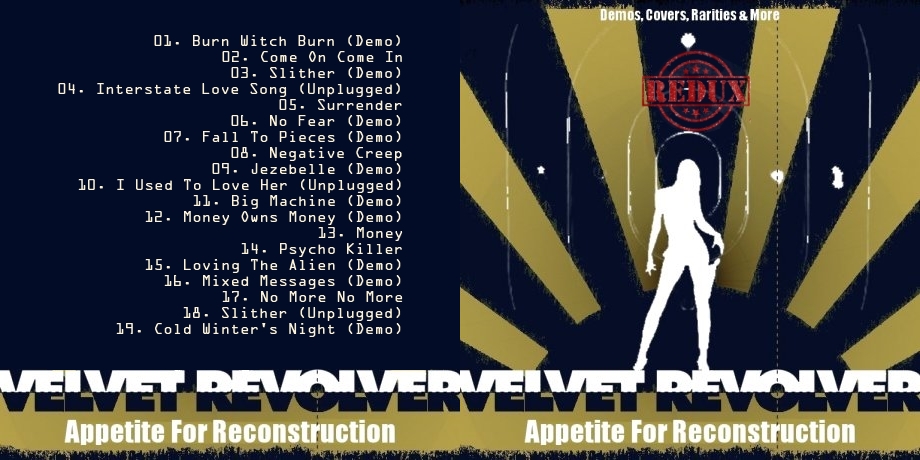 Tracks 01, 03, 06, 07, 09, 11, 12, 15, 16 & 19 : 2002 Demo Recordings
Tracks 04, 10 & 18 : Unplugged on KROQ
Track 02 : From The Fantastic Four Soundtrack
Track 05 : From The Fall To Pieces CD single
Track 08 : From The Slither CD single
Track 13 : From The The Italian Job Soundtrack
Track 14 : From The Melody & The Tyranny CD EP
Track 17 : From The Bonus Material Promo CD EP
Track 04 : Originally by STONE TEMPLE PILOTS
Track 05 : Originally by CHEAP TRICK
Track 08 : Originally by NIRVANA
Track 10 : Originally by GUNS 'n' ROSES
Track 13 : Originally by PINK FLOYD
Track 14 : Originally by TALKING HEADS
Track 17 : Originally by AEROSMITH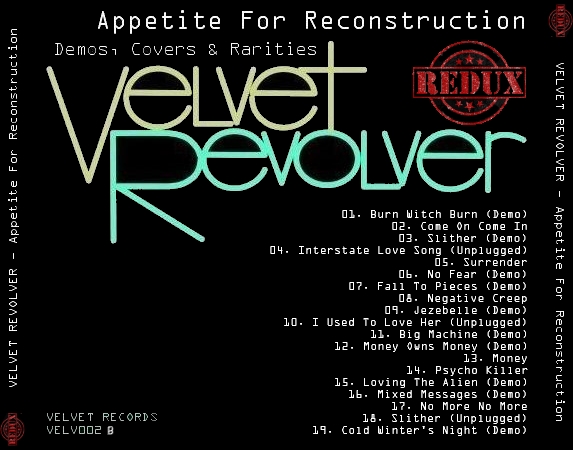 Scott Weiland - Vocals (SWING, MIGHTY JOE YOUNG, STONE TEMPLE PILOTS, THE MAGNIFICENT BASTARDS, THE WONDERGIRLS, THE WILDABOUTS)
Slash - Guitars (TIDUS SLOAN, ROAD CREW, HOLLYWOOD ROSE, BLACK SHEEP, GUNS 'n' ROSES, SLASH'S SNAKEPIT, SLASH'S BLUES BALL, CAMP FREDDY, SLASH & FRIENDS, KINGS OF CHAOS)
Dave Kushner - Guitars (WASTED YOUTH, ELECTRIC LOVE HOGS, INFECTIOUS GROOVES, TRULIO DISGRACIAS, LIT, SUGARTOOTH, CYCO MIKO, DANZIG, ZILCH, LOADED, DKFXP, THE FOREST RANGERS, SHRUTI HAASAN, PUSHER JONES)
Duff McKagan - Bass (THE VAINS, THE LIVING, FASTBACKS, THE FARTZ, 10 MINUTE WARNING, GUNS 'n' ROSES, NEUROTIC OUTSIDERS, THE RACKETEERS, LOADED, VELVET REVOLVER, JANE'S ADDICTION, KINGS OF CHAOS)
Matt Sorum - Drums (PROPHECY, CHATEAU, POPULATION FIVE, JEFF PARIS, Y KANT TORI READ, HAWK, THE CULT, GUNS 'n' ROSES, SLASH'S SNAKEPIT, CAMP FREDDY, NEUROTIC OUTSIDERS, CIRCUS DIABLO, MOTORHEAD, CARNIVAL OF DOGS, KINGS OF CHAOS)
Demos, Covers & Rarities from ex-Guns'n'Roses, Stone Temple Pilots, The Cult, Camp Freddy, Slash's Snakepit, Slash's Blues Ball, Duff, Fartz, Ten Minute Warning, Zilch, The Racketeers, Loaded, Trulio Disgracias, Danzig, Electric Love Hogs & Wasted Youth alumni.
Includes covers of songs by artists as diverse as Cheap Trick, Nirvana & Pink Floyd.
Acoustic versions of VR, STP & G'n'R songs from KROQ Radio.
Demo versions of songs which later appeared on their debut "Contraband" set & others which didn't make the final cut.
Excellent sound quality throughout, nice artwork, well paced tracklisting.
All in all an exemplary example of the "unofficial" release, and a delight for we, the fans.
9/10 : Renegade Sounds
Art & txt included
---------------------------------------------------------------------
01. Burn Witch Burn (Demo)
02. Come On Come In
03. Slither (Demo)
04. Interstate Love Song (Unplugged)
05. Surrender
06. No Fear (Demo)
07. Fall To Pieces (Demo)
08. Negative Creep
09. Jezebelle (Demo)
10. I Used To Love Her (Unplugged)
11. Big Machine (Demo)
12. Money Owns Money (Demo)
13. Money
14. Psycho Killer
15. Loving The Alien (Demo)
16. Mixed Messages (Demo)
17. No More No More
18. Slither (Unplugged)
19. Cold Winter's Night (Demo)