35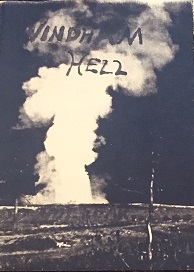 Band: Windham Hell
Country: USA (Snoqualmie, Washington)
Genre: Speed/Thrash/Progressive metal
Release: Demo tape
Title: Do Not Fear… for Hell Is Here
Year: 1988
Bitrate: mp3 - 320 kbps
Many thanx to the original uploader D.G.
Info:
WH started as a one man band formed by Leland T. Windham who
later was helped by Eric Friesen (R.I.P.) that became an
effective member of the project,this is the first demo
released in 1988 when Windham was still a solo project.
Line up:
Leland T. Windham - Guitars, Bass, Vocals, Drums
Tracklist:
01 - Ein Kleine Death Musik
02 - Prelude to Death
03 - Glorification of the Sun
04 - The Syno
05 - Bless This Land
06 - Oh What a Feeling to Die
07 - Homicidal Interlude
08 - Go Back to Bullard and Burn
09 - Ignite Your Blood
10 - Dance of the Bitch
11 - Enter the Gates
12 - Eternal Dream
13 - Pulmony Edema (Hypothermic Death)
Hidden Link