30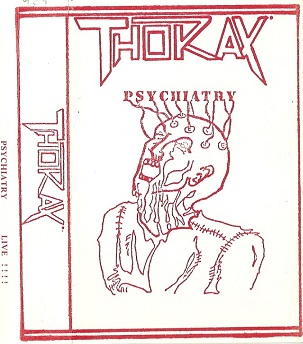 Band: Thorax
Country: Italy (Termoli)
Genre: Thrash Metal
Release: demo tape
Title: Psychiatry Live!!!!
Year: 1987
Bitrate: mp3 - 320 kbps
Info:
This was the first demo for Thorax followed in 1989
by the "Psychiatry" demo that has almost the same
title but different songs and tracklist; a vhs
named Metal Thrashing Event was released in 1990
and was the final epitaph for this band.
Their page on Metal Archives is not updated and mentions
this demo simply as "Live" and the artwork is missing too.
Please note that the track #3 fades into the track #4 so i chose not
to split them into separate songs.
Line up:
Paul Lehmann - lead guitar
Jan Eisenberg - rhythm guitar,vocals
Vince De Tomo - bass
Mille Kailla - drums
Tracklist:
1 - Irreversible fate
2 - Transplanted agony
3 - Weird furies/Infernal mayhem
Hidden Link