27
Artist: Syranax
Release: The Battalion of Death [Demo] (1985) / Annihilation Of Civilization [Demo] (1987)
Genre: Thrash/Speed/Death
Country: USA (Austin, Texas)
Bitrate: 320 kbps
►Dead Link
---------------------------------------------------------------------
Killer pounding thrash/speed/death can be found on their debut demo! One of the pioneers of Texas Thrash/Speed/Death with influences from Possessed, Slayer, Venom, Dark Angel and early Metallica. This 1st demo is fkn EXCELLENT! The 2nd demo is a rawer demo, maybe a rehearsal, and a bit more chaotic, but still shows they had not wimped nor changed their style 2 years later. Some of the '85 demo songs appear again in newer versions, but they don't sound as good. Just my opinion. Enjoy.
https://www.metal-archives.com/bands/Syranax/20672
---------------------------------------------------------------------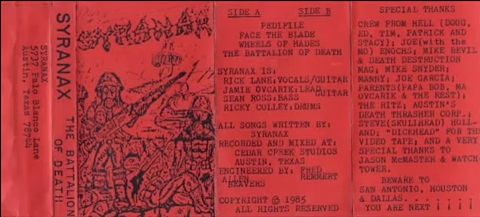 1985 demo

#1 "

The Battalion Of Death

"
1. Pedifile
2.
Face the Blade
3. Wheels of Hades
4.
The Battalion of Death
[/size]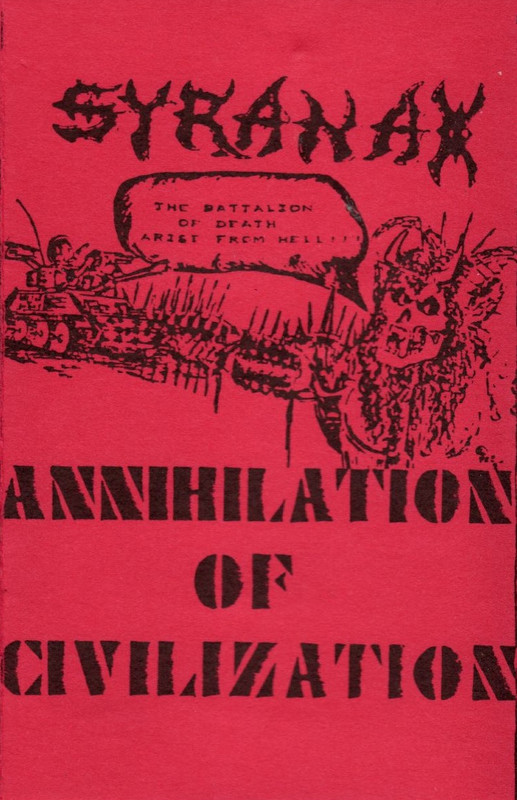 1987 demo

#2 "

Annihilation Of Civilization
"
1. Pedifile
2. Battlefield
3. Face the Blade
4. Wheels of Hades
5. Evil Deception
6. Pressure in the Brain
7. Annihilation [/size]