31
THIS POST HAVE DEAD LINKS.
REQUEST A REUPLOAD HERE

SEARCH REQUESTS BEFORE MAKING A NEW ONE!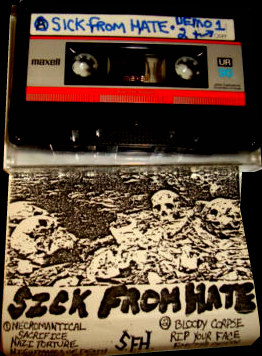 Artist: Sick From Hate
Release: demo
Genre: thrash/death/speed
Country: USA (Connecticut)
Bitrate: 304 kbps
►Dead Link
---------------------------------------------------------------------
A rippingly EXCELLENT demo of death/thrash/speed metal. There are some vicious fkn screams that remind me of Stace "Sheepdog" from
Razor
. The rest of the vocals are very death metal....not grunted 90's type, but morbid 80's style. The riffs are vicious and morbid. This band features some ex-
Necromansy
members. They remind me of the band
The Unsane
. HIGHLY RECOMMENDED!
---------------------------------------------------------------------
1. Necromantical Sacrifice
2. Nazi Torture
3. Nightmares of Death
4. Bloody Corpse
5. Rip Your Face / Emith's Death