31
Artist: Donpheebin (ดอนผีบิน)
Release: Harsh & Raw '33-'38 B.E. - Demos...#2
Genre: Speed-Thrash-Metal
Country: Thailand
Bitrate: WAV 16 bit
Hidden Link
---------------------------------------------------------------------
Donphhebin is the oldest metal band from Thailand, coming from Chiang Mai (north of the country).
They were formed around 1982 and became Donpheebin (ดอนผีบิน) in 1986.
They relocated in Bangkok around 1988-1991 in order to record their first album and in the following years they moved back to Chiang Mai.
This is a pro-printed CDr made by the band itself and distributed under their own music label, Day One Records.
It gathers all the demo/rehearsal recordings made between 1990 and 1995 (2333-2338 according to thai calendar). Originally printed on tape and later re-released on CDr with front/black cover (see the scans) and just a blank cd.
There is also a first part called "Harsh & Raw '82-'88 A.D. - Demos...#1" which gathers all the recordings made between 1982 and 1988 which I don't have unfortunately. I enclose the scan of the cover of this first part as I was given the Volume 2 with the cover of the Volume 1 instead (in fact, I also enclose the scan of Vol. 2 but in lesser quality as it is just taken from their own website).
These 2 compilations are still in print on demand: you just need to get in touch with Sak Kaewthit on FB to order them. Nice guy, he's the owner of Day One Record and Music Shop in Chiang Mai.
As extra bonus I enclose some pictures found on their official website:
-The project and sketch for a neve released demo to be spreaded among music labels in 1989. This demo was supposed to contain 3 songs taken from the recording session made in 1988-1989 before their 1st album "Dark World" (aka "โลกมืด"). It was never released as the band decided to release the album by their own and the 3 songs which had to be featured on the demo later appeared on the "Harsh & Raw '82-'88 A.D. - Demos...#1" Tape/CDr. I don't know which titles were supposed to be, but Sak told me that they are all featured on the "1982-1988" compilation CDr.
-The cover of a parody band called "Mo Pheebin"...actually this is just a gore-porn-grind-noise project made a few years ago by some fan of the band, reproducing the logo of the band and the logo of their historical music label (ONPA)....it was never properly distributed but it can be heard if you write to Somkid Jaroenphat on FB....nothing more than a joke project.
Next time I go to Thailand I'll try to find the Vol. 1 "Harsh & Raw '82-'88 A.D. - Demos...#1" CDr....but Sak told me they have the project, sooner or later, to re-release both volumes on a proper factory pressed CD one day or the other.
Enjoy the second part with the demos 1990-1995 despite the low quality
Sketches and projects for the never released Demo 1989:
Definitive cover for the never released Demo 1989: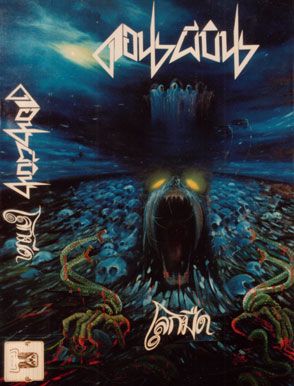 Mo Pheebin: gore-grind-porn joke project from some fan of Donpheebin (recorded in an unknown year, in the 00's):
---------------------------------------------------------------------
1. Pusa (1992)
2. Won-Pra (1994)
3. Kinhn-Sa-Gound (1991)
4. Guitar (1995)
5. Sood-Tae-Tarng-Dern (1995)
6. Guitar (1995)
7. Turning Heaven Upside Down (1990)
8. Corus Won-Pra (1994)
9. Chok-Yung-Dee (1994)
10. Bhawng-Chuowng (1992)
11. Khorn-Karn (1993)
12. Khon-Ce (1993)
13. Tarng-Dern-Derm (1990)
14. Guitar & Kuk Koo (1991)
15. In Rehearsal Room (1990)
16. Dog Eat Dog (1991)