47
THIS POST HAVE DEAD LINKS
REQUEST A REUPLOAD

HERE



CHECK EXISTING REQUESTS
BEFORE MAKING A NEW ONE!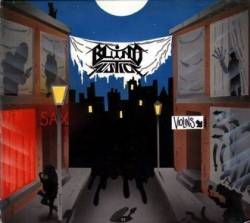 Artist: Blind Justice
Release:
Sax & Violins
Year: 1992
Genre: Progressive/Experimental Thrash Metal
Country: Netherlands
Bitrate: 320 kbps mp3 (CBR)
►
dead link
---
Info
This is a very odd independent release from this Dutch band. The music is at least nominally thrash metal, but as the double entendre of the title implies, there are, in fact, saxophone and violins used extensively throughout the album. The result is a bizarre combination of thrash metal, jazz, and even hints of folk metal.
The closest thing I can compare this to is
Mr. Bungle
(Mike Patton's experimental band), but even that doesn't quite do justice to this album. But if you're looking for something unique and different, this may be just what the Doctor ordered.
Metal Archives link
---
Track list
1. Intro
2. Down We Go
3. Sax and Violins (At the Fireplace)
4. Suffer
5. Time's Ticking
6. Mother Nature
7. Why Should We Care?
8. Relief