11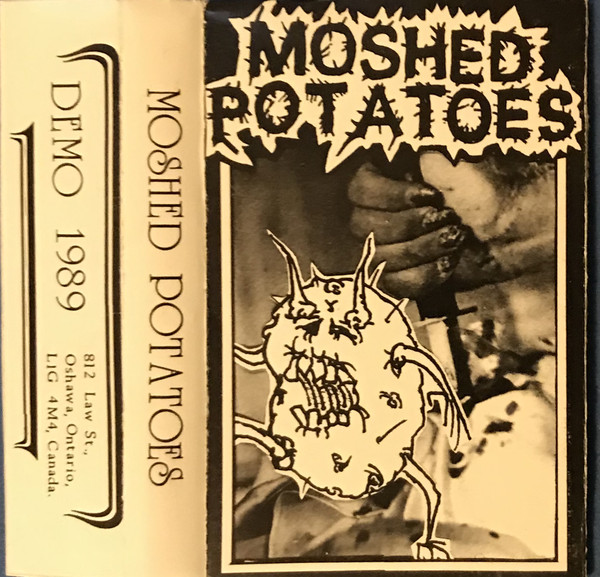 Artist: Moshed Potatoes
Release: Marriage Scum [Demo] (1989)
Genre: Hardcore/Grindcore/Death Metal
Country: Canada
Bitrate: 128 kbps
Size: 16.5 MB
►
Hidden Link
---------------------------------------------------------------------
low-fi punk noise
Thanks to the original ripper and uploader, Punk Guy.
youtube rip
tracks edited/separated by me
I am confused at the moment, as I always thought this band was from Peterborough, Ontario, and the singer was Tony Cosgrey, who used to have a horror video fanzine and was a college radio dj, but the inlay card says the contact address was in Oshawa.
Included a couple of flyers I found online.
https://www.discogs.com/fr/Moshed-Potat ... e/12504855
https://www.discogs.com/fr/artist/66950 ... Potatoes-2
14 minutes 12 seconds
---------------------------------------------------------------------
1. Marriage Scum (1:00)
2. Frere-Jacques (0:42)
3. Huggamuggamax (0:05)
4. Mr.Potatoehead (1:35)
5. Somewhere Slow (0:24)
6. Batman vs. Bond (0:53)
7. Tribute to Death (1:11)
8. Insolent Knave (0:40)
9. The Spill (0:11)
10. Don't Kill Animals (0:50)
11. Degrassi Jr. High (1:09)
12. Hercules (0:33)
13. Too Bad It's Not A Dream (1:50)
+
14. Back of Your Mind [unreleased bonus track i got by private message from the Tony Cosgrey]