25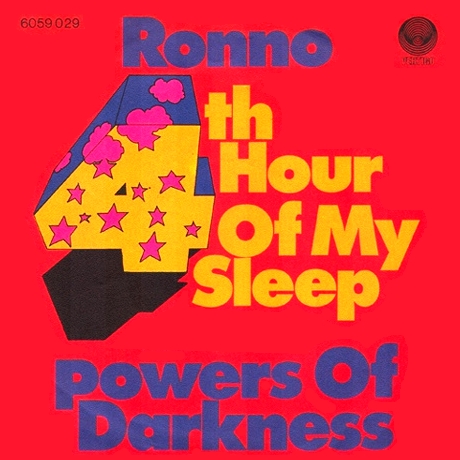 Artist: Ronno
Release: 4th Hour Of My Sleep/Powers Of Darkness [Single] (1971)
Label: Vertigo Records 6059 029
Genre: Hard Rock
Country: UK
Bitrate: 256 kbps
new link in comment section below
https://www.discogs.com/Ronno-4th-Hour- ... ter/312792
01. 4th Hour Of My Sleep
02. Powers Of Darkness
Benny Marshall - Vocals (THE TREACLE, THE RATS)
Mick "Ronno" Ronson - Vocals & Guitar (THE TREACLE, THE VOICE, THE RATS, ARNOLD CORNS, THE SPIDERS FROM MARS, HUNTER/RONSON, TONY VISCONTI ORCHESTRA)
Tony Visconti - Bass (HOBBYHORSE, TONY VISCONTI ORCHESTRA)
Mick "Woody" Woodmansey - Drums (THE RATS, ARNOLD CORNS, THE SPIDERS FROM MARS, WOODY WOODMANSEY'S U-BOAT)
RONNO were a four piece UK Heavy Rock band formed in London in 1970.
The line up featured Benny Marshall on vocals, Mick Ronson on guitar, Tony Visconti on bass, and Woody Woodmansey on drums.
Ronson, Marshall and Woodmansey had all previously played together in Hull based band THE RATS.
Initially coming together in London as THE HYPE, by the time they had inked a deal they had adopted the Ronno name.
The only release by Ronno was this single, issued by Vertigo Records in January 1971.
The commercial Rock of A-Side, "4th Hour Of My Sleep", was written by Tucker Zimmerman, an American friend of producer Tony Visconti.
It's nice enough, with some tasteful picking from Ronson enlivening it's somewhat dated but tuneful chug.
Turn it over though, and things get really interesting.
The flipside, "Powers Of Darkness", was composed by Ronson and Marshall, and is an absolute treat.
This is stomping dark Heavy Rock with quasi-occult lyrics and great geetar pyrotechnics but somehow manages to also be as catchy as hell.
It's mainly this track which makes afficianados stroke their chins and ponder "what if?".
Sadly, the single was received by the public with a disinterested shrug, putting the future of Ronno in question.
But in 1971 three members (Woodmansey, Ronson and Visconti) were roped in by DAVID BOWIE to act as his backing band for the album "The Man Who Sold The World".
The album became a modest success, and sticking with the winning team, a further album was recorded.
This next LP, "Hunky Dory", was released in late 1971, and again sold well, bringing Bowie to international attention.
With the arrival of bassist Trevor Bolder, Bowie's backing unit then became THE SPIDERS FROM MARS, with Visconti leaving to devote his attention to producing other artists.
The next album, "The Rise & Fall Of Ziggy Stardust & The Spiders From Mars", saw Bowie & The Spiders scale the giddy heights of mega stardom.
A huge hit all over the world, the album & attendant singles were the first major peaks of Bowie's career, setting him up for years of adulation in the top echelon of Rock.
Following the "Pin Ups" and Alladin Sane" albums, Bowie decided to change style, letting the Spiders Of Mars go, as he prepared to embark on his "Thin White Duke" stage.
Post-Bowie, Ronson embarked on a solo career for a few years before forming a long running musical relationship with MOTT THE HOOPLE's IAN HUNTER.
Ronson also remained in-demand as an arranger, session player and producer until his untimely death in 1993 of liver cancer at just 46 years of age.
Post-Bowie Trevor Bolder & Mick Woodmansey put together a new-line up of The Spiders From Mars.
With new members Mike Garson on vocals, guitarist Dave Black and keyboard player Pete McDonald, the new incarnation secured a record deal with Pye Records.
Their self titled album was released in 1976 to universal apathy and the group disbanded soon after.
After Bolder joined URIAH HEEP, Woodmansey formed another band WOODY WOODMANSEY'S U-BOAT.
The new act signed to Bronze Records and released a self-titled LP in 1977.
Despite a support slot on Uriah Heep's "Firefly" UK tour, again, the album sold poorly, and U-Boat split.
After this Woodmansey became a session musician, recording & touring with the likes of SCREEN IDOLS, DEXYS MIDNIGHT RUNNERS & PAUL McCARTNEY.
Visconti has become a world reknowned record producer, working with bands as diverse as T REX, WINGS, THIN LIZZY, THE BOOMTOWN RATS, MORRISSEY & THE KAISER CHIEFS during his long distinguished career.
art & txt included
no pw
ctme