37
THIS POST HAVE DEAD LINKS
REQUEST A REUPLOAD

HERE



CHECK IF A REUPLOAD REQUEST ALREADY EXISTS
BEFORE MAKING A NEW ONE!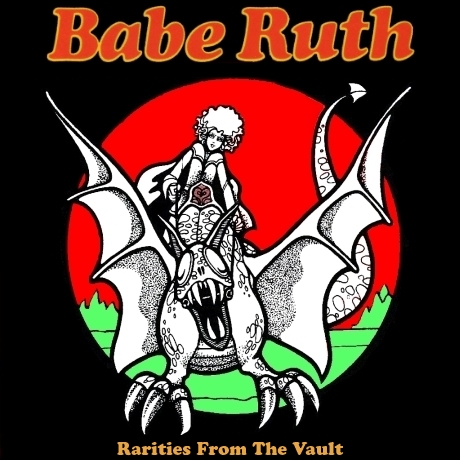 Artist: Babe Ruth
Release: Rarities From The Vault
Genre: Heavy Rock/Progressive Rock
Country: UK (Hatfield, England)
Bitrate: 320 kbps
►
---------------------------------------------------------------------
BABE RUTH - Rarities From The Vault (1972-1979) UK
Goat Sounds Records
Tracks 01-04 : BBC Radio 1 "Whispering" Bob Harris Session Jan 1973
Tracks 05-06 : BBC Radio 1 John Peel Session Aug 1973
Tracks 07-10 : BBC Radio 1 "Whispering" Bob Harris Session Feb 1974
Tracks 11-12 : BBC TV Old Grey Whistle Test Show 1974
Tracks 13-14 : Non-LP Single 1972
Track 15 : Non LP Single 1974
Tracks 16-17 : Jenny Haan Solo Single 1979
Janita "Jenny" Haan : Vocals (SHACKLOCK, JENNE HAAN'S LION)
Alan Shacklock : Guitars, Vocals & Organ (CHRIS FARLOWE'S THUNDERBIRDS, THE GODS, SHACKLOCK, STEVE GIBBONS BAND, ROGER DALTREY, THE PROTOMEN)
Dave Hewitt : Bass & Vocals (SHACKLOCK, JENNE HAAN'S LION, WHITFORD St. HOLMES, HUMBLE PIE, GEORGIA SATELLITES, FRENCH CORNER)
Ed Spevock : Drums (BOND & BROWN, BRIAN SHORT, PETE BROWN'S PIBLOKTO!, CHICKEN SHACK, THE ALAN ROSS BAND, JENNE HAAN'S LION, PENNY RIMBAUD, WYTCHFYNDE)
Chris Holmes : Keyboards (TIMEBOX) [Tracks 05-12]
Dave Punshon : Keyboards (BALLOON & BANANA BAND) [Tracks 01-04, 13 & 14]
Steve Gurl : Keyboards (WILD TURKEY, DAVE KELLY, FLETCHER GURL, SLAVES TO FASHION, ANY TROUBLE) [Track 15]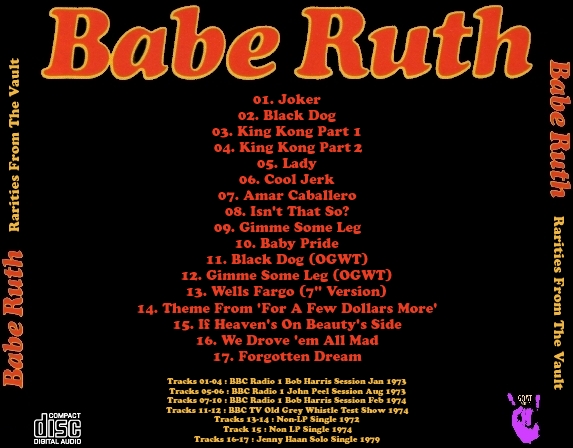 BABE RUTH were a UK Progressive/Hard Rock group, primarily active through the early to mid 1970s, formed in Hatfield, Hertfordshire, England.
Their characteristically 'heavy' sound was marked by the powerful vocals of Janita Haan and the arrangements of guitarist Alan Shacklock.
They experienced greater commercial success in Canada & North America than in their home country.
When the group was first formed in 1970, they were called SHACKLOCK after their guitarist Alan Shacklock, ex-THE GODS.
By the time of their re-naming the line-up included Janita Haan and Dave Hewitt, with Dave Punshon and Dick Powell later joining.
Their first release was the 1972 single "Wells Fargo", and their debut album, "First Base", which went gold in Canada.
In 1973, Ed Spevock replaced Powell and then Chris Holmes replaced Punshon for the second album, "Amar Caballero".
In 1974, Steve Gurl from Glenn Cornick's WILD TURKEY replaced Holmes on Keyboards for the third album, "Babe Ruth" which cracked the US Top 100.
The same year, Shacklock left the band to work as a solo songwriter and record producer.
He has received three nominations for Grammy awards and has produced a number of silver, gold and platinum recordings.
Artists he has worked with include MIKE OLDFIELD, BONNIE TYLER, JEFF BECK, MEAT LOAF, THE ALARM and ROGER DALTREY.
Ex-UFO and COZY POWELL'S HAMMER guitarist Bernie Marsden joined the team for a fourth Babe Ruth album, "Stealin' Home", in 1975.
After this release Haan and Hewitt both left the group.
Though no original member remained, Babe Ruth incorporated fresh personnel Ellie Hope and Ray Knott for a fifth and final album, "Kid's Stuff", in 1976.
After Babe Ruth's 1977 dissolution, Bernie Marsden joined PAICE, ASHTON & LORD before becoming a founder member of WHITESNAKE.
Post-Babe Ruth, Haan formed JENNE HAAN'S LION with Hewitt and toured Europe and the United Kingdom receiving great reviews.
After a short spell as a solo artist with EMI, and a TV commercial for BASF, she returned to college.
Although effectively retired from the stage, Haan kept busy musically by doing session work with the likes of BE-BOP DELUXE and THE WATERBOYS.
A disco cover of Babe Ruth's "The Mexican", by THE BOMBERS, which was released in the late 1970's inspired renewed interest in Babe Ruth's back catalogue.
This Disco version in turn inspired an electro/freestyle cover by Jellybean Benitez in 1984, for which he managed to recruit Haan on vocals.
This version subsequently gained wide popularity as an underground dance club hit.
Hewitt moved to the U.S.A. in the early 80's, hooking up with Brad Whitford from AEROSMITH and Derek St. Holmes from TED NUGENT's band in a new group.
This band became WHITFORD St. HOLMES who recorded a lone album for CBS which was followed by lots of touring.
Next up for Hewitt was a short stint in HUMBLE PIE, recording demos with Eddie Offord of YES fame as producer.
He then joined GEORGIA SATELLITES for a while and did session work with LITTLE FEAT, also working with members of DRIVIN' & CRYIN' in a band called FRENCH CORNER.
Drummer Ed Spevock joined CHICKEN SHACK after Babe Ruth, recording two albums with them, "The Creeper" and "That's The Way We Are", before then joining up with Haan's post-Babe Ruth act, JENNE HAAN'S LION.
Keyboard player Steve Gurl went on to work with DAVE KELLY, before joining ANY TROUBLE for a pair of albums in the mid-1980's.
Between late 2005 and early 2006, Haan (now Janita Haan Morris), Hewitt, Shacklock, and Punshon reunited to record new material together in Nashville, with Spevock recording his drums in London.
The album, titled "Que Pasa?", was released on Revolver Records.
The band embarked on a successful reunion tour of Canada in July 2010.
art & txt included
---------------------------------------------------------------------
01. Joker
02. Black Dog
03. King Kong Part 1
04. King Kong Part 2
05. Lady
06. Cool Jerk
07. Amar Caballero
08. Isn't That So?
09. Gimme Some Leg
10. Baby Pride
11. Black Dog (OGWT)
12. Gimme Some Leg (OGWT)
13. Wells Fargo (7" Version)
14. Theme From 'For A Few Dollars More'
15. If Heaven's On Beauty's Side
16. We Drove 'em All Mad
17. Forgotten Dream