33
THIS POST HAVE DEAD LINKS
REQUEST A REUPLOAD

HERE



CHECK EXISTING REQUESTS
BEFORE MAKING A NEW ONE!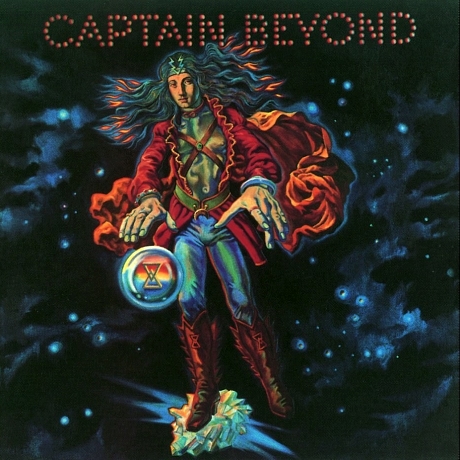 Artist: Captain Beyond
Release: Captain Beyond
Genre: Heavy Rock/Proto-Metal/Hard Rock/Progressive
Country: USA/UK
Bitrate: 320 kbps
►Dead Link
---------------------------------------------------------------------
CAPTAIN BEYOND - Captain Beyond (USA/UK-1972)
Capricorn Records/Polygram Records 314 536 107-2
Rod Evans - Vocals (DEEP PURPLE, THE MAZE, THE HORIZONS)
Larry "Rhino" Reinhardt - Guitar (IRON BUTTERFLY, BITTERSWEET, THE THUNDERBEATS, THE LOAD, THE SECOND COMING, THE RYNO BAND, MAD DANCER, BOBBY WOMACK, ROBERT TEPPER, RHINO & THE POSSE)
Lee Dorman - Bass, Piano, Organ, Vocals (IRON BUTTERFLY)
Bobby Caldwell - Drums, Percussion, Organ, Bells, Vibraphone, Vocals (JOHNNY WINTER, ARMAGEDDON, RICK DERRINGER, ALLMAN BROTHERS BAND, NOAH'S ARK, JD BLACKFOOT)
CAPTAIN BEYOND was an American/British Heavy Rock band formed in Los Angeles, California in 1971.
The original line-up for Captain Beyond was singer Rod Evans (ex-DEEP PURPLE), drummer Bobby Caldwell (ex-JOHNNY WINTER & ALLMAN BROTHERS BAND), guitarist Larry "Rhino" Reinhardt (ex-IRON BUTTERFLY), bassist Lee Dorman (ex-IRON BUTTERFLY) and keyboardist Lewie Gold.
Gold left due to personal reasons before the first album was recorded, but played on the demo which secured the band their record deal.
The remaining line-up recorded the self-titled debut album for Capricorn Records, which was released in July of 1972.
All the members had achieved a degree of fame in their former bands, but merged their different stylistic approaches to produce a truly unique progressive Heavy Rock album.
Their music was punctuated with a constantly shifting tempo with equally complex time signature changes.
The musicianship rivalled or surpassed that of the majority of their contemporaries.
Unlike many groups with stellar musicians, their songs still flowed effortlessly together, never staying one place long enough to become stale or repetative and never becoming overly self-indulgent.
From they acoustic "A Thousand Days of Yesterdays" to the furiously heavy "Frozen Over", the incredible dynamics of the music set a timeless blueprint.
Often imitated, seldom equalled.
For an early 70's recording, the production work on this recording is nothing less than extraordinary.
The album sounds incredibly clear and vibrant, with all the impact and power you'd expect from a modern production.
Way ahead of its time and still fresh to this day.
Following this album Caldwell left the band to join RICK DERRINGER and was replaced by drummer Brian Glascock.
Also joining the band around this time were Reese Wynans on keyboards and Guille Garcia on congas.
The record company's chosen producer, Giorgio Gomelsky, did not like Glascock's drumming and requested a new drummer.
Glascock was released and Marty Rodriguez was brought in on drums on the recommendation of Garcia.
This six man lineup recorded the group's second album, the latin influenced "Sufficiently Breathless".
Tension during the recording led to Evans quitting after the album was released.
The original lineup then reformed later in 1973 for a US tour with KING CRIMSON but the band split up again at the end of the year.
The band reformed again in 1976, this time with new member Willy Daffern (ex-HUNGER & TRUK), on vocals.
They recorded the band's third album "Dawn Explosion" on Warner Bros., but broke up again in 1978.
Daffren then went on to front PIPEDREAM (featuring VANILLA FUDGE & BECK, BOGERT & APPICE bassist Tim Bogert & SYMPHONIC SLAM drummer Jan Uvena), on their lone self-titled album.
Daffren then guested on FOCUS guitarist JAN AKKERMAN's "3" solo album before adopting the pseudonym "Willy Dee" and joining forces with GARY MOORE for the G FORCE project, which also yielded just a single self-titled LP.
After the release of his own 1983 solo album Daffren decided to leave the music industry for a while, returning in the 90's with a band called ZOOMLENZ.
Following a resurgence of interest in Captain Beyond following the re-release of their first 2 albums on CD, Reinhardt and Caldwell reformed Captain Beyond in 1998 with new members Jimi Interval on vocals, Dan Frye on keyboards, and Jeff Artabasy on bass.
The band performed many well received live shows, appeared at the Sweden Rock festival and released an independent four track EP.
In 1999, Swedish record label Record Heaven released a tribute to Captain Beyond entitled "Thousand Days of Yesterday".
The album features fellow 1970s rockers PENTAGRAM playing "Dancing Madly Backwards", alonside contributions by HAWKWIND's Nik Turner, THIN LIZZY's Brian Robertson, FLOWER KINGS and LOCOMOTIVE BREATH.
Captain Beyond once again disbanded in 2003 when lead guitarist Larry Reinhardt developed cancer.
Following treatment, Reinhardt continued to perform music until late 2011, when he again fell ill.
He died on January 2, 2012 of cirrhosis of the liver. He was 63.
Bassist Lee Dorman died of natural causes at the age of 70 on December 21, 2012.
A 1973 live recording was released on CD and vinyl as "Live In Texas" by Purple Pyramid/Cleopatra Records in 2013.
The same label also made the 1st Captain Beyond LP available on vinyl once more later in the same year.
2014 saw Purple Pyramid issue a limited edition Captain Beyond 2-CD 'Official Bootleg' live collection, entitled "Live Anthology".
Disc 1 contains complete live sets from Montreux 1971 & Miami 1972, whilst the 2nd disc features the sets from New York 1972 and Los Angeles 1977.
art & txt included
no pw
---------------------------------------------------------------------
01. Dancing Madly Backwards (On A Sea Of Air)
02. Armworth
03. Myopic Void
04. Mesmerization Eclipse
05. Raging River Of Fear
06. Thousand Days Of Yesterdays (Intro)
07. Frozen Over
08. Thousand Days Of Yesterdays (Time Since Come And Gone)
09. I Can't Feel Nothin' (Part 1)
10. As the Moon Speaks (To The Waves Of The Sea)
11. Astral Lady
12. As The Moon Speaks (Return)
13. I Can't Feel Nothin' (Part 2)