46
THIS POST HAVE DEAD LINKS
REQUEST A REUPLOAD

HERE



CHECK IF A REUPLOAD REQUEST ALREADY EXISTS
BEFORE MAKING A NEW ONE!
Artist: Vengeance
Release: Way Past Go 7"
Genre: Traditional Heavy Metal/Hard Rock
Country: USA (Orange County, California)
Bitrate: 192 kbps
►Dead Link
---------------------------------------------------------------------
Requested by Strappado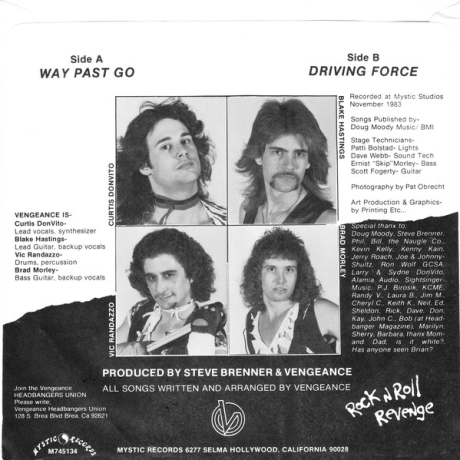 VENGEANCE - Way Past Go 7" (1983) USA
Mystic Records M 745134
https://www.metal-archives.com/albums/V ... rce/199707
https://www.discogs.com/Vengeance-Way-P
... se/4774213
192 kbps
Curtis DonVito - Vocals, Keyboard (SNEW)
Blake Hastings - Guitar, Backing Vocals (LIXX ARRAY)
Brad Morley - Bass, Backing Vocals (LIXX ARRAY)
Vic Randazzo - Drums, Percussion (LIXX ARRAY)
Orange County based traditional Heavy Metal/Hard Rock quartet VENGEANCE formed in the early 1980's & left as their legacy a lone 7" released on Doug Moody's Mystic Records, a label more usually associated with Punk Rock. The 1983 45 paired the songs 'Way Past Go' & 'Driving Force' and was issued in a black & white picture sleeve.
The following year the band parted company with vocalist Curtis DonVito, who resurfaced as a member of SNEW many years later. He has released two albums to date with that band, 2008's 'Snew You' & 2012's 'What's It To Ya?'.
Following DonVito's departure, the 3 remaining members of Vengeance recruited new singer Mark Abbruzzese, (brother of former PEARL JAM drummer Dave). Moving in a more Glam/Arena Rock direction they decided to change their name to reflect their sonic transformation.
Settling on the new monicker of LIXX ARRAY, the band recorded a self-titled five song 1987 12" Mini LP for the Azra label, but line up changes meant that by the time the band released 'Reality Playground ', their full length debut album in 1992, only guitarist Blake Hastings remained from the old Vengeance days. A self-released posthumous 2nd full length Lixx Array album, 'Mud In Your Eye', was issued in a limited CD-r edition in 2004.
---------------------------------------------------------------------
1. Way Past Go
2. Driving Force