63
THIS POST HAVE DEAD LINKS
REQUEST A REUPLOAD

HERE



CHECK EXISTING REQUESTS
BEFORE MAKING A NEW ONE!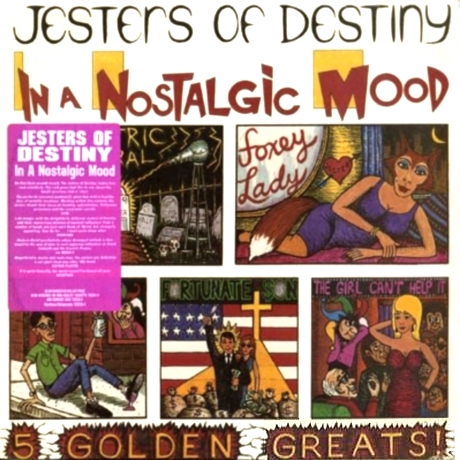 Artist: Jesters Of Destiny
Release: In A Nostalgic Mood Mini LP
Genre: Heavy Metal/Hatd Rock/Psychedelic/You-Name-It
Country: USA (Los Angeles, California)
Bitrate: 192 kbps
►Dead Link
---------------------------------------------------------------------
JESTERS OF DESTINY - In A Nostalgic Mood Mini LP (1987) USA
Dimension Records/Metal Blade Records 72228-1
Bruce Duff aka "Screaming Lord Duff" - Vocals & Bass (SLEEPING BEAUTY, 45 GRAVE, NO-Y-Z, JEFF DAHL BAND, TWISTED ROOTS, WAYNE KRAMER, BUGLAMP, SISTER GODDAMN, ADZ, SWEET JUSTICE, CIRCLE, ANGUS KHAN)
Michael Montano - Guitars (CHRISTIAN DEATH)
Gary Dobbins aka "Ray Violet" - Guitars, Keyboards (MENTORS, EXP)
Danny Blaze - Drums
JESTERS OF DESTINY were a Heavy Metal band formed in Los Angeles California.
During their short run in the mid '80s the band were known for their unusual sound, combining Heavy Metal with psychedelic flourishes.
Their music was instant but complex, fun without resorting to novelty, memorable and melodic without sacrificing an inch of musical muscle.
They were later considered to be one of the earliest "alternative" metal bands because of their eclectic style.
The band first came to people's attention with the inclusion of their "End Of Time" on the Metal Blade Records "Metal Massacre V" compilation LP, released in 1984.
They then released their debut album "Fun At The Funeral" in 1986 on Dimension Records, a subsidiary of Metal Blade.
A five song Mini LP was then issued in 1987, entitled "In A Nostalgic Mood", featuring the Jesters taking on songs by BLACK SABBATH, JIMI HENDRIX, CREEDENCE CLEARWATER REVIVAL and more.
The band were working on a second full length album, to be titled "No Laughing Matter", when they were dropped by their label.
Several tracks intended for that album finally appeared on Ektro Records' expanded deluxe CD reissue of "Fun At The Funeral" in 2001.
After being dropped, the band continued for a while before eventually dissolving.
A band too far ahead of the pack to reap the benefits of their pioneering.
Bassist/Singer Bruce Duff is still active in music, having spent some time working with the Finland based Prog Rock band CIRCLE, he now plays with ANGUS KHAN.
Angus Khan also feature former members of THE STREETWALKIN' CHEETAHS, B-MOVIE RATS and ADZ, and specialise in authentically grimy retro Hard Rock.
Angus Khan released their debut album, "Black Leather Soul" on Nickel & Dime Records in 2009.
---------------------------------------------------------------------
01. Electric Funeral
02. Foxey Lady
03. Spazz
04. Fortunate Son
05. The Girl Can't Help It