33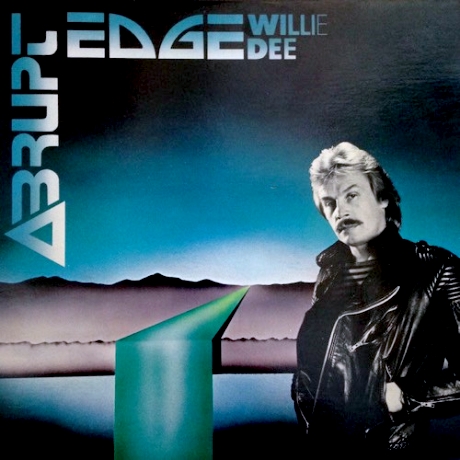 Artist: Willie Dee
Release: Abrupt Edge
Genre: AOR/Hard Rock
Country: USA
Bitrate: 320 kbps
►
Hidden Link
---------------------------------------------------------------------
Info
WILLIE DEE - Abrupt Edge (1983) USA
Rocshire Records XR22015
320 kbps
https://www.discogs.com/artist/779772-Willie-Dee-2
https://glorydazemusic.com/vf/discussion/13478/
Willy Daffren (aka Willie Dee aka Willie D aka Bill Daffren) - Vocals (HUNGER, TRUK, CAPTAIN BEYOND, THE STANDELLS, CHAKRAS, PIPEDREAM, G-FORCE, ZOOMLENZ)
Phil Brown - Guitar (SMACK, BLACK ROSE, ROGER DALTREY, FIONA, ROBERT FLEISCHMAN)
Michael Palmer - Guitar (SOLAR HEAT)
Phil Chen - Bass (BUTTS BAND, BRIAN MAY, ROD STEWART, JEFF BECK, THE DOORS OF THE 21st CENTURY)
Michael Wilk - Keyboards (STEPPENWOLF, JOHN KAY)
Claude Pepper - Drums (EARL SLICK BAND, SILVER CONDOR, WHA-KOO, Dr. STRUT, FRA LIPPO-LIPPI)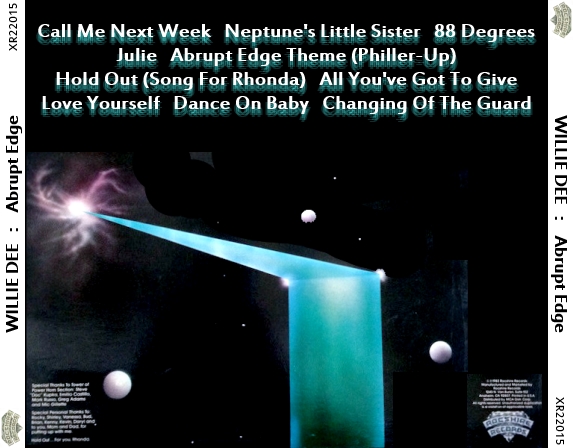 WILLY DAFFREN (aka WILLIE DEE) is an American Vocalist with a long & storied career.
When he first came to public attention it was as the drummer & singer with Portland, Oregon Psychedelic pioneers HUNGER!.
The group moved to Los Angeles, California in 1967 and quickly made a name for themselves with their attention grabbing compositions & stagecraft.
Willie moved on before the group was signed, but did play on a few of their recordings and had writing credits on 8 songs on their eventual lone album, 1968's 'Strictly From Hunger' on Public Records, a record reappraised down the years and now considered a classic LP of the genre by those in the know.
The next sighting of Willie was also in a songwriting capacity when THE ELECTRIC PRUNES recorded three of his tunes for their 'Just Good Old Rock And Roll' album in 1969, with another of Daffren's songs appearing on their next LP, 'Finders Keepers, Losers Weepers'.
Prior to this he had briefly played drums with an incarnation of THE STANDELLS, and also with the band CHAKRAS who released a 1969 45 called 'City Boy' on Reprise Records.
He was back behind the drumkit, (and on back-up & harmony vocals), for his 'proper' vinyl debut on TRUK's Hard Rockin' lone LP, 'Truk Tracks', released by Columbia Records in 1971. A 45, 'Winter's Coming On' was also issued, but neither set the charts alight & the band soon fell apart.
Willie next appeared on vinyl in 1977, freshly installed as the new lead singer with legendary cult Heavy Rock band CAPTAIN BEYOND, replacing former DEEP PURPLE singer Rod Evans for their 3rd LP, 'Dawn Explosion' on Warner Brothers Records.
Whilst this LP didn't quite scale the same dizzying heights as the bands steamrolling S/T debut album, it was a vast improvement on their disappointing sophomore release & has stood the test of time very well when heard again today.
It's a shame this version of the band didn't record further material together, as Daffren's vocal style lent the group a more commercial air without them having to sacrifice their musical muscle, as they had done in search of airplay with their 'Sufficiently Breathless' album.
Unfortunately internal wrangling & record company hassles saw the group disband not long after the 'Dawn Explosion' LP was released.
Willie then went on to make a guest appearance as lead vocalist on the song 'She's So Divine' from the 1979 '3' solo album by former FOCUS guitarist JAN AKKERMAN, before forming a new band with bass legend Tim Bogert of CACTUS, BECK, BOGERT & APPICE & VANILLA FUDGE.
Recruiting former KGB, WIZARD & BUDDY MILES guitarist Ben Schultz & drummer Jan Uvena, who would later play with ALICE COOPER, ALCATRAZZ & SIGNAL, the new quartet named themselves PIPEDREAM.
The new group were quickly signed to ABC Records after playing a series of showcase gigs around Los Angeles, then packed off to the Kendun Recorders studio in Burbank to make their debut LP.
That LP, 'Pipedream', released in 1979 is a criminally overlooked little Hard Rock LP from that classic era that deserves to be better known & more celebrated. Unfortunately it turned out to be the group's sole release, with Pipedream disbanding after Bogert signed back on with the reformed Vanilla Fudge.
Willie then joined up with former THIN LIZZY & SKID ROW guitarist GARY MOORE in the short-lived band G-FORCE, which was completed by lead vocalist Tony Newton & former ELF, IAN GILLAN BAND & Thin Lizzy drummer Mark Nauseef.
For this new group Willie adopted the name 'Willie Dee', (possibly for contractual reasons), and played keyboards, bass & synthesizers as well as singing. Is there nothing this man can't do?
The band's self-titled debut album was released in 1980 on Jet Records, after which this unit too fell apart, with Moore going solo, Nauseef going on to session work & Newton returning to a successful songwriting career.
The lone 'G-Force' LP has been re-released many times over the years, often re-marketed as a Gary Moore solo LP.
Willie reappeared in 1983, again as 'Willie Dee', with a solo album entitled 'Abrupt Edge' released on Rocshire Records.
The LP saw him backed by notable session men Phil Chen, (BRIAN MAY, JEFF BECK, ROD STEWART), Phil Brown, (ROGER DALTREY, FIONA), STEPPENWOLF's Michael Wilk, SILVER CONDOR's Claude Pepper & former SOLAR HEAT man Michael Palmer.
This album found Daffern in slick AOR territory, with the very 80's keyboard-heavy production dating the LP quite badly, but his distinctive vocals remain superb & repeated plays lodge the record's carefully crafted hooks in your head with ease.
If radio had given this a real push, it could easily have given Daffern the hit he was clearly aiming for, but Rocshire just didn't have the sufficient clout to make that happen, so yet again was not to be.
That, unfortunately, was the consistent pattern of Willie Daffern's career. A top talent who should really have been fronting one of the big Hard Rock acts of the day, but instead found himself unjustly overlooked in the margins of Rock history, known only to the true connoisseurs of music.
More recent years have found Daffern back in action after a long absence, fronting a band called ZOOMLENZ which also featured former members of WILD DOGS, ARMED FORCES & MATA HARI.
In 1999, Zoomlenz contributed a cover of the song 'Sweet Dreams' for the 'Thousand Days Of Yesterdays : A Tribute To Captain Beyond', compilation album on Sweden's Record Heaven label.
And you know what? He still sounded great even all these years later.
A pair of EPs were then released, 1999's 'Far Off Target' & 'Apeture' in 2001.
The self-titled debut Zoomlenz album finally followed in July of 2015.
Here's to you Mr. Daffren.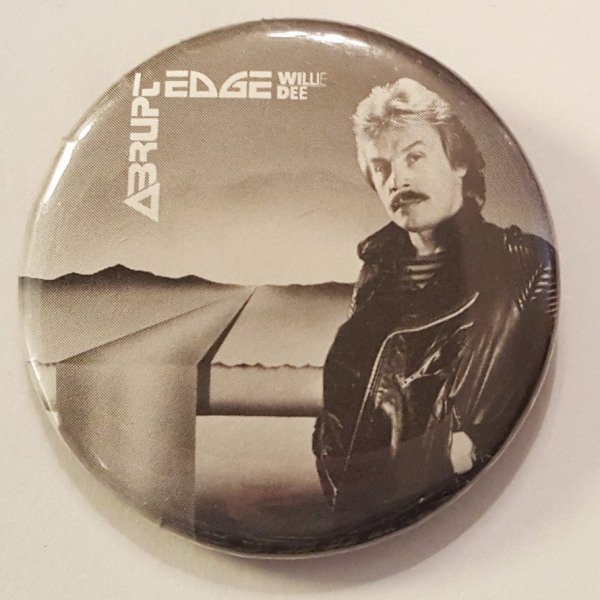 art & txt included
---------------------------------------------------------------------
01. Call Me Next Week
02. Neptune's Little Sister
03. 88 Degrees
04. Julie
05. Abrupt Edge Theme (Philler-Up)
06. Hold Out (Song For Rhonda)
07. All You've Got To Give
08. Love Yourself
09. Dance On Baby
10. Changing Of The Guard (Magic In Your Eyes)