84
Artist: Jaded Lady (ex-Leather Angel)
Release: Demos and various recordings (1985-1988)
Genre: Heavy Metal / Female Fronted
Country: USA (Los Angeles, California)
Bitrate: VBR
►Dead Link
---------------------------------------------------------------------
Reborn from the ashes of Leather Angel, when in 1985 changed its name to Jaded Lady following the departure of Debbie Wolf and Krissi North.
They wasted no time, and that same year recorded with Don Mack (Y&T) a promising first demo.
It would be the first of the three they recorded. But before the second, the last musicians to arrive to Leather Angel were the first to abandon the Jaded Lady ship: for health reasons, Kerri James gave the sticks to Mari Jo La Roche, and Danelle Kern seeking new thrills with Lana Lane being replaced by Sylvia Cei.
Jaded Lady overcame the change and began acting again clubs, and released their second demo in 1986.
They signed a recording contract with the label Apocalypse, but ended in failure after economic problems of the investors who lost part of their money in a stock market crisis.
Two years later they recorded what would be their last and most mature demo. It was followed by a local tour again, and a brief interviewed participation in the film/documentary "The Decline Of The Western Civilization Part II: The Metal Years".
It was the last time we saw the band together, since Terry O'Leary launched a solo career, and then joined again Sylvia Cei to record a demo in 1991 under the name of Thigh High.
Lineup:
Terry O'Leary – Vocals
Cathy Amanti – Bass, backing vocals
Syvia Cei – Guitar, backing vocals
Mary Jo La Roche – Drums, backing vocals
Former members:
Kerri James – Drums
Danelle Kern – Guitar
http://www.metaladies.com/bands/jaded-lady/
http://www.oocities.org/sunsetstrip/bas ... dedldy.htm
http://www.metalmaidens.com/jadedlady.htm
http://www.metal-archives.com/bands/Jaded_Lady/95643#
---------------------------------------------------------------------
Demo 1985
1.Rock and Roll Ain't Pretty
2.Break Free
3.On The Run
---------------------------------------------------------------------
Demo 1986 {INCOMPLETE}
1.Shoot Me With Your Love {MISSING}
2.Empty Heart
3.Give It All You Got {MISSING}
---------------------------------------------------------------------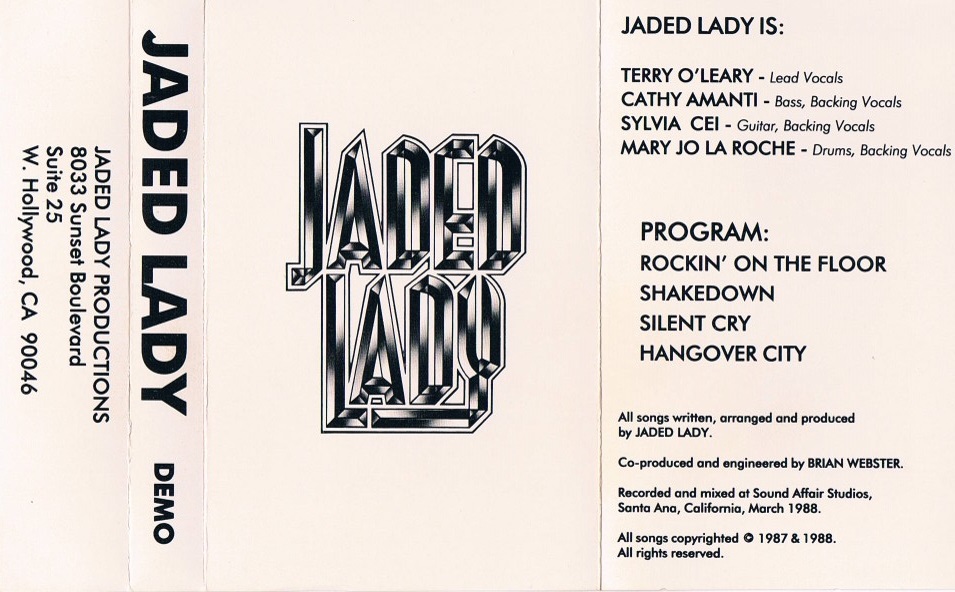 Demo 1988
1.Rockin' On The Floor
2.Shakedown
3.Silent Cry
4.Hangover City
---------------------------------------------------------------------
Jaded Lady - Various Recordings
Jaded Lady - On The Run (from VA - Ladykillers [1986])
Jaded Lady - Empty Heart (Knac Local Show 1986)
Jaded Lady - On The Run (Knac Local Show 1986)
Jaded Lady - Rockin' On The Floor & Hangover City (KNAC Radio Local Show)
Jaded Lady - Empty Heart & On The Run (Alt. Rip) (KNAC Radio Local Show)
Jaded Lady - Shoot Me With Your Love Got (Jaded Lady on Nu-Rock in 1986)
Jaded Lady - Give It All You Got (Jaded Lady on Nu-Rock in 1986)