18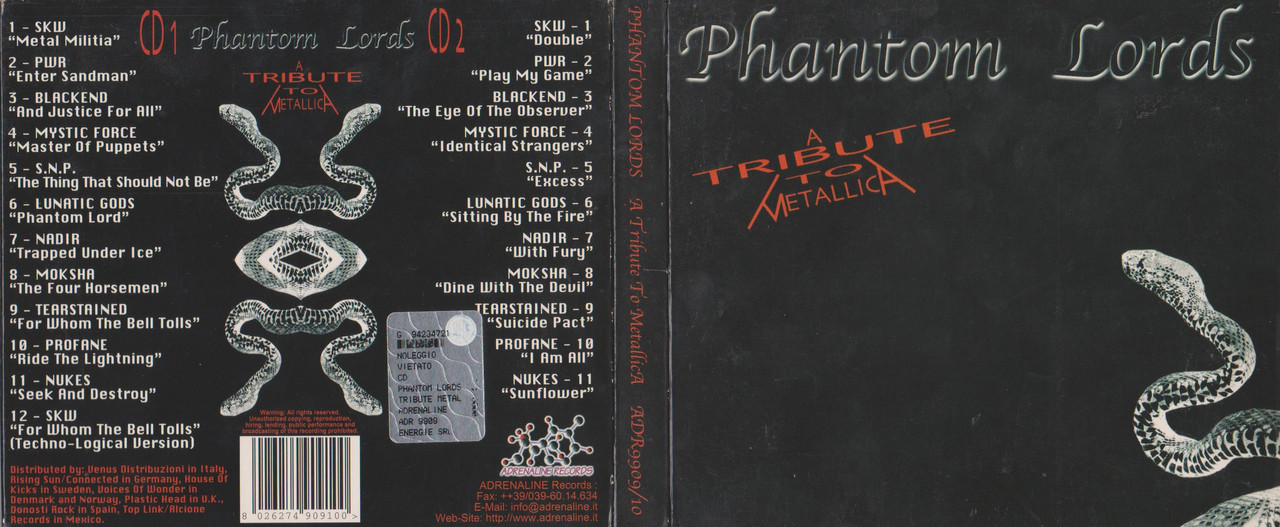 Artist: V/A - Phantom Lords
Release: A Tribute To Metallica
Genres: Thrash Metal
Country: International
Bitrate: 320kbps
►Dead Link
---------------------------------------------------------------------
A Compilation double-CD released in 1999. It's a tribute to Metallica. Disc 1 has 11 bands doing Metallica cover-songs (SKW does 2). Disc 2 has an original song from each band. My solo-project, Tearstained, was contacted by the label and this cover-song was taken from the debut CD "
Monumental In Its Sorrow
" (it was a hidden track on the debut CD). It's a Bathorized version of an old Metallica classic. The original song is also from the debut CD. What I dislike about this comp is some of the bands song selections, picking post 1990 Metallishit. But the earlier stuff covered is executed well and it's a nice mix of bands playing their own styles.
The 2-CD Comp comes in a fold-open 8 panel digipak with a huge booklet with a page for each band.
Fully scanned and ripped from my personal collection.
---------------------------------------------------------------------
Disc 1
: (cover-songs)
1–SKW - Metal Militia
2–PWR - Enter Sandman
3–Blackend - ...And Justice For All
4–
Mystic-Force - Master Of Puppets
5–S.N.P. - The Thing That Should Not Be
6–Lunatic Gods - Phantom Lord
7–Nadir - Trapped Under Ice
8–
Moksha - The Four Horsemen
9–
Tearstained - For Whom The Bell Tolls
10–Profane - Ride The Lighting
11–The Nukes - Seek And Destroy
12–SKW - For Whom The Bell Tolls (Techno-Logical Version)
Disc 2
: (original songs)
1–SKW - Double
2–PWR - Play My Game
3–Blackend - The Eye Of The Observer
4–
Mystic-Force - Identical Strangers
5–S.N.P. - Excess
6–Lunatic Gods - Sitting By The Fire
7–
Nadir - With Fury
8–Moksha - Dine With The Devil
9–
Tearstained - Suicide Pact
10–Profane - I Am All
11–The Nukes - Sunflower