6
THIS POST HAVE DEAD LINKS
REQUEST A REUPLOAD

HERE



CHECK EXISTING REQUESTS
BEFORE MAKING A NEW ONE!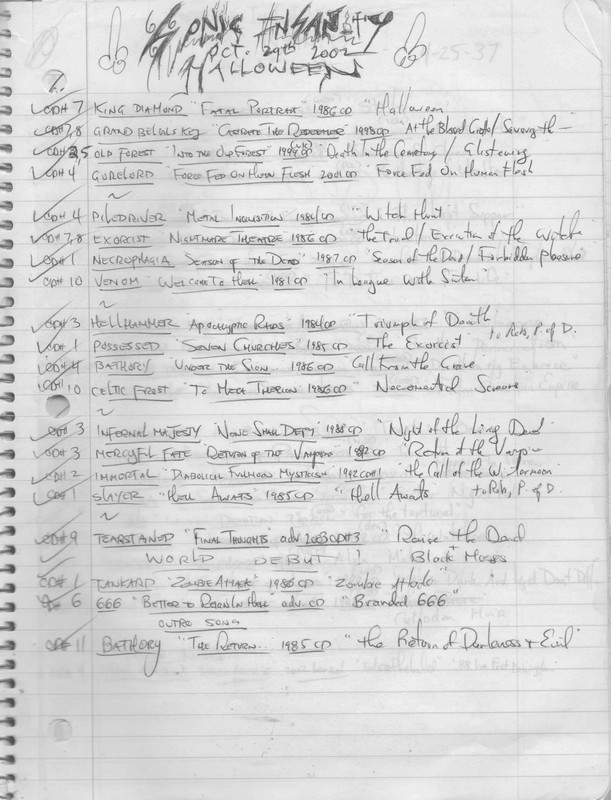 SONIC INSANITY Radio Show
– Tuesday, October 29, 2002
8:00pm – 10:00pm (
Full Show
)
on 88.5 WRUR-FM, Rochester, NY
w/Evil Eye & The Mercyful One
dead link
This was our
2002 Halloween show
.
At this time our time slot had been reduced to only 2-hours
. We brought the
Coven 1969 LP
with the "Black Mass" and played from it throughout the show as well as a Halloween Effects record. Also, the band
666
that is played towards the end of the show is actually the band
Taghut
. The album was already recorded at this time and they were called
666
, but a few years later when finally signed, they changed the band-name to
Taghut
and the
CD
came out in 2008.
1. Tape 1 – Side A (46:20)
2. Tape 1 – Side B (46:10)
3. Tape 2 – Side A (20:01)
Tracklisting
Tape 1 – Side A
(
Intro
)
KING DIAMOND – Halloween
GRAND BELIAL'S KEY – At The Blessed Grotto
GRAND BELIAL'S KEY – Savouring The Virgin's Pessary
OLD FOREST – Death In The Cemetery
OLD FOREST – Glistening
GORELORD – Force Fed On Human Flesh
PILEDRIVER – Witch Hunt
EXORCIST – The Trial / Execution Of The Witches
NECROPHAGIA – Season Of The Dead / Forbidden Pleasure
VENOM – In League With Satan
HELLHAMMER – Triumph Of Death
(
cuts off
)
Tape 1 – Side B
(
cuts in
) HELLHAMMER – Triumph Of Death
POSSESSED – The Exorcist
BATHORY – Call From The Grave
CELTIC FROST – Necromantical Screams
INFERNAL MAJESTY – Night Of The Living Dead
MERCYFUL FATE – Return Of The Vampire
IMMORTAL – The Call Of The Wintermoon
SLAYER – Hell Awaits
(
cuts off
)
Tape 2 – Side A
(
cuts in
) SLAYER – Hell Awaits
TEARSTAINED – Raise The Dead (
Bathory-cover
)
TEARSTAINED – Black Masses (
Mercyful Fate-cover
)
TANKARD – Zombie Attack
666
– Branded 666
(
Outro
) BATHORY – The Return Of Darkness and Evil
(
AP News begins - End of Show
)