6
THIS POST HAVE DEAD LINKS
REQUEST A REUPLOAD

HERE



CHECK EXISTING REQUESTS
BEFORE MAKING A NEW ONE!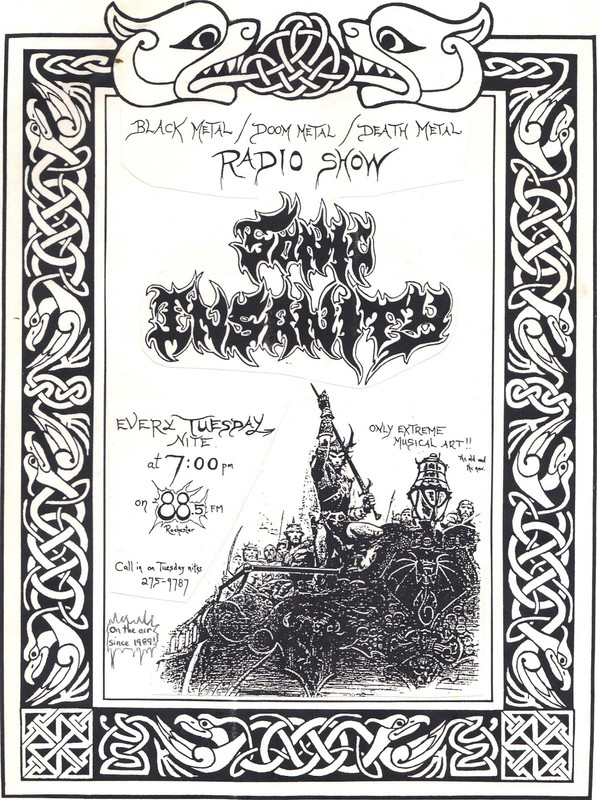 SONIC INSANITY Radio Show
– Tuesday, July 9, 1996
7pm – 10pm (
1st 90-mins
)
on 88.5 WRUR-FM, Rochester, NY
w/Ron "Evil Eye" Pappert & Mike "The Mercyful One" Bayusik
dead linkThis is the first half of the show only
(7pm – 8:30pm portion). The 2nd tape is gone.
During a couple mic breaks Ron reads the PSA's we must do every hour, and we mock them out. A PSA is a "Public Service Announcement". We had to play one or read one every hour because WRUR-FM was a non-commercial college radio station. Usually we played the Carts, but sometimes Ron would read them live and we usually made fun of them, too.
1. Side A (46:22)
2. Side B (46:13)
Ripped at 320 kbps
Tracklisting
Side A
:
(
cuts in AP News - Sonic Insanity I.D. – Intro: Mike
)
EMPEROR – Into The Infinity Of Thoughts
BEWITCHED – Sacrifice
(Bathory-cover)
ENTOMBED – Left Hand Path
ARCKANUM – Pans Lughn / Hvila pa Tronan Min
(
Sonic Insanity I.D.
)
NIFELHEIM – Sodomizer
ANCIENT – Prophecy Of Gehenna
(
mic break + Fatherhood PSA read by Ron
)
MARDUK – Dracul va Domni Din Nou in Transilvania
(
Sonic Insanity I.D. - cuts off
)
Side B
:
(
cuts in - end of Sonic Insanity I.D.
)
MANOWAR – Blood Of My Enemies
PRIMORDIAL – Let The Sun Set On Life Forever
(
Disclaimer
)
HEAVENSHORE – Cold October Of The Grey Eminence
LUCIFERION – Blasphemer
(Sodom-cover)
(
Sonic Insanity I.D.
)
RAISM – Chaosphere
(
mic break + Rabies PSA read by Ron
)
GORGOROTH – En stram lukt av kristent blod (intro)
GORGOROTH – Bergtrollets Hevn
GORGOROTH – Gorgoroth
GORGOROTH – Possessed (By Satan)
(
mic break - cuts off - missing rest of show
)