6
THIS POST HAVE DEAD LINKS
REQUEST A REUPLOAD

HERE



CHECK IF A REUPLOAD REQUEST ALREADY EXISTS
BEFORE MAKING A NEW ONE!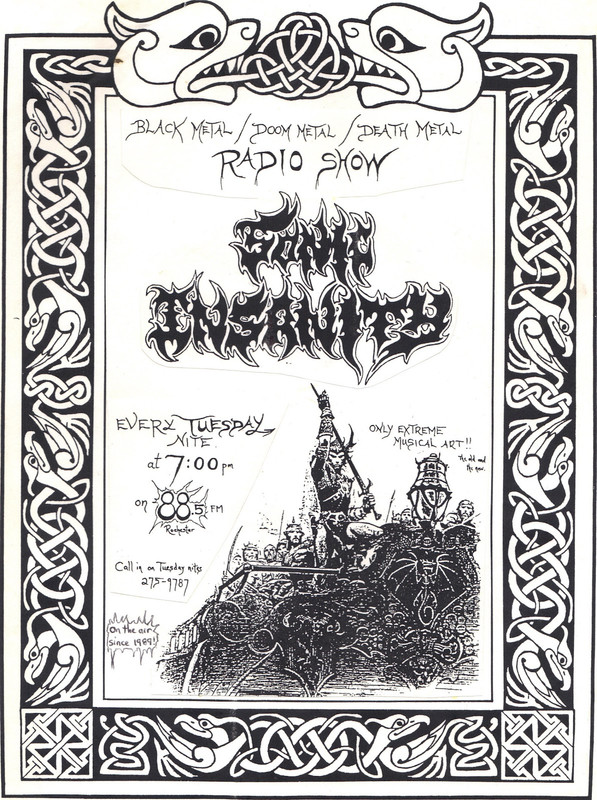 SONIC INSANITY Radio Show
– Tuesday, February 8, 2000
7pm – 10pm (
Full Show
)
on 88.5 WRUR-FM, Rochester, NY
w/Ron "Evil Eye" & Mike "The Mercyful One"
►
dead link
"
Live Special
"
Every song
(except the opening song)
is a LIVE recording
taken from the band's official live releases and re-issues (and a few bootlegs). The Playbook is missing this weeks playlist, so I had to decipher it from listening back to the mic breaks and show. I also included the year of each live recording in parenthesis.
1. Tape 1 – Side A (46:17)
2. Tape 1 – Side B (46:04)
3. Tape 2 – Side A (45:58)
4. Tape 2 – Side B (38:04)
Tracklisting
:
Tape 1 – Side A
(
PSA for Depression – Show begins
)
MERCYFUL FATE – The Bell Witch (
fades out, I cued up the wrong song
)
MERCYFUL FATE – Egypt (live'93)
VENOM – Warhead (live'85)
MALEVOLENT CREATION – Premature Burial (live'93)
DESTRUCTOR – Maximum Destruction (live'85)
KING DIAMOND – The Portrait (live'87)
ACCEPT – Fast As A Shark (live'98)
IRON MAIDEN – Powerslave (live'85)
MERCYFUL FATE – Satan's Fall (live'81)
(
cuts off
)
Tape 1 – Side B
(
cuts in
) MERCYFUL FATE – Satan's Fall (live'81)
MAYHEM – Ancient Skin (live'98)
MAYHEM – Freezing Moon (live'98)
MAYHEM – Symbols of Bloodswords (live'98)
MAYHEM – From the Dark Past (live'98)
MARDUK – Wolves (live'96)
SATYRICON – Forhekset (live'97)
(
PSA for Crime Prevention
)
DECEASED – Futuristic Doom (live'89)
(
cuts off
)
Tape 2 – Side A
(
cuts in
) DECEASED – Futuristic Doom (live'89)
MARDUK – Legion (live'96)
AT THE GATES – Kingdom Gone (live'94)
MORBID ANGEL – Fall From Grace (live'91)
UNLEASHED – Into Glory Ride (live'93)
SEPULTURA – Escape To The Void (live'92)
(
PSA for Crime Prevention
)
METAL CHURCH – The Dark (live'86)
METAL CHURCH – Beyond The Black (live'86)
METAL CHURCH – Metal Church (live'86)
METAL CHURCH – Highway Star (
Deep Purple-cover
) (live'86)
(
cuts during mic break
)
Tape 2 – Side B
(
cuts in
)
NIGHT CONQUERS DAY – Banished From My Eyes
(live'98)
KREATOR – Riot Of Violence (live'88)
DESTRUCTION – Bestial Invasion (live'88)
LIVING DEATH – Road Of Destiny (live'85)
DARK ANGEL – Death Is Certain (Life is Not) (live'89)
SODOM – (Guitar Solo) / Blasphemer (live'88)
SLAYER – Raining Blood (live'91)
(
Outro
) EXODUS – Bonded By Blood (live'97)
(
End of Show – AP News begins – cuts
)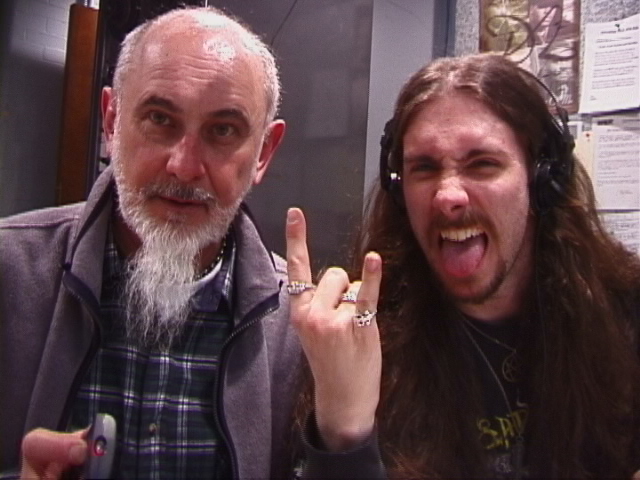 The Evil Eye & The Mercyful One