6
THIS POST HAVE DEAD LINKS
REQUEST A REUPLOAD

HERE



CHECK EXISTING REQUESTS
BEFORE MAKING A NEW ONE!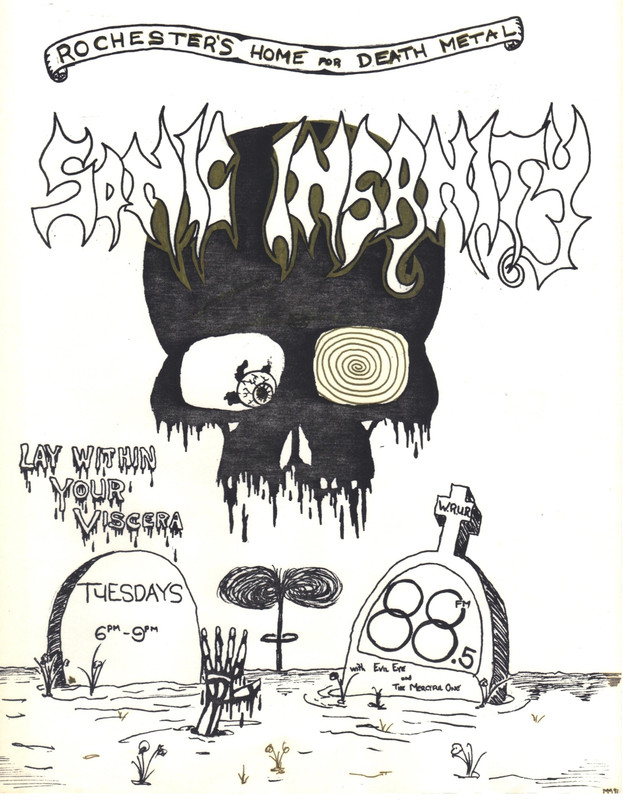 SONIC INSANITY Radio Show
– Tuesday, November 27, 1990
6pm – 9pm (
1st 90-mins only
)
on 88.5 WRUR-FM, Rochester, NY
w/Ron "Evil Eye" Pappert (R.I.P. 1939-2015) & guest co-host Jeremy Sleight
►
dead link
1. Side A (46:21)
2. Side B (46:20)
I was not there this night. Between October 1990 and February 1991 I was not on the show due to being arrested in October 1990 for stealing gravestones and Police were monitoring the radio show for "Satanic Cult Activity" and I was forbidden from doing the show by my lawyer. But by February 1990 I returned to the show. Ron planned out this show and Jeremy Sleight was his guest co-host during those months (as was "Fear" from the Rochester Slay Team a couple times). This was a 3-hour show but the second tape is gone, so I have only the first half of the show (6pm - 7:30pm portion).
Tracklisting
:
Side A
:
(
AP News ends - start of show
)
ANNIHILATOR – Human Insecticide
JUDAS PRIEST – Painkiller
MEGADETH – Five Magics
TESTAMENT – Greenhouse Effect (
live
)
XENTRIX – The Human Condition
CELTIC FROST – Heroes
RAZOR – Meaning Of Pain
NUCLEAR ASSAULT – Torture Tactics
JERSEY DOGS – Who's To Blame
(
cuts off
)
Side B
:
(
cuts in
) JERSEY DOGS – Who's To Blame
OVERKILL – Elimination
SACRED REICH – Who's To Blame
PRONG – Lost And Found
GOTHIC SLAM – Who Died And Made You God
VIO-LENCE – Mentally Afflicted
DEFIANCE – Deception Of Faith
FLOTSAM AND JETSAM – The Master Sleeps
KREATOR – When The Sun Burns Red
(
cuts off – missing tape #2 and remaining 90 mins of show
)