8
THIS POST HAVE DEAD LINKS.
REQUEST A REUPLOAD HERE

SEARCH REQUESTS BEFORE MAKING A NEW ONE!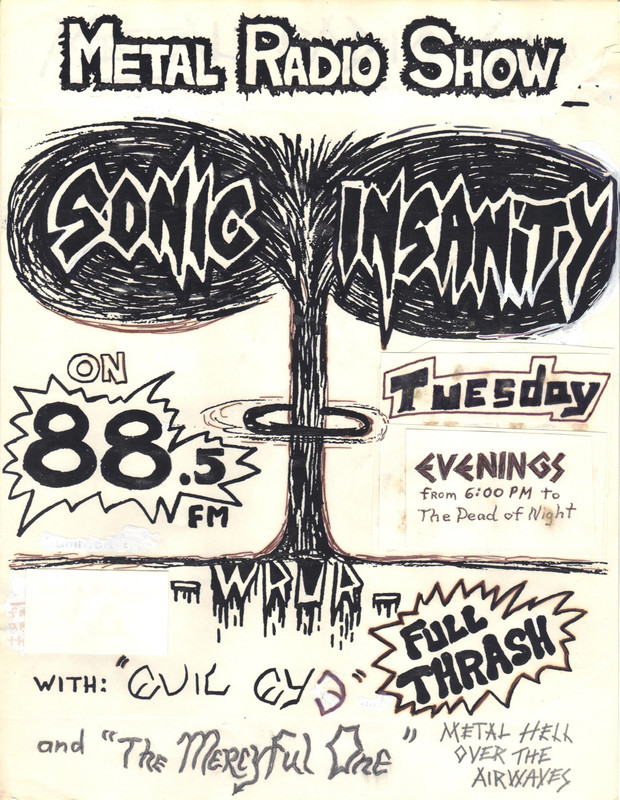 SONIC INSANITY
Radio Show
– Tuesday, August 7, 1990
on 88.5 WRUR-FM, Rochester, NY
w/"Evil Eye" Ron & Mike "The Mercyful One"
6pm – 11pm (
7:30-9pm portion only
)
►
dead link
A
90-minute portion
of a 5-hour long show during the Summer of 1990. This is Tape 2 of 4. The Other 3 tapes are gone, re-used to record later Sonic Insanity's. I have NO IDEA why we play the new Pantera CD, much less the Danzig track except to promote the Danzig show coming to Toronto.
**There's a funny mic break between the Entombed & Obituary blocks where I pretend to commit suicide on-the-air for missing the Obituary show in Buffalo the previous weekend
.
1. Tape 2 – Side A (46:16)
2. Tape 2 – Side B (46:11)
Ripped at 320 kbps
Tracklisting
Side A
:
(
cuts in
) SUICIDAL TENDENCIES – Disco's Out, Murder's In
PESTILENCE – Dehydrated
XENTRIX – Ghostbusters
PRONG – Lost and Found
DANZIG – Killer Wolf
HARTER ATTACK – Human Hell
HARTER ATTACK – Last Temptation
PANTERA – Primal Concrete Sledge
COVEN – Spellbinder
(
Atrophy-Animal Cruelty-PSA
)
ATROPHY – Puppies and Friends
CANDLEMASS – Through The Infinitive Halls Of Death (
cuts off
)
Side B
:
(
cuts in
) CANDLEMASS – Through The Infinitive Halls Of Death
CANDLEMASS – Dawn / A Tale Of Creation
ENTOMBED – But Life Goes On
ENTOMBED – Bitter Loss
ENTOMBED – Abnormally Deceased
(
**mic break – I commit suicide on-air for missing Obituary concert
)
OBITUARY – Internal Bleeding
OBITUARY – Slowly We Rot
OBITUARY – Bloodsoaked
DEATH – Living Monstrosity (
cuts off
)