8
THIS POST HAVE DEAD LINKS
REQUEST A REUPLOAD

HERE



CHECK EXISTING REQUESTS
BEFORE MAKING A NEW ONE!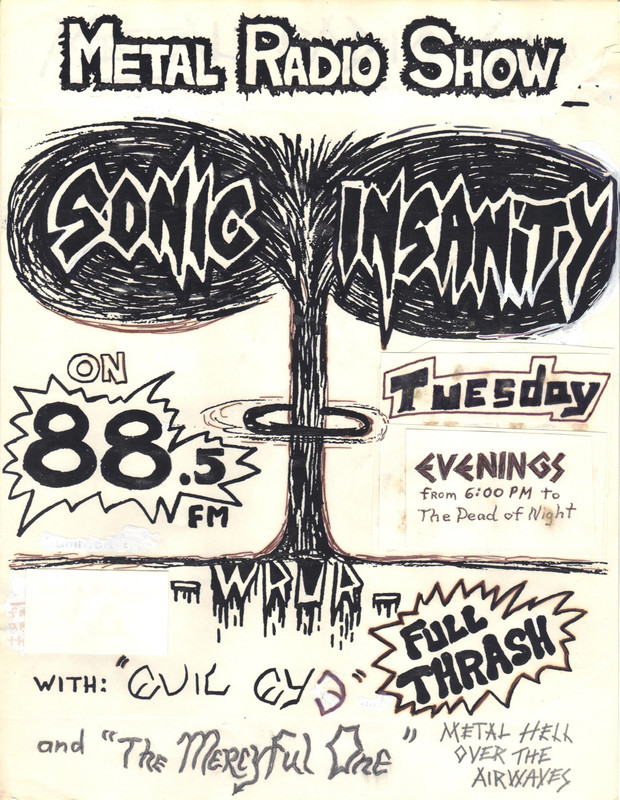 SONIC INSANITY
Radio Show
– Tuesday, July 24, 1990
on 88.5 WRUR-FM, Rochester, NY
w/Ron "Evil Eye" and Mike "The Mercyful One"
6pm – 11pm (
7:30-9pm portion only
)
►
dead link
This is a
90-minute portion
of the show. Tapes 1, 3 and 4 are missing, probably re-used to record later Sonic Insanity's. Only Tape 1 remains (the 7:30-9pm portion). Apparently I was not expected to be there this night, so Ron planned the show. I ended up showing up late after 8pm, during the 2nd mic break on Side A. Ron brought this Freddy Kruger doll he'd gotten that had a string you drew on the back and it said various phrases. You'll hear him on the mic breaks. We debuted the new CD's by Tynator, Exodus & Forbidden and Ron did some ticket giveaways.
1. Tape 2 – Side A (46:27)
2. Tape 2 – Side B (46:14)
Ripped at 320 kbps
Tracklisting
Side A
:
(
cuts in
) TYNATOR – Tinnitus
TYNATOR – Final Attack
(
mic break - Ron and 'Freddy')
FORBIDDEN – Infinite
FORBIDDEN – Tossed Away
FORBIDDEN – One Foot In Hell
(
long mic break - I show up finally, more 'Freddy', Judas Priest lawsuit, politics…
)
EXODUS – A.W.O.L. (
cuts off
)
Side B:
(
cuts in
) EXODUS – A.W.O.L.
EXODUS – Within The Walls Of Chaos
EXODUS – Objection Overruled
(
mic break – discuss "Compact Disc"s, ticket giveaway
)
SCATTERBRAIN – Here Comes Trouble
(
mic break
)
DEICIDE – Lunatic Of God's Creation
DEICIDE – Sacrificial Suicide
DEICIDE – Oblivious To Evil
(
mic break – explain Top 5 and CMJ
)
ENTOMBED – Revel In Flesh
(
we interrupt song with story about Glen Benton of Deicide banned from Buffalo, NY,
)
(
start song over
)
ENTOMBED - Revel In Flesh (
cuts off
)
Ron had this hanging tattooed on his arm, we used it on a flyer
: