10
THIS POST HAVE DEAD LINKS
REQUEST A REUPLOAD

HERE



CHECK EXISTING REQUESTS
BEFORE MAKING A NEW ONE!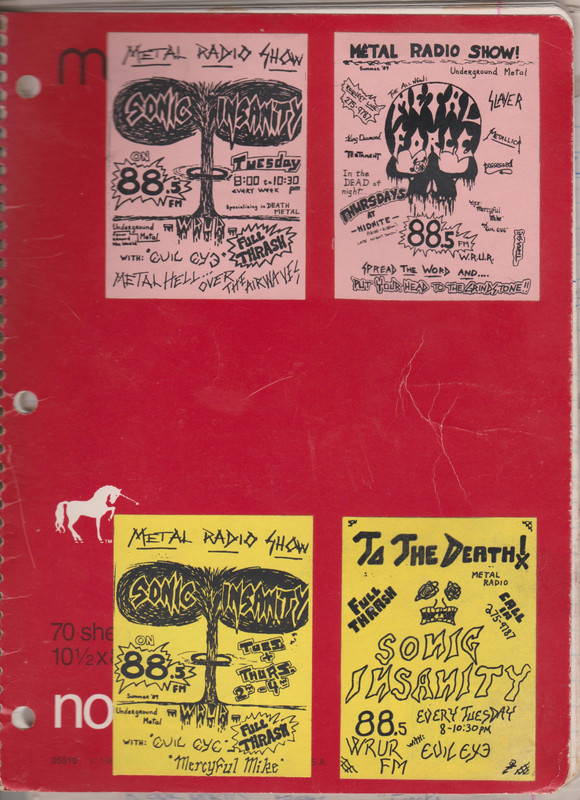 SONIC INSANITY Radio Show
– Tuesday, January, 16, 1990
6pm-9pm (
1st hour of show only
)
w/host Evil Eye & The Mercyful One on 88.5 WRUR-FM, Rochester, NY
►
dead link
This was a special early show because that night was an
Overkill / Powermad / Krystal Synn
show at Backstreets in Rochester. This edition was a warm-up for the concert which we both attended. The previous weeks show was a 5-hour long show that is also shared here in the site.
Also my friends James "Cousin It" and Jim Satora stopped by the studio. I hung out with them alot around that time. I lost touch with them in the early 90's and have no idea where they are today. This show was recorded with 3-60 minute tapes and only the first tape remains.
Ripped at 320 kbps
1. Side A (31:01)
2. Side B (30:52)
Tracklisting
:
Side A
:
ANNIHILATOR – Human Insecticide
OVERKILL – Elimination
OVERKILL – Brainfade
OVERKILL – Rotten To The Core
POWERMAD – Failsafe
OVERKILL - Fatal If Swallowed (
cuts off
)
Side B
:
(
cuts in
) OVERKILL – Fatal If Swallowed
POWERMAD – Terminator
SODOM – Christ Passion
POSSESSED – The Exorcist
KREATOR – Betrayer
NECRODEATH – Fragments Of Insanity (
cuts off
)
Ron "Evil Eye" Pappert (R.I.P. 1939-2015)