18
THIS POST HAVE DEAD LINKS
REQUEST A REUPLOAD

HERE



CHECK SUBMITTED REQUESTS
BEFORE POSTING A NEW ONE!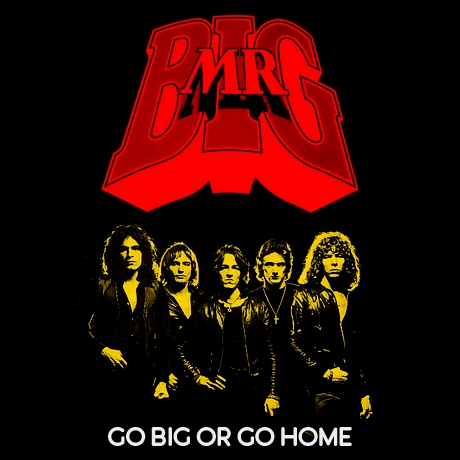 Artist: Mr. Big (UK)
Release: Go Big Or Go Home
Genre: Hard Rock/Glam/Art Rock/Rock 'n' Roll
Country: UK (London, England)
Bitrate: 320 kbps
►Dead Link
---------------------------------------------------------------------
Info
Mr. BIG - Go Big Or Go Home [Compilation] (1975-1978) UK
Si-Wan Records SRMC 1033
320 kbps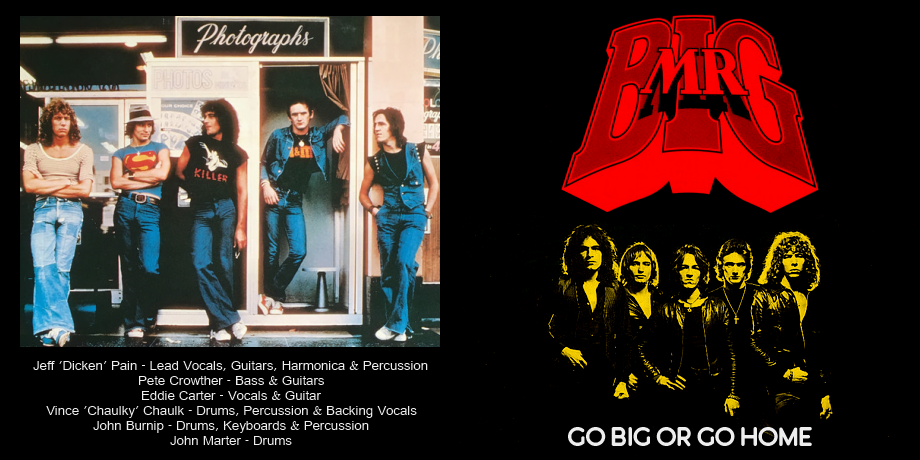 Dicken (aka Jeff Pain) - Lead Vocals, Guitars, Harmonica & Percussion (BURNT OAK, BROKEN HOME, DICKEN, TANDOORI CASSETTE)
Pete Crowther - Bass & Guitars (THE MAGLORY DENGLUSH, BURNT OAK, BROKEN HOME, DICKEN)
Eddie Carter - Vocals & Guitar (BURNT OAK)
Vince 'Chaulky' Chaulk - Drums, Percussion & Backing Vocals (BURNT OAK, STREETBAND)
John Burnip - Drums, Keyboards & Percussion (BURNT OAK)
John Marter - Drums (VOYAGER, MARILLION, ALASKA, S.A.S. BAND, FISH, YOU)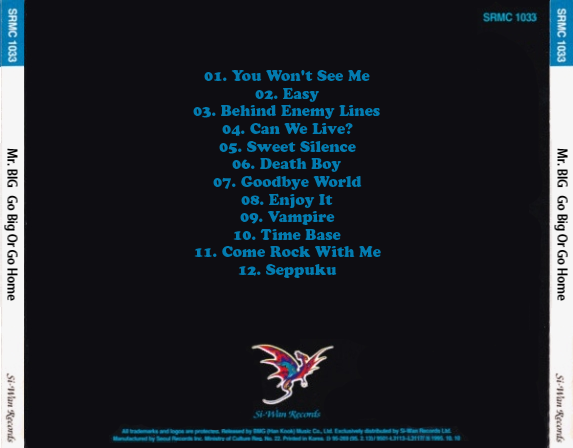 Mr. BIG were a UK Hard Rock band from London, initially forming whilst the members were still at school, in 1969, as BURNT OAK.
Burnt Oak played lengthy Psychedelic pieces initially, but by the time the band secured proper management in 1972, they had tightened up their sound into a more concise & distinctive Hard Rock/Glam/Prog Rock hybrid.
Before playing a residency at London's famous Marquee Club in 1972, management demanded the group changed their name, so they then became Mr. BIG.
Securing a record deal with Epic Records in 1973, the band recorded 3 singles which didn't trouble the charts, and were then unceremoniously dropped by the label in early 1974.
They weren't without a label for long however, with EMI offering the band a new record deal after catching the band's impressive live show, their stagecraft having being finely honed by then on tours with the likes of STATUS QUO and WISHBONE ASH.
Mr. Big soon set about recording their debut LP, 'Sweet Silence', with producer John Punter, with the finished record coming out in 1975.
The critical response to their bold debut was almost unanimously positive, with the 'inkie' weekly music papers gushing over the record's winning versatility, incendiary playing & dramatic arrangements.
According to reviews, the group sounded like a streetwise state of the art amalgam of QUEEN, STYX, MOTT THE HOOPLE, SWEET, ANGEL & THE HEAVY METAL KIDS, which isn't too far off the mark, despite how unlikely it sounds on paper.
Frontman Dicken, in particular, was singled out for lavish praise, with his voice attracting comparisons to both Michael Des Barres and Steve Marriot, whilst his guitarwork was feted and favourably compared to some of the six string greats of the era.
The band then found themselves supporting Queen on their 'Night At The Opera' tour in late '75, a well-matched bill with the bands getting on well, with each becoming big fans of the others craft.
The record sold reasonably well at home, and in Europe, with Japan also taking a shine to the band, bringing Mr. Big to the attention of Arista Records in the USA who signed the group.
An album, 'Photographic Smiles', was then assembled combining the cream of their debut LP with new recordings, and was released in 1976.
Mr. Big then undertook a headlining tour of the UK, before embarking to the continent to support Sweet on their European tour.
A new Mr. Big album was then prepared, a self-titled LP, combining songs from the U.S. 'Photographic Smiles' LP with new material.
The group then toured the USA in February, March and April of 1977 with the likes of TOM PETTY & THE HEARTBREAKERS, JOURNEY, KANSAS and THE RUNAWAYS.
Arista's label boss, Clive Davis, then hand-picked the song 'Romeo' as a potential single, and although it failed to really trouble the American charts, it provided Mr. Big with a UK Top 5 single, and a huge hit right across Europe, Japan & Australia in mid 1977.
An atypical ballad, 'Romeo' was briefly banned by BBC Radio, after pressure was applied by morality crusader Mary Whitehouse who felt that the lyrical content was 'too suggestive'.
The decision to blacklist it was eventually reversed, and the record went on to peak at no.4 of the UK charts.
However, the group's follow-up 45's, 'Feel Like Calling Home' & 'Hold Me', disappointingly failed to repeat the chart success of 'Romeo', and Mr. Big were dispatched to the studio to ready their next album.
By this time the band had aquired new drummer John Marter, replacing Vince 'Chaulky' Chaulk who joined STREETBAND, before emigrating to Australia.
Produced by Mott The Hoople's Ian Hunter, the resultant Mr. Big album, 'Seppuku', was not at all the record that the label expected however.
Whilst they were keen for the band to chase chart success with more poppy balladic material in the same vein as 'Romeo', the group had instead delivered a set of harder more straight ahead material.
A compromise was reached when another ballad, 'Senora', was hurriedly recorded and immediately rushed out as a single by the label.
When this 45 also failed to set the charts alight, despite radio airplay and an appearance on the 'Top Of The Pops' TV show, the record label decided to cut their losses and dropped Mr. Big, leaving the 'Seppuku' album unreleased.
In the wake of this crushing disappontment, Mr. Big split up.
Dicken and Mr. Big bassist Pete Crowther later formed a new band called BROKEN HOME, with former FURY and GILLAN drummer Pete Barnacle and guitarist Rory Wilson.
Signed to Warners Brothers & Mercury Records, the group recorded their self-titled 1980 debut album with producer Robert John 'Mutt' Lange, before going on a tour which included a memorable set at that years sold out Reading Festival.
Following Pete Barnacle's departure to join GIRL, a second Broken Home album, 'Life', was released in Europe only in 1981, where the single, 'Oh Yeah', provided them with a hit in Norway and Germany.
Soon after Broken Home too broke up, with Dicken then going on to release a few solo singles.
He reappeared in 1983 in a new band called TANDOORI CASSETTE, alongside former SENSATIONAL ALEX HARVEY BAND guitarist Zal Cleminson, ex-JETHRO TULL drummer Barrymore Barlow and BE BOP DELUXE basist Charlie Tummahi.
Despite the group's undisputible musical pedigree and their popularity as a hot ticket on the live circuit, Tandoori Cassette failed to land a record deal and split in late 1984.
Post-Mr. Big, drummer John Marter went on to play with VOYAGER for 2 albums before then joining MARILLION for a short stint.
He later teamed up with guitarist Bernie Marsden in his post-WHITESNAKE band ALASKA, recording two albums, before they called it a day.
Whilst the former members of Mr. Big were attending to their own musical & non-musical careers in the late '80's, word began to filter through to them that a major label US band, featuring former TALAS, UFO & DAVID LEE ROTH bassist Billy Sheehan, were planning to use the Mr. Big name.
Dicken recalled hearing about the US band, "I was in a club with LEMMY when he turned round to me and said, 'Sheehan is going to nick your name'. And that's just what happened".
He eventually decided to put together a new version of Mr. Big, recording an album, 'Rainbow Bridge' in 1996 with the returning Pete Crowther, and new members Paul Gibbon, Mike Higgins & Simon Saunders, with the band billed as 'Mr. Big UK' for legal reasons.
In 2001, Angel Air Records released, for the very first time, the shelved 1978 Mr. Big album 'Seppuku' on CD.
The same label then went on to reissue the two Broken Home albums on CD for the first time.
A 2-CD DICKEN compilation covering his Mr. Big, Broken Home & solo work, entitled 'From Mr. Big To Broken Home And Back 1977-2007', was also released on the same label.
A brand new Mr. Big album, 'Bitter Streets' was released by Angel Air in 2016, with Dicken joined in the line up by Eddie Carter from the original band, the returning Paul Gibbon, and new members Joe Sam & Jack Carter.
Dicken still performs live with his bandmates as Mr. Big, and Broken Home also reunite to play occasional gigs.
art & txt included
---------------------------------------------------------------------
01. You Won't See Me
02. Easy
03. Behind Enemy Lines
04. Can We Live?
05. Sweet Silence
06. Death Boy
07. Goodbye World
08. Enjoy It
09. Vampire
10. Time Base
11. Come Rock With Me
12. Seppuku
13. Babylon (hidden bonus track)