21
THIS POST HAVE DEAD LINKS
REQUEST A REUPLOAD

HERE



CHECK EXISTING REQUESTS
BEFORE MAKING A NEW ONE!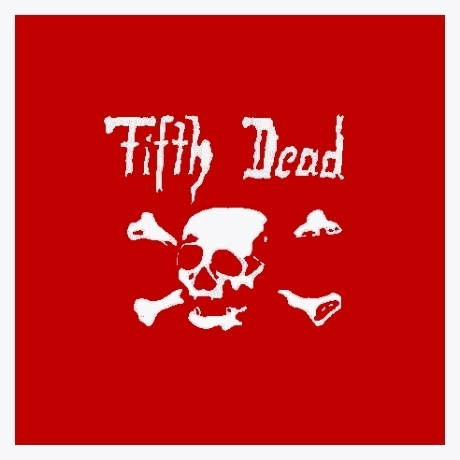 Artist: Fifth Dead
Release: Fifth Dead (Compilation)
Genre: Hard Rock/Heavy Rock/Psychedelic Rock/Acid Rock/Krautrock/Proto-Metal
Country: Germany (Koblenz, Rheinland)
Bitrate: 256kbps
►Dead Link
---------------------------------------------------------------------
Requested by eggnish
https://www.discogs.com/artist/1239174-Fifth-Dead
FIFTH DEAD - Fifth Dead (1973-1976) Germany
Fifth Dead Records FD-001
256 kbps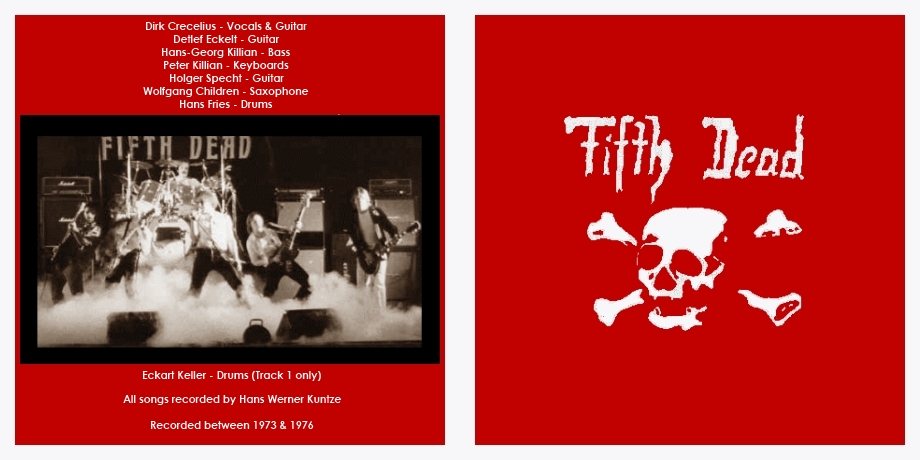 Dirk Crecelius - Vocals & Guitar
Detlef Eckelt - Guitar
Hans-Georg Killian - Bass
Peter Killian - Keyboards
Holger Specht - Guitar
Wolfgang Children - Saxophone
Hans Fries - Drums
Eckart Keller - Drums (Track 1 only)
Formed in 1971 in Koblenz in Germany's Rheinland, FIFTH DEAD were a quintet of seventeen year old BLACK SABBATH & URIAH HEEP fans eager to emulate the sounds of their musical heroes.
The first configuration of the band was Dirk Crecelius on Vocals & Guitar, Detlef Eckelt on Guitar, brothers Hans-Georg & Peter Killian on Bass and Keyboards repectively and Drummer Eckart Keller.
In 1972, after reading in Music Express magazine that CCA Records were looking for new bands to record, they got in touch with the label head and arranged to travel to Osnabrück to meet with him.
Despite temporarily breaking down on the autobahn en route to Osnabrück, the young musicians very much impressed Hans Werner Kuntze, the main producer at, and owner of, CCA Records.
Kuntze's track record impressed the band too, over the years he had signed or produced reknowned German bands such as THE PETARDS, THE SCORPIONS and THE SILHOUETTES.
Kuntze and the band struck a deal to record the song, "A Special Man", which was released later in the year as one half of a split 7" single on the CCA sublabel Help Records.
Strangely, the act they shared the disc with was a middle aged Schlager crooner-cum-DJ from Wuppertal who went by the unlikely stage name of ANTHONY.
A definite mismatch which probably did neither party any favours.
In 1974 the first of several changes took place in the Fifth Dead line up.
Holger Specht first joined to take over Lead Guitar duties, enabling Dirk to concentrate on his Vocals and 12 string Guitar.
Hans Fries then replaced Eckart Keller on Drums.
Then Saxophonist Wolfgang Children was added to the new look line-up as well.
In 1975 the group went back to visit Kuntze in Osnabrück and recorded 6 new songs in the studio with him.
By now the bands style had moved on from their rather nieve beginnings, becoming a very individual hybrid of Psychedelic Acid Rock and more straight forward Hard Rock.
Their music was an aquired taste, but it's a taste that's well worth aquiring.
From these recordings, two songs, "Blue Sky" & "Devilking", were paired up on a 1976 7" single released on the CCA label.
This was to be the only stand-alone Fifth Dead product released during the band's lifetime.
The other songs recorded at that session, "Long Way", "Bumble Bee", "What Can We Do?" and "Angel & God", finally came to light many years later with their inclusion on the 1997 compilation CD "Psychedelic Gems 2".
By late 1976 Peter Kilian had moved from the Keyboards to the mixer, becoming the band's sound man, with new arrival Ditmar coming aboard as additional guitarist.
By this time Fifth Dead had it's own light show and P.A. system, and the band had become one of the most popular live bands on the scene.
Much of 1976 was spent playing live, with the band teaming up with their friends The Scorpions for a few shows together in the Kaiserlautern region & in the Rheinland.
Both bands got along very well, and for many years band members would stop by each others gigs to catch up, with the Fifth Dead guys also invited to the studio by the Scorpions whilst they were recording with Dieter Dierks in Stommeln near Cologne.
At the dawn of 1982 Bassist Hans-Georg Killian decided to leave the band and was replaced by Herbert Simon.
Although Simon fitted in well with his new band mates, the times were changing, and frustration was setting in at the bands lack of commercial success.
Unable to catch a break, after 15 years together Fifth Dead finally went their separate ways in 1986.
As their reputation has grown over the interviening years, the band decided in the 2000's to make available a limited edition CD featuring all their previously released vintage material.
The seven song "Fifth Dead" compilation is now very sought after in it's own right, prompting the band to delve into the archives to create a more in depth retrospective compilation featuring much unheard material.
This forthcoming compilation album is apparently scheduled for release in 2013.
art & txt included
---------------------------------------------------------------------
01. A Special Man (3:10)
02. Long Way (3:49)
03. Bumble Bee (3:42)
04. What Can We Do? (7:43)
05. Angel & God (2:54)
06. Blue Sky (4:41)
07. Devilking (4:09)