63
THIS POST HAVE DEAD LINKS
REQUEST A REUPLOAD

HERE



CHECK EXISTING REQUESTS
BEFORE MAKING A NEW ONE!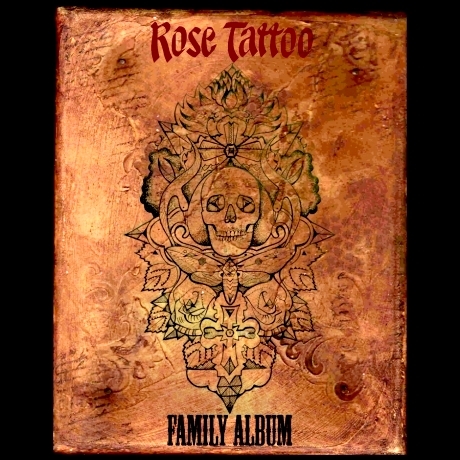 Artist: Rose Tattoo
Release: Family Album : Rare Blooms Volume 2
Genre: Hard Rock
Country: Australia
Year: 1979-2008
Bitrate: 320 kbps
►Dead Link
---------------------------------------------------------------------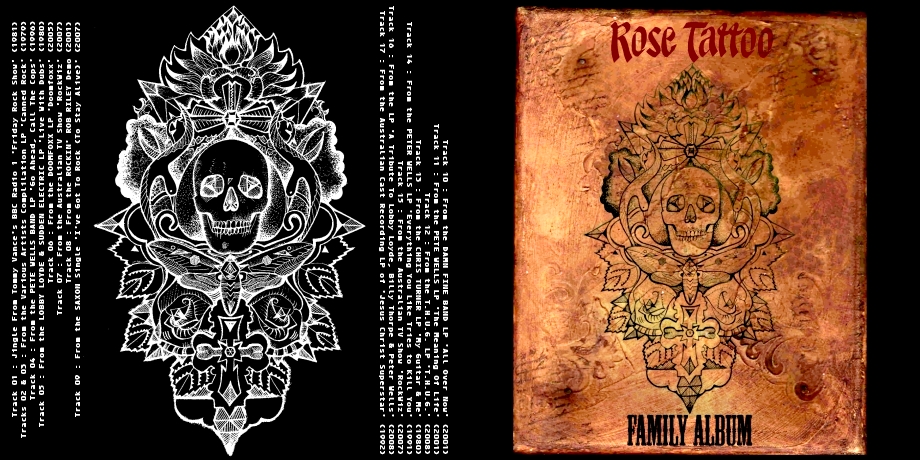 ROSE TATTOO - Family Album : Rare Blooms Volume 2 (1979-2008) Australia
Ox Cox Records OC13
Compilation Of Rare Tracks By The Band & It's Members
ROSE TATTOO members featured on 'Family Album' :
Angry Anderson – Throat (PEACE, POWER & PURITY, BUSTER BROWN, THE PARTY BOYS, ANGRY, THE DAMN FINE BAND) (01-03, 05, 07, 09, 10, 12, 15-17)
Peter Wells – Slide Guitar (THE ODD COLOURS, STRANGE BREW, HEAD, BUFFALO, SCATTERED ACES, ILLUSTRATED MEN, PETER WELLS BAND, LUCY DeSOTO BAND, SLIGHTLY SHADEY, HEART ATTACK, ROCKS PUSH, ROMEO DOG, HATEBALL, THE DAMN FINE BAND, HILLBILLY MOON, BLUES HANGOVER, LUCY DeSOTO & THE HANDSOME DEVILS) (01-04, 10, 11, 13 & 14)
Dai Pritchard – Slide Guitar (DAI PRITCHARD BAND) (16)
Mick Cocks – Guitar (HEAVEN, THE HEADHUNTERS, TED MULRY GANG, ILLUSTRATED MEN, HEART ATTACK, PETER WELLS BAND, DOOMFOXX) (01-03, 06 & 16)
"Rockin'" Rob Riley - Guitar (REDHOUSE, DALLIMORE, GEMS, BEAST, MAMA'S DARLINGS) (08 & 16)
Chris Turner – Guitar (DRAIN, BUFFALO, ROCKWELL T. JAMES & THE RHYTHM ACES, CHRIS TURNER BAND, SLIGHTLY SHADEY, ROCKS PUSH, PETER WELLS BAND) (02, 03 & 13)
Lobby Loyde – Bass (DEVIL'S DISCIPLES, THE STILETTOS, THE IMPACTS, PURPLE HEARTS, WILD CHERRIES, BILLY THORPE & THE AZTECS, COLOURED BALLS, SOUTHERN ELECTRIC, SUDDEN ELECTRIC, DIRT, FISH TREE MOTHER) (02, 03 & 06)
Geordie Leach – Bass (SCATTERED ACES, ILLUSTRATED MEN, THE GIANTS, LUCY DeSOTO BAND, PETER WELLS BAND, DIRT, SOUTHERN LIGHTNING) (01, 13 & 16)
Steve "Kingy" King – Bass (TOUGH LUXURY, THE DAMN FINE BAND, HATEBALL, T.H.U.G., BITZER, THE AUSSIE METAL KNIGHTS) (10, 12 & 16)
Dallas "Digger" Royall – Drums (BUSTER BROWN, ILLUSTRATED MEN) (01-03 & 13)
Paul "Fred Zeppelin" DeMarco – Drums (CHRIS TURNER BAND, SCATTERED ACES, SLIGHTLY SHADEY, STEVIE WRIGHT, HEART ATTACK, PETER WELLS BAND) (16)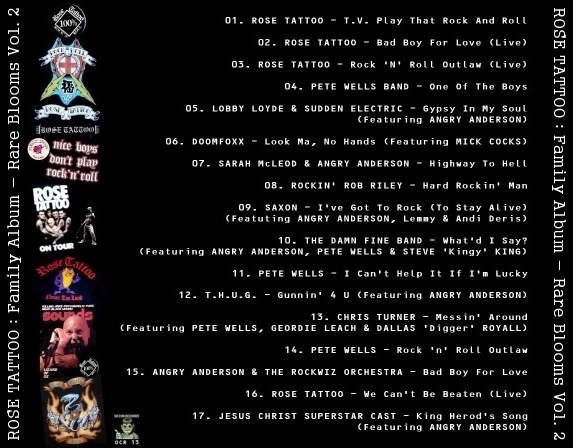 ROSE TATTOO are undoubtedly one of the most legendary bands Australia has ever produced.
They played their first gig on New Year's Eve 1976 and in no time had established a (perhaps unfair) reputation as one of the baddest bands in the land.
The group was formed by slide guitarist Peter Wells after leaving BUFFALO, for whom he had been the bass player.
Bass player Ian Rilen came from BAND OF LIGHT and had also been in BLACKFEATHER and TULLY.
Angry Anderson and drummer Dallas 'Digger' Royall were from BUSTER BROWN, a hard-rocking boogie band who had once featured AC/DC drummer Phil Rudd.
The pair joined as replacements for original members Tony Lake (from MADDER LAKE) and Michael Vandersluys.
The line-up was completed by rhythm guitarist Mick Cocks.
Rilen left the group in 1977, his only recording with Rose Tattoo being their first single, "Bad Boy For Love".
He was replaced by Geordie Leach, also from Buster Brown, and Rilen went on to form X and a string of other underground blues and rock bands, including HELTER PAYE and IAN RILEN & THE LOVE ADDICTS, until his death in 2006.
Rose Tattoo attracted the admiration of AC/DC, who recommended them to Albert Productions and their debut self-titled album appeared in 1978.
Despite a string of singles and constant live work, Rose Tattoo was unable to find major success in Australia but gained cult followings in North America and the UK.
During this early period, Cocks was removed from the line-up and Lobby Loyde of the notorious "sharpie" band COLOURED BALLS joined in place of Leach.
A second album called "Scarred" was recorded but Alberts hated it and it remains unreleased.
Loyde left and Cocks and Leach returned and Rose Tattoo toured the UK and Europe solidly, including support slots with RAINBOW & ZZ TOP and a storming performance at the Reading Festival..
In 1981, following the release of the "Assault & Battery" album, Cocks left the band again and joined HEAVEN.
He was replaced by ex-REDHOUSE Guitarist "Rockin'" Rob Riley.
With Riley on board, the band recorded their 3rd LP, "Scarred For Life".
Rose Tattoo toured the US in 1982, supporting ZZ Top and AEROSMITH and while it was not a particularly successful tour for them, they were exposed to members of the fledgling sleaze scene like MOTLEY CRUE and HOLLYWOOD ROSE, who would play important roles in Rose Tattoo's later career.
On returning to Australia, Wells, Riley and Royall all left Rose Tattoo.
Guitarists Greg Jordan and John Meyer (from Perth progressive metal band SARACEN) and drummer Scott Johnston were recruited for the "Southern Stars" album, after which Leach departed.
He teamed up with Riley, Wells and Royall in a band called ILLUSTRATED MEN, which played sporadically around Sydney for a couple of years in the mid-80s.
Anderson joined the cast of the film "Mad Max: Beyond Thunderdome" in 1985, following which Rose Tattoo released a version of "Born To Be Wild" which was a minor hit.
The line-up on that single was Anderson, Meyer and Johnston with Tim Gaze on slide guitar and JUDGE MERCY bassist Andy Cichon.
Meyer then rejoind Saracen and a four-piece Rose Tattoo was responsible for "Beats From A Single Drum" which was originally meant to be Anderson's debut solo album but released under the band name due to contractual obligations.
However, after the track "Suddenly" became a No. 1 hit after being used as a love theme on the TV drama "Neighbours", the album was then repackaged as an Angry Anderson solo effort in 1988.
During this period, Anderson had also toured as a member of THE PARTY BOYS in 1986.
For the next few years, Anderson embarked on a solo musical career, issuing the album "Blood From Stone" as ANGRY, spawning the hit single "Bound For Glory."
He also continued his acting and charity work.
In 1993 he was awarded the Order of Australia for his work as a youth advocate.
The same year, Rose Tattoo reformed to tour with GUNS 'N' ROSES and SKID ROW.
Guns N' Roses had previously recorded a version of "Nice Boys Don't Play Rock N Roll" and specifically asked for Rose Tattoo to support them.
The line-up of Anderson, Wells, Cocks and Leach regrouped with Wells' drummer Paul Demarco replacing Royall, who had died after a long battle with cancer in 1991.
After this tour, Rose Tattoo disbanded once again.
In 1999, the band reformed once again, playing an east coast tour with the line-up of Anderson, Wells, Cocks, Demarco and Rilen, the first time he had played with Rose Tattoo since a one-off appearance in 1980.
In 2000 Rose Tattoo was active again with Steve King on bass and Riley in place of Cocks, touring Europe and taking part in the annual Wacken Festival in Germany.
This show was later issued as the live album "25 To Life".
In November 2000 the band was to tour Australia with Mötley Crüe, but the tour was canned.
Rose Tattoo returned to Europe for further shows in 2001 and in 2002 recorded "Pain", their first full album of new material in 16 years.
In 2005 Wells was forced to stand down from touring commitments as he endured treatment for prostate cancer and his place was taken in the band by Mick Cocks, who was also performing and touring in DOOMFOXX
A benefit show for Wells was put together in mid-2005 and the band, with Dai Pritchard in Wells' role, began work on a new album.
Peter Wells finally passed away from the disease on March 27, 2006.
Rose Tattoo was inducted into the ARIA Hall of Fame on August 17, 2006.
Not long afterwards, on October 30, Ian Rilen died from bladder cancer.
Lobby Loyde died of lung cancer on April 21, 2007.
Rose Tattoo dedicated their new album "Blood Brothers" to their fallen comrades.
Geordie Leach re-joined the band in 2007, displacing Steve King who joined T.H.U.G..
During May, Rose Tattoo again toured Australia with Guns N Roses and with MOTORHEAD in October.
In an interview with the online magazine Unbelievably Bad, Anderson said that the band would finish after one final album.
Mick Cocks was diagnosed with liver cancer during 2009; a benefit show was held for him in Sydney on July 24 featuring performances by members of COLD CHISEL, YOU AM I, THE SCREAMING JETS, CHOIRBOYS, HEAVEN, AC/DC, BUFFALO and more.
He died on December 22, 2009.
Rob Riley rejoined Rose Tattoo after Cocks' death; he too is now battling cancer.
Since 2011 the band has appeared live sporadically, utlising guitarists like Randal Waller and The Art's Ronnie Simmons when necessary.
In April 2014, Paul Demarco was arrested in connection with an illegal firearms ring operating in New South Wales.
He faces 27 separate firearms charges, as well as further charges relating to ammunition, drugs and steroids.
art & txt included
---------------------------------------------------------------------
01. ROSE TATTOO - T.V. Play That Rock 'n' Roll
02. ROSE TATTOO - Bad Boy For Love (Live)
03. ROSE TATTOO - Rock 'n' Roll Outlaw (Live)
04. PETE WELLS BAND - One Of The Boys
05. LOBBY LOYDE & SUDDEN ELECTRIC - Gypsy In My Soul (Featuring ANGRY ANDERSON)
06. DOOMFOXX - Look Ma, No Hands (Featuring MICK COCKS)
07. SARAH McLEOD & ANGRY ANDERSON - Highway To Hell
08. ROCKIN' ROB RILEY - Hard Rockin' Man
09. SAXON - I've Got To Rock (To Stay Alive) (Featuting ANGRY ANDERSON, Lemmy & Andi Deris)
10. THE DAMN FINE BAND - What'd I Say? (Featuring ANGRY ANDERSON, PETE WELLS & STEVE 'Kingy' KING)
11. PETE WELLS - I Can't Help It If I'm Lucky
12. T.H.U.G. - Gunnin' 4 U (Featuring ANGRY ANDERSON & STEVE 'Kingy' KING)
13. CHRIS TURNER - Messin' Around (Featuring PETE WELLS, GEORDIE LEACH & DALLAS 'Digger' ROYALL)
14. PETE WELLS - Rock 'n' Roll Outlaw
15. ANGRY ANDERSON & THE ROCKWIZ ORCHESTRA - Bad Boy For Love
16. ROSE TATTOO - We Can't Be Beaten (Live)
17. JESUS CHRIST SUPERSTAR CAST - King Herod's Song (Featuring ANGRY ANDERSON)
Track 01 : Jingle From Tommy Vance's BBC Radio 1 'Friday Rock Show' (1981)
Tracks 02 & 03 : From the Various Artists Complilation LP 'Canned Rock' (1979)
Track 04 : From the PETE WELLS BAND LP 'Go Ahead, Call The Cops' (1996)
Track 05 : From the LOBBY LOYDE & SUDDEN ELECTRIC LP 'Live With Dubs' (1980)
Track 06 : From the DOOMFOXX LP 'Doomfoxx' (2005)
Track 07 : From the Australian TV Show 'RockWiz' (2007)
Track 08 : From the ROCKIN' ROB RILEY Demo (2001)
Track 09 : From the SAXON Single 'I've Got To Rock (To Stay Alive)' (2007)
Track 10 : From the DAMN FINE BAND LP 'All Over Now' (2001)
Track 11 : From the PETE WELLS LP 'The Meaning Of Life' (2001)
Track 12 : From the T.H.U.G. LP 'T.H.U.G.' (2008)
Track 13 : From the CHRIS TURNER LP 'My Guitar & Me' (1980)
Track 14 : From the PETER WELLS LP 'Everything You Like Tries to Kill You' (1991)
Track 15 : From the Australian TV Show 'RockWiz' (2007)
Track 16 : From the Various Artists Complilation LP 'A Tribute To Lobby Loyde, Billy Thorpe & Peter Wells' (2008)
Track 17 : From the Australian Cast Recording LP of 'Jesus Christ Superstar' (1992)