31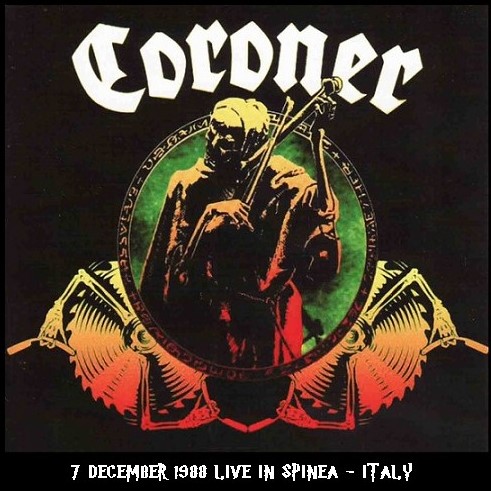 Band: Coroner
Country: Switzerland
Genre: Death/Techno Thrash Metal
Release: Soundboard live bootleg
Date: 1988-12-07 (7 December,1988)
Venue: Teatro "Ai Bersaglieri"
City: Spinea, Mestre (Italy)
Bitrate: mp3 - 320 kbps
Info:
Coroner live in Spinea, near Mestre and Venice. First (and only)
Italian date in 1988 of the death metal/techno thrash metal band from Switzerland..
Excellent audio quality taken directly from the soundboard.
The show also included three Italian bands opening for Coroner: Flight Charm, H. Kristal and Witchunters.
Line up:
Ron Royce (Ron Broder) - bass, vocals
Tommy T. Baron (Tommy Vetterli) - guitar
Marquis Marky (Marky Edelmann) - drums
Setlist:
01. R.I.P.
02. Shadow Of A Lost Dream
03. Absorbed
04. Sudden Fall
05. Masked Jackal
06. Arrogance In Uniform
07. The New Breed
08. Voyage To Eternity
09. Purple Haze
10. Totentanz
11. Reborn Through Hate
Hidden Link