30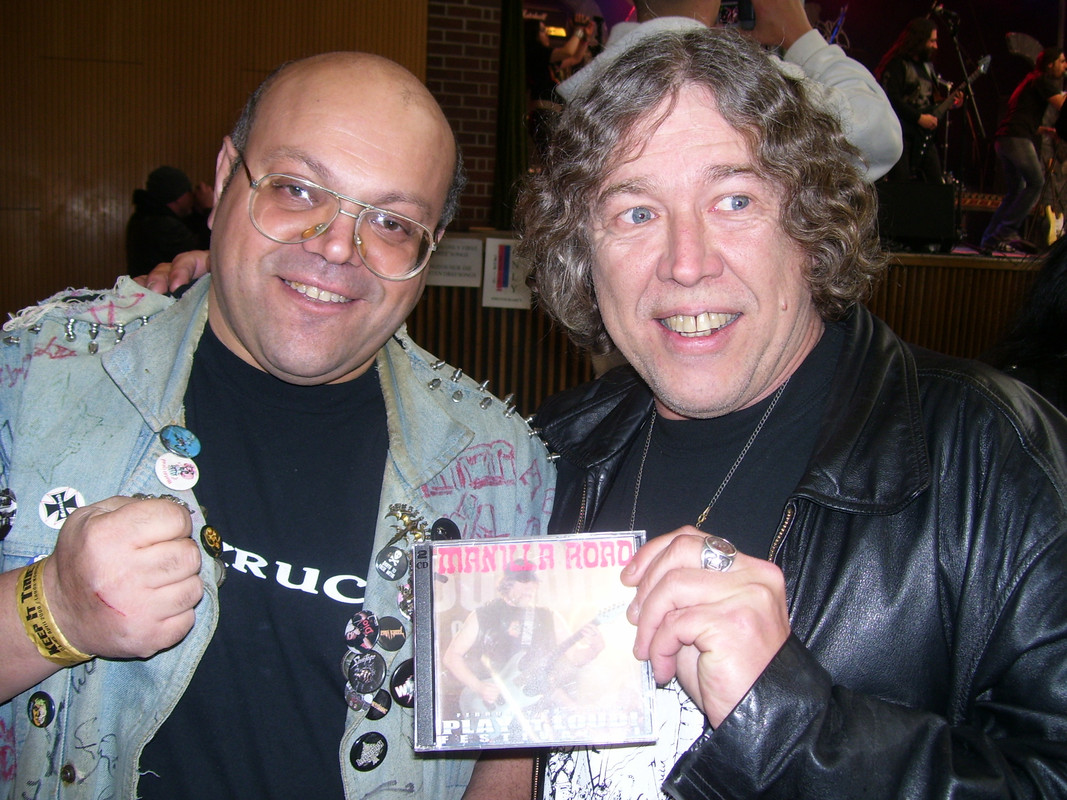 Band: Manilla Road
Country: U.S.A. (Wichita - Kansas)
Genre: Epic Heavy Metal
Release: Audience live bootleg
Date: 2008-02-23 (23 February,2008)
Venue: Buddha club -- Play It Loud festival II°
City: Orzinuovi - Brescia (Italy)
Bitrate: mp3 - 320 kbps
Taped,ripped and uploaded by Nonseinormale65 (aka Marcone l'Urlatore)
Info:
Manilla Road headlined the second edition of the P.I.L. festival in 2008
(other bands were Helstar,Cloven Hoof,Steel Assassin,Sabotage,Elixir,
Adramelch,Tarchon Fist,Frozen Tears,Alltheniko and Berserker)...what
a heavy,powerful metal day it was...
I taped the show from the balcony (actually i left my mini disc to a tired and sleepy friend
and i went into the pit)...i did not know what to expect but the recording was quite good,
so some weeks later i burned the files into two cdr,i also dubbed a few copies and gave
them away to some friends and fans of Manilla Road during the Keep It True 2008 festival;
during the KIT i met Mark Shelton once again and i gave him the one and only copy that had a colored
artwork (front was made with some pics taken during the P.I.L. festival,while the back had the MR Skull)...
...With my big surprise some months later Manilla Road used four songs taken from this recording
(Resurrection,Mystification,Divine Victime,Flaming Metal Systems) as bonus tracks for
the double LP version released by HRR records of the album VOYAGER...what an honour!!!
I never shared this recording before nor did the people who i gave the cdr as a gift
(i only broadcasted some songs from it during my weekly HM radio show)...so i think
that today is the right day to do it remembering the memory of the one and only Mark "The Shark" Shelton...
May the Lords of ligth be with You!!!
Many thanks to Shelton's family and to Bryan Patrick who allowed me to share it!!!
Setlist:
Part 1:
1 - medley Masque of the Red Death/Hammer of the Witches//Death by the Hammer
2 - Witches Brew
3 - Riddle of Steel
4 - Resurrection/March Of The Gods
5 - Mystification
6 - Divine Victim
Part 2:
1 - Flaming Metal Systems
2 - Blood Eagle
3 - Voyager
4 - Road of the Kings
5 - The Riddle Master
6 - Necropolis
7 - Up From The Crypt
Hidden Link