14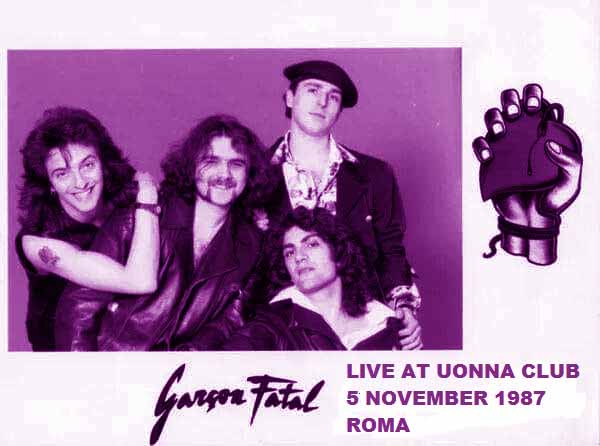 Band: Garcon Fatal
Country: Italy (Roma)
Genre: Hard Rock/sleaze/Glam Punk
Release: Audience live bootleg
Date: 05-11-1987 (5th of November,1987)
Venue: Uonna Club
City: Roma
Bitrate: mp3 - 320 kbps
Please note that i did not spli the tracks,all songs
are in a single file,enjoy it!!!
Gig/release party of the 7" inch "Fox On The Run/Tell Me" officially
published the day before (you can clearly hear the singer saying
it while introducing Fox On The Run at the end of the show)
Info:
After having played in various punk bands of the Roman circuit,
the vocalist Luigi Bonanni (Bads, Centocelle City Rockers) together
with Lorenzo Tovoli and Andrea Morelli (both coming from Klaxon) formed
Garçon Fatal in 1986 with Carlo Riccioli (Nighters, Bloody Riot ) on drums.
They record the first demo "Liars" which will be the soundtrack to a
soft-core movie by Joe D'Amato where they will make a brief appearance.
In 1987 they recorded a 7" High Rise label with the cover of Sweet "Fox on the run"
confirming the punk-glam orientation of the group.
In 1989 the Florentine Contempo Records produced the album "Love and Pride",
playing live with the americans Thin White Rope, Camper Van Beethoven, our Litfiba, Boohoos.
1993 saw the turning of the sung in Italian with the production of the demo
"Tre spaghetti in ...." published as an attachment to a well-known Roman music magazine,
supporting Negrita, Ritmo Tribale and participating in various rock festivals.
With the entry of Duracell on drums and Maurizio Bidoli on guitar (both from Fingernails)
replacing Tovoli and Riccioli the sound became decidedly more aggressive
for a short period but the dissolution (in 1996) was inevitable.
In 2001 Bonanni returns to the track with a new line-up confirming the presence
of Morelli on bass, recording the CD "Il meglio del niente" (2002) and playing together
with Damned.
In 2018, on the occasion of its thirty-year anniversary, the reissue of the First Love & Pride LP
for Contempo Records came out, celebrating its first forty years of activity.
For this occasion the historical members of the group (Bonanni, Tovoli, Morelli, Riccioli) gathered
to take part in various live and promotional events.
Line up:
Luigi Bonanni - lead vocals
Lorenzo Tovoli – lead guitar, vocals
Andrea Morelli – bass, vocals
Carlo Riccioli – drums
Setlist:
1 - I'm Looking For You
2 - Tell Me
3 - Decline
4 - My Father
5 - Sweet Poison Blues
6 - Baby Killer
7 - (Don't) Love
8 - Fox On The Run (The Sweet cover)
Hidden Link