16
THIS POST HAVE DEAD LINKS.
REQUEST A REUPLOAD HERE

SEARCH REQUESTS BEFORE MAKING A NEW ONE!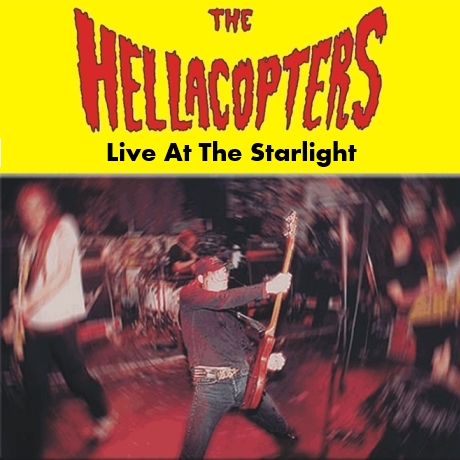 Artist: The Hellacopters
Release: Live At The Starlight
Genre: Hard Rock/Action Rock
Country: Sweden
Bitrate: 320 kbps
►Dead Link
---------------------------------------------------------------------
THE HELLACOPTERS - Live At The Starlight (1999) Sweden
The Starlight Club, Fort Collins, Colorado, USA
22/05/1999 SBD Recording
320kbps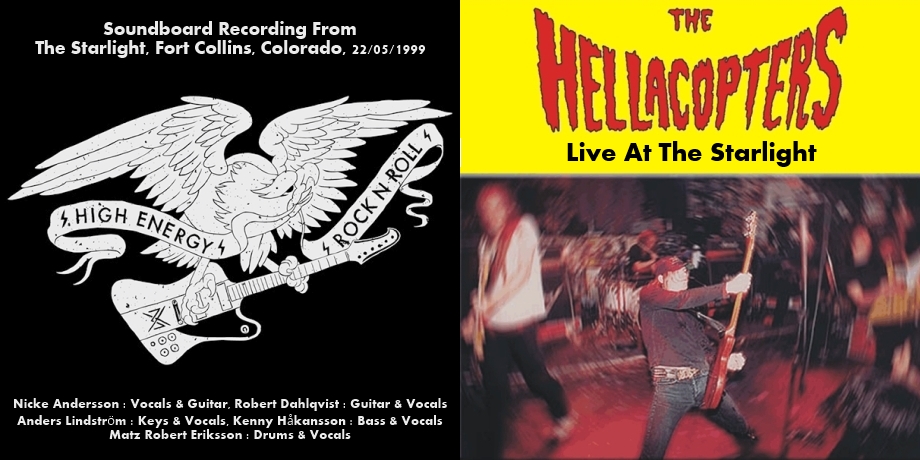 Nicke "Nicke Royale" Andersson - Vocals & Guitar (NIHILIST, ENTOMBED, SUPERSHIT 666, THE HYDROMATICS, NICK ROYALE GANG, THE SOLUTION, IMPERIAL STATE ELECTRIC, DEATH BREATH, COLD ETHYL, LUCIFER)
Robert "Strings" Dahlqvist - Guitar (DIAMOND DOGS, THUNDER EXPRESS, DUNDERTAGET)
Kenny Håkansson - Bass
Anders "Boba Lee Fett" Lindström - Keyboards (DIAMOND DOGS, THE BITTER TWINS, IMPERIAL STATE ELECTRIC)
Robert "Matz" Eriksson - Drums (URKKE T & THE MIDLIFE CRISIS, STRINDBERGS, TRAMP)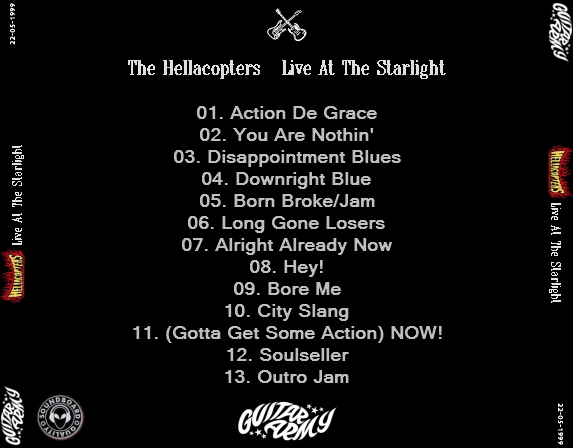 THE HELLACOPTERS were a Swedish Hard Rock/Garage band that was formed in 1994 by Nicke Andersson, Dregen, Kenny Håkansson and Robert Eriksson.
Andersson had been the drummer for Death Metal band ENTOMBED and Dregen was taking a break from his full-time band BACKYARD BABIES.
Dregen and Eriksson had been roadies for Entombed, while Håkansson was a childhood friend of Andersson's.
The Hellacopters were initially conceived as a side project for Andersson and Dregen, but it eventually became the main songwriting and performance vehicle for Andersson.
The band released their Swedish Grammy-winning debut album "Supershitty To The Max!" in 1996.
Just before a tour opening for KISS, the band recruited keyboardist and percussionist Anders Lindström on a part-time basis; he would become a full-time member in 1999.
After 2nd album, "Payin' The Dues", in 1998, Dregen left the band to return to Backyard Babies full-time, and Mattias Hellberg and Danne Andersson were recruited to complete the band's touring responsibilities.
After the release of "Grande Rock", which featured additional guitar playing from both Lindström and Hellberg, Robert "Strings" Dahlqvist was hired as a full-time lead guitarist in 1999.
With the lineup now solidified, the band released three more studio albums, a "best of" album and an album of cover versions, with many EP's, singles, split albums and limited edition vinyl releases issued as well.
The best of the band's non-album works were collected on two compilation albums, "Cream Of The Crap" Volumes 1 & 2.
During these years the band were recognized as one of the most influential and prolific groups from Scandinavia, and toured all over the world, usually as headliners, but also with the likes of ZZ TOP, THE HIVES and THE ROLLING STONES.
The Hellacopters disbanded amicably in 2008 so the members could move on to other projects.
Andersson & Lindström formed IMPERIAL STATE ELECTRIC who have released 4 albums to date, whilst Dahlqvist's new band THUNDER EXPRESS would release two albums before becoming DUNDERTAGET.
In April 2016 the band announced that their original lineup would be reuniting for the 20th anniversary of the release of their debut album, 'Supershitty to the Max!', initially playing at the 2016 Sweden Rock Festival.
The band also announced the release of an exclusive 12-inch vinyl record, featuring two tracks, 'My Mephistophelean Creed' & 'Don't Stop Now', written during the 'Supershitty...' sessions but recorded in 2016.
Robert 'Strings' Dahlqvist sadly passed away in early 2017 at just 40 years of age having drowned in his bath following an epileptic seizure.
The Hellacopters went on to play several international festivals in 2016 and 2017, such as the Roskilde Festival, with former HANOI ROCKS & NEW YORK DOLLS bass player Sami Yaffa replacing original member Kenny Håkansson for the 2017 shows.
For European festival appearances, a US tour & Scandinavian shows with The Rolling Stones in 2018 & 2019, Dolf De Borst of THE DATSUNS & IMPERIAL STATE ELECTRIC filled in on bass.
art & txt included
---------------------------------------------------------------------
01. Action De Grace
02. You Are Nothin'
03. Disappointment Blues
04. Downright Blue
05. Born Broke/Jam
06. Long Gone Losers
07. Alright Already Now
08. Hey!
09. Bore Me
10. City Slang
11. (Gotta Get Some Action) NOW!
12. Soulseller
13. Outro Jam