9
THIS POST HAVE DEAD LINKS
REQUEST A REUPLOAD

HERE



CHECK EXISTING REQUESTS
BEFORE MAKING A NEW ONE!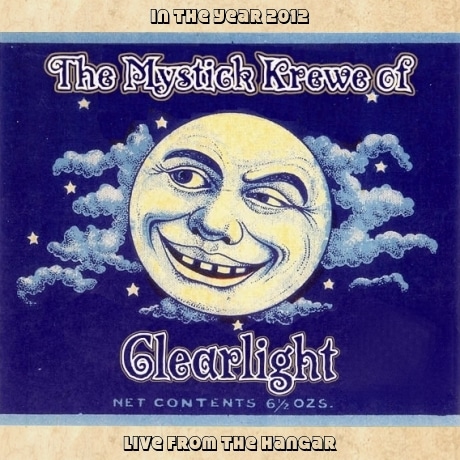 Artist: The Mystick Krewe Of Clearlight
Release: Live From The Hangar
Genre: Hard Rock/Southern Rock/Stoner Rock/Heavy Metal/Psychedelia/Doom etc.
Country: USA (New Orleans, Louisiana)
Bitrate: 320 kbps
►Dead Link
---------------------------------------------------------------------
https://www.discogs.com/artist/702784-T ... Clearlight
THE MYSTICK KREWE OF CLEARLIGHT : Live From The Hangar (2012) USA
Live At The Hangar, New Orleans, LA, USA 17/02/2012
320 kbps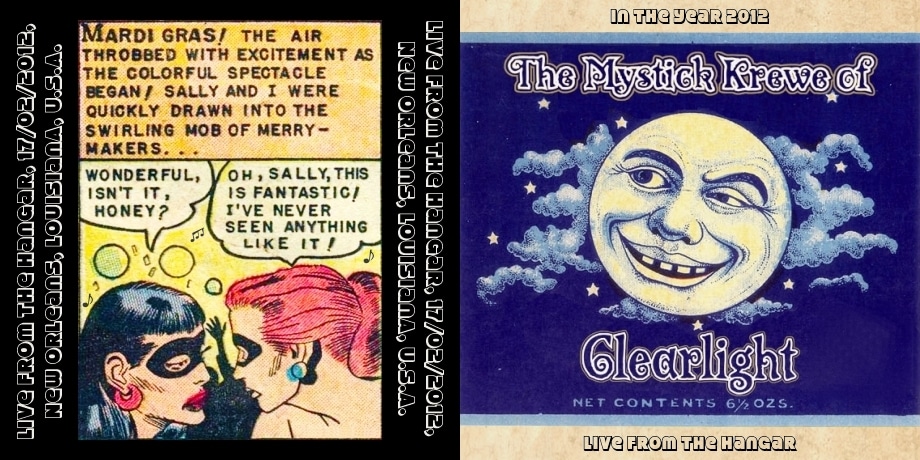 Jimmy Bower - Guitar (DOWN, EYEHATEGOD, BLATANT FRUSTRATION, DEBRIS Inc., NEVER, MY UNCLE THE WOLF, DRIP, PENALTY, SUPERJOINT RITUAL, THE SLUGS, CORROSION OF CONFORMITY, CROWBAR, THOR, FLOODGATE, SUPERJOINT)
Paul Webb - Guitar (HAWG JAW, EYEHATEGOD, SPICKLE, DULAC SWADE, MOUNTAIN OF WIZARD, CLASSHOLE)
Andy Shepherd - Bass (PITTS vs PREPS)
Ross Karpelman - Organ (DOWN, DRIP, CHRIST INVERSION, SOUTHERN ISOLATION)
Joey 'Lil' Daddy' LaCaze - Drums (EYEHATEGOD, NEVER, OUTLAW ORDER)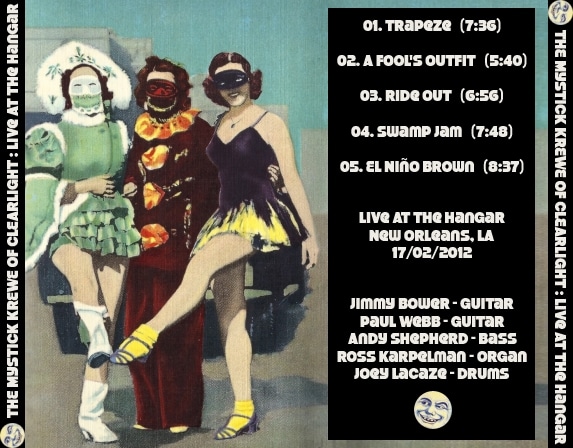 THE MYSTICK KREWE OF CLEARLIGHT was founded in 1996 as a mostly instrumental side-project by members of New Orleans bands EYEHATEGOD, DOWN and CROWBAR.
This project allowed the members to experiment with music outside their usual genres, and mainly found them exploring the relationship between Blues, Hard Rock, Heavy Metal, Psychedelia & Southern Rock.
After several years of shows in New Orleans with the occasional out-of-town show they recorded a five song demo in 1999.
This led to the release of a self-titled debut album on Tee Pee Records in 2000.
This was followed by 2001's "The Father, The Son And The Holy Smoke", a split release with ACID KING on Man's Ruin Records.
"The Father, The Son And The Holy Smoke", featured Scott "Wino" Weinrich (THE OBSESSED, SAINT VITUS, SPIRIT CARAVAN, PROBOT, THE HIDDEN HAND) on vocals.
That same year they released a split 7" with The OBSESSED that featured both bands covering LYNYRD SKYNYRD.
The Mystick Krewe covered "Cheatin Woman" with Pepper Keenan of CORROSION OF CONFORMITY & Down guesting on vocals.
They also had exclusive songs featured on the compilation albums "Inhale" and "High Volume : The Stoner Rock Collection".
The band were to split up in late 2001, after all their equipment was stolen during a stop in Dallas whilst on tour with C.O.C. & CLUTCH.
The group were finally reunited for a one off show with SUPLECS & SOLID GIANT at The Hangar in their NOLA hometown during Mardi Gras of 2012.
It seems likely that this was the Krewe's final show, as drummer Joe LaCaze sadly passed away on August 23, 2013, leaving behind a daughter and wife.
A long-term asthma sufferer, the cause of LaCaze's death was respiratory failure.
He had just returned from a successful European tour with Eyehategod and celebrated his 42nd birthday.
All of the Clearlight release's are now sadly out of print, which is a situation that some enterprising label dearly needs to rectify.
art & txt included
---------------------------------------------------------------------
01. Trapeze (7:36)
02. A Fool's Outfit (5:40)
03. Ride Out (6:56)
04. Swamp Jam (7:48)
05. El Niño Brown (8:37)