21
THIS POST HAVE DEAD LINKS
REQUEST A REUPLOAD

HERE



CHECK EXISTING REQUESTS
BEFORE MAKING A NEW ONE!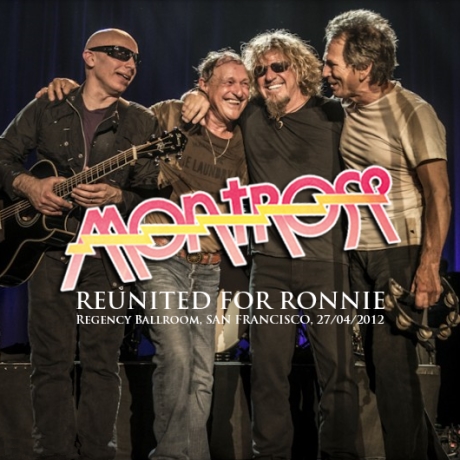 Artist: Montrose
Release: Reunited For Ronnie
Genre: Hard Rock
Country: USA (San Francisco)
Bitrate: 320 kbps
►
---------------------------------------------------------------------
MONTROSE - Reunited For Ronnie (2012) USA
Live At The Regency Ballroom, San Francisco, 27/04/2012
Audio From The AXS TV Broadcast
320 kbps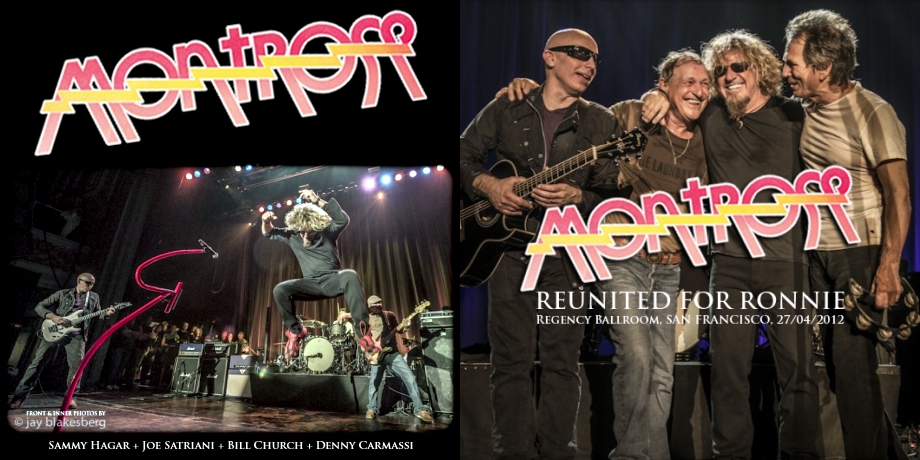 Sammy Hagar - Vocals (HSAS, PLANET US, SAMMY HAGAR, VAN HALEN, LOS TRES GUSANOS, CHICKENFOOT, THE CIRCLE)
Joe Satriani - Guitar (JOE SATRIANI, DEEP PURPLE, MICK JAGGER, G3, CHICKENFOOT)
Bill Church - Bass (SAWBUCK, MICHAEL SCHENKER GROUP, SAMMY HAGAR, VAN MORRISON)
Denny Carmassi - Drums (St. PARADISE, GAMMA, SAMMY HAGAR, HEART, WHITESNAKE, MICHAEL SCHENKER GROUP, FOREIGNER, COVERDALE/PAGE)
Ronnie Montrose - Guitar (Tracks 08 & 09 Only) (VAN MORRISON, EDGAR WINTER BAND, SAWBUCK, RONNIE MONTROSE, GAMMA, RAIL)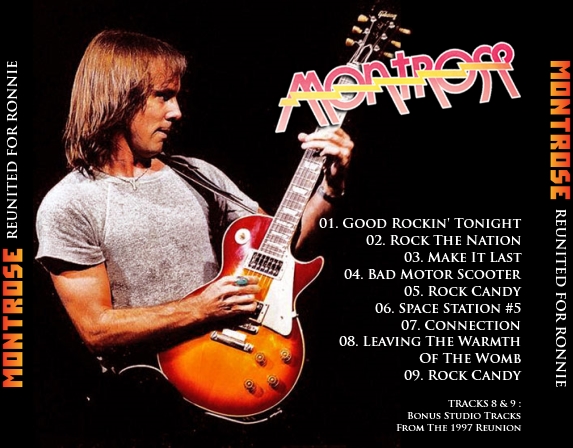 MONTROSE, named after founder and former EDGAR WINTER BAND and VAN MORRISON guitarist RONNIE MONTROSE, go down in musical history for making one of the strongest Rock albums of all time with their self titled Ted Templeman produced 1974 debut.
The album sports some all time classic riffs allied to superb songwriting craftsmanship and vocals courtesy of SAMMY HAGAR.
Such was the impact of this album that it was not until VAN HALEN's debut in 1978 that a band made such a similarly titanic debut.
Although the follow up 'Paper Money' was another fine effort, if a little tamer, it could not match its illustrious predecessor and it was steadily downhill for Montose from there on.
Bassist Bill Church had departed in favour of Alan Fitzgerald, and keyboards were now part of the band's sound, courtesy of Jim Alicivar.
Ructions within the camp would see Hagar leaving to pursue a longterm succesful solo career (eventually winding up as frontman for Van Halen) before recording began on the next album.
Hagar and Montrose then began a bitter war of words which was to simmer for many years to come.
Hagar's prominence on the rock scene soon overshadowed his former act, and at various stages he was able to lure away from the Montose camp, Church, Fitzgerald and Carmassi.
For the 1975 'Warner Bros. Presents' album, Hagar's space had been filled by new vocalist Bob James.
A further stab at stopping the rot, 'Jump On It', included new bassist Randy Jo Hobbs instead of Fitzgerald who had been inticed away by Hagar.
Whilst 'Jump On It' was a partial return to form, with some of the energy of yore back in evidence, it was all too little too late.
Putting Montrose to rest and retaining his deal with Warner Bros, Ronnie Montrose then released the instrumental solo LP 'Open Fire' in 1978.
Joining him on this record were his Montrose compatriots Jim Alcivar and Alan Fitzgerald, together with drummer Rick Schlosser and guest keyboards by Ronnie's old partner Edgar Winter.
Discouraged by the record's sales, Montrose formed GAMMA with Alcivar and Carmassi, vocalist Davey Pattison and drummer Skip Gillette.
Gamma signed a record deal with Elektra Records, releasing three critically acclaimed albums between 1979 and 1982.
Gamma dissolved following a 1982 European tour supporting Foreigner, with Carmassi then predictably joining Hagar's touring band.
Carmassi would later go on to join AOR sensations HEART, with whom he played for over a decade.
Fitzgerald would later become a member of NIGHT RANGER, playing with them from 1980 to 1988, and then from 1996–2003.
Ronnie Montrose returned to making solo albums in a variety of different musical styles, releasing 9 in all during his lifetime.
He found scuccess producing up and coming acts, one of which, CITY KID, scored a major deal with Geffen Records prior to a name change to TESLA.
Other acts to benefit from the Montrose studio touch were San Franciscan thrashers HEATHEN, Chicago's WRATH and guitarist JEFF NORTHRUP.
In 1997 the original Montrose line up reformed to record the song, 'Leaving The Warmth Of The Womb', for Sammy Hagar's 'Marching To Mars' album.
A further Montrose studio track from this reunion, a re-recording of 'Rock Candy', appeared on Hagar's 'Little White Lie ' CD single.
In 2009, Ronnie revealed that he had been fighting prostate cancer for the previous two years but was healthy once again.
On 3 March 2012, Ronnie Montrose died from a self-inflicted gunshot wound.
His death was originally assumed to be the result of his prostate cancer returning, however, the San Mateo County Coroner's Office released a report which confirmed the guitarist had taken his own life.
On April 27th, a tribute concert was held in Montrose's honour at the Regency Ballroom in San Francisco.
The concert saw the original Montrose line up reform for a thrilling seven song set, with Joe Satriani standing in for Ronnie on guitar.
Gamma also reconvened for the show, with Marc Bonilla filling Montrose's shoes for their set.
Other luminaries appearing included members of Tesla, KISS, Night Ranger, STYX, Journey, Y & T and MR. BIG.
A portion of the evening's proceeds went to The Ronnie Montrose Fund For San Francisco Bay Area Musicians.
art & txt included
---------------------------------------------------------------------
01. Good Rockin' Tonight
02. Rock The Nation
03. Make It Last
04. Bad Motor Scooter
05. Rock Candy
06. Space Station #5
07. Connection
08. Leaving The Warmth Of The Womb
09. Rock Candy
Tracks 01 To 07 : Live At The Regency Ballroom, San Francisco, 27/04/2012
Tracks 08 & 09 : Bonus Studio Tracks From The 1997 Montrose Reunion