2
THIS POST HAVE DEAD LINKS.
REQUEST A REUPLOAD HERE

SEARCH REQUESTS BEFORE MAKING A NEW ONE!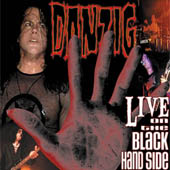 Live on the Black Hand Side is a double-disc live album from Danzig.
It was recorded at various shows between 1992 and 2000, and released May 8, 2001 on Glenn Danzig's Evilive Records label, distributed by Restless Records.
It is now out of print...Dates & locations of these live recordings are in the cover scans
Artist: Danzig
Release: Live on the Black Hand Side [Live 1992-2000]
Genre: Heavy Metal/Doom
Country: US (Lodi, New Jersey)
Bitrate: 320 kbps
Download Link
dead
http://www.danzig-verotik.com/danzig/live.html
https://www.discogs.com/Danzig-Live-On- ... ter/444871
Disc 1
1."Godless"
2."Left Hand Black"
3."How the Gods Kill"
4."Dirty Black Summer"
5."Pain in the World"
6."Evil Thing"
7."Halloween II"
8."Not of This World"
9."Killer Wolf"
10."Little Whip"
11."Going Down to Die"
12."Bringer of Death"
13."Stalker Song"
14."Long Way Back from Hell"
Disc 2
1."Satan's Child"
2."7th House"
3."5 Finger Crawl"
4."Unspeakable"
5."Lilin"
6."Her Black Wings"
7."It's Coming Down"
8."Do You Wear the Mark"
9."Until You Call on the Dark"
10."Deep"
11."Belly of the Beast"
12."She Rides"
13."Twist of Cain"
14."Mother"