11
Artist: Septic Death
Release: Attention (1990)
Genre: Extreme Hardcore/Punk
Country: USA (Idaho)
Bitrate: 320 kbps
►Dead Link
---------------------------------------------------------------------
https://en.wikipedia.org/wiki/Septic_Death#Discography
This album contains all the songs from "
Now That I Have The Attention What Do I Do With It?
" (1986 LP) but in a different order, and with a couple bonus tracks including the last song which is untitled. Now I'm not usually one to like Hardcore/Punk, but I always liked Septic Death. All their songs are between 1 and 2 minutes long, they're extreme (the vocals can sometimes be KILLER!) and the riffing is simple and to-the-point. Plus the sound is pure raw energy. In case you didn't know, the vocalist is Pushead, who did the artwork for this CD, but also has done MANY MANY t-shirt designs for Metallica. He has a recognizable style of art. Some songs even bring to mind S.O.D. minus the crossover.
Scanned and ripped from my personal collection.
(includes a folder of the original 1986 LP scans)
---------------------------------------------------------------------
1.
Burial
2. Disinfect
3. Forest Of The Megalomaniac
4.
Quit
5. Dream Silent
6. Child
7. Terrorain
8.
Thaw (Cold World)
9. Poison Mask
10.
Hardware
11. Silence
12. The Evolution Garden
13. Unprotected Games
14. Change
15. Demon
16. Control
17. Sweat Of A Nightmare /
Core Of Reality
18.
Negative Threat
19. Never Trust
20. Mental Cancer
21. Fear
22. Advantage
23.
Gore Story
24. Kharma Khamatic
25. (untitled)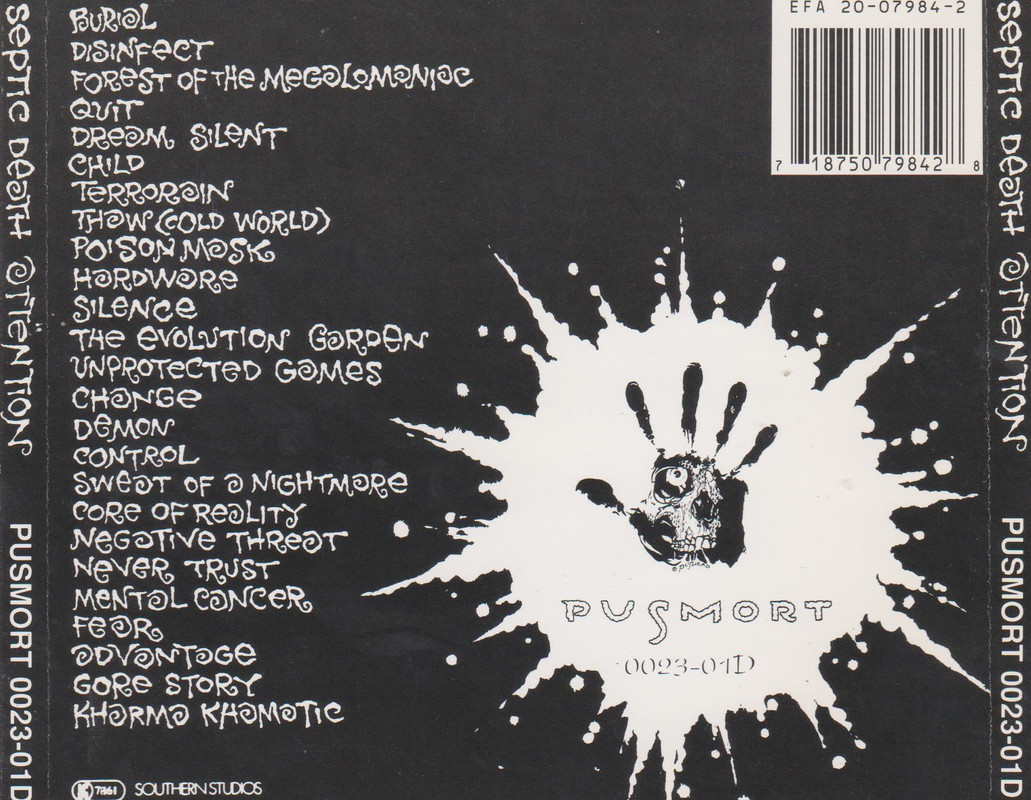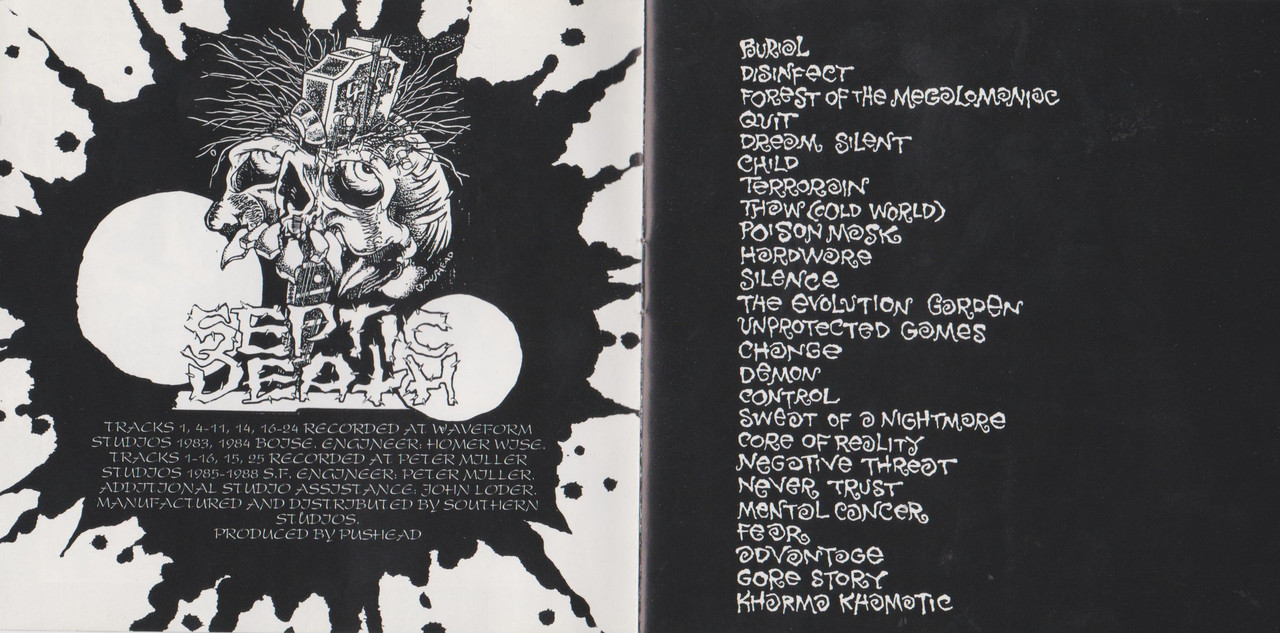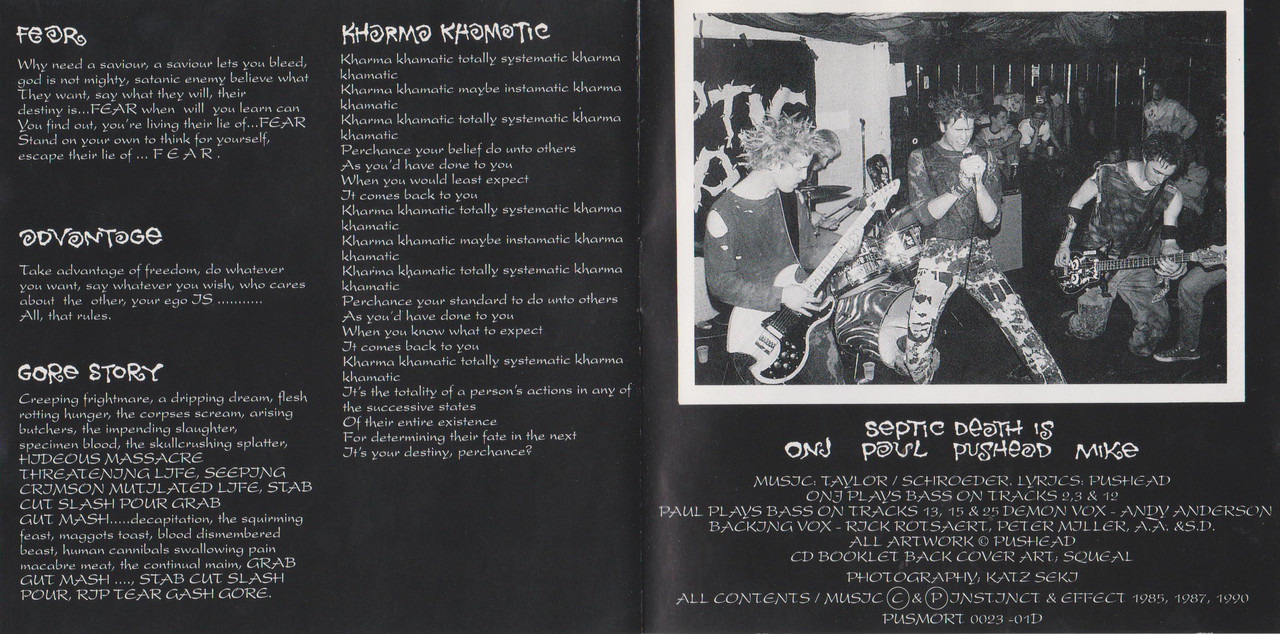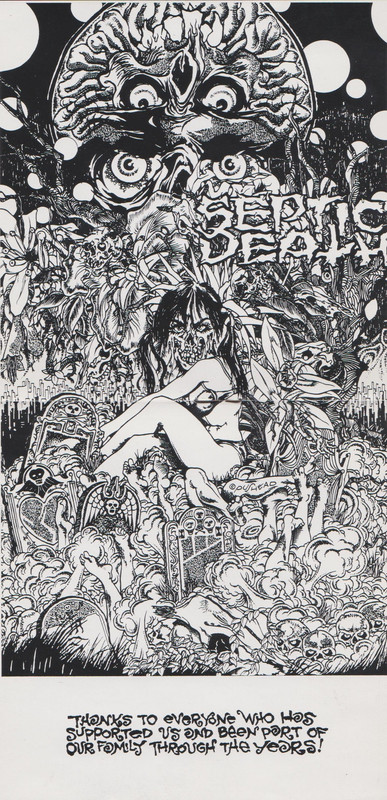 Original 1986 LP cover
:
Septic Death live
: