22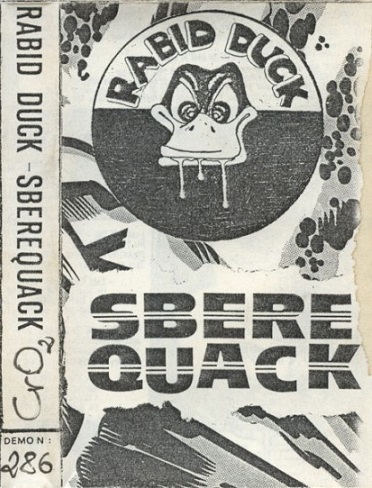 Band: Rabid Duck
Country. Italy (Ravenna)
Genre: Hardcore/Punk(in this demo) - later thrashcore metal
Release: demo tape
Title: Sberequack
Label: Rabid Tapez
Year: 1988
Bitrate: mp3 - 320 kbps
Info
Rabid Duck was formed in Ravenna in 1986,active in the italian
HC circuit since the beginning they had a goliardic attitude in
their lyrics; this demo (released in 1.000 handnumbered copies)
was RD debut, one year later came the album "Who Framed Rabid Duck"
heavily influenced by bands as D.R.I.,Gang Green and S.O.D.
RD were also included in two tapes compilations as "Cellula Prima"(1989),
WELCOME TO THE THRASHER DOME - VOL. 1(1989) and in the 7" compilation
BETWEEN THE CLOUDS(1991) before disbanding around 1992/93.
Andrea"Deda"Visani then joined forces with Neffa (aka Jeff Pellino,former
Negazione's drummer) and formed the well known (in Italy...) rap/hip hob
group called "Sangue Misto"...
Line up:
EMANUELE "LELE" GIANSTEFANI - bass,vocals
ALBERTO - drums
ANDREA"Deda" VISANI - vocals
CAMPA - guitar
CRISTIANO - guitar
Tracklist:
Side Sbere:
01) INTRO
02) RABID DUCKS
03) I MAKE MY OWN PRIX
04) KILLED BY MY NOSE
05) CHICKEN IN THE BACK
06) FLYING FROM THE 4TH FLOOR
Side Quack:
07) LIVING IN A FEN
08) REIGN OF THE CROSS
09) LET ME SLEEP
10) MOM'S CAR (DEDICATO A MARCO E PAOLA)
11) TH 7TH YEAR CRISIS
Hidden Link